Intro music is one of my favorite pieces as performed by one of my favorite artists. Click
HERE
and enjoy as for some reason this music always makes me want to pick up my 149.
My friends, please allow me the honor of introducing you to my much loved Montblanc 149. This is has long been considered the Montblanc to top all Montblancs. This is a Montblanc to Montblancs as the Stradivarius is to violins, the Black Pearl is to ships, the GT 500 is to muscle cars, or the Golden Gate is to bridges. To put it simply, the 149 is the crème de la crème of Meisterstucks. The fame of this pen reaches far and wide. Famous carriers such as Luciano Pavarotti, John F. Kennedy, and Mikhail Gorbachev were only a few of the proud users of this iconic writing instrument. Bottom line, the Diplomat is Montblanc's flagship pen. Be they Montblanc or made of other brand, if one owns a 149 then it becomes the pen to which all others are compared. In my opinion, it is not until you have experienced the beauty of a 149 that you have arrived.
Appearance and Design…Four Droolies:
Among the Meisterstuck line, I would have to say that this was the best looking. I didn't honestly understand the hullabaloo about the appearance of this pen until I actually saw one in person. In photos this looks just like a fat Meisterstuck but in person there is something regal about the pen. Arriving to my door in it's gold trimmed case and soft satiny inner linings, this pen was a pleasure even to unpack. Upon first glance of the pen I was amazed at the size. This pen seems to have so much girth but even in my smaller hands it fits so perfectly. The nib is a massive piece of art. I would think that perhaps an artist like Georgia O'Keefe would appreciate such a nib. Also I purchased a desk stand for my 149 and this also adds to the experience. Even better than having such a pen in your possession is the joy of having it handy at all times. The base is pictured below and has a nice gold plate for engraving. I don't know what clients think when they see it on my desk but I know that it's definitely a noticeable piece.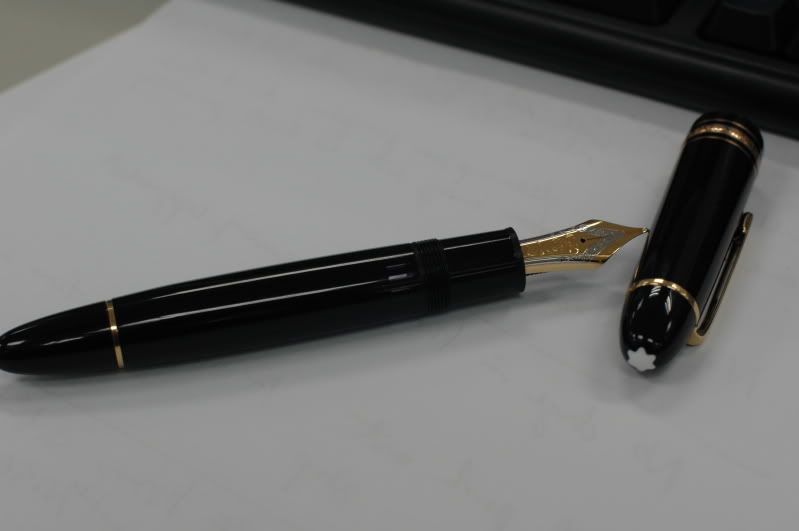 Comfort and Durability…Five Droolies:
Thus far this is the go to pen if I am writing anything more than three pages. I find it humorous that people so often think it pretentious to carry such a large pen in public or to the boardroom. I don't think there could be anything more wrong that for one to assume that a fellow writer was carrying a 149 for the sole purpose of impressing others and honestly think that anyone who assumes this has not had the pleasure of writing with a Diplomat. This is by far the most comfortable pen that I own. I have pens that are smoother and even have pens that I think are more pleasing to the eye. However, the weight and girth of this pen makes for the most comfortable writing experience possible. I think of this pen as my 57 Chevrolet. It's not a small pen by far but the large size makes the long trips as smooth and sweet as possible.
Filling System…Five Droolies:
Keeping consistent with the 149's "crème de la crème" status, Montblanc has included a wonderful piston filler on this pen. The operation is the same as any other piston but the large size of the pen allows for maximum ink capacity and the brass inner hardware ensures that you'll be keeping your pen out of the repair shop. I prefer a piston filler and thus far this is the only one that competes with the ones installed in the larger Pelikans.
Nib and Writing Performance…Four Droolies:
Once again I'm having a blast with yet another Montblanc nib. I think that the nib is the eye grabbing feature on any 149 and this one's no different. The 149 nib is huge, two toned, beautifully ornamented, and honestly just as much if not more of a work of art than the rest of the pen. There is nothing that makes me feel like a million bucks than being able to write my thoughts with such a masterpiece. I think that the only nibs that are more beautiful are some of the Montblanc Writers Edition pens or the Patron of the Arts line. Either way, there is nothing like a Montblanc nib to catch the eye.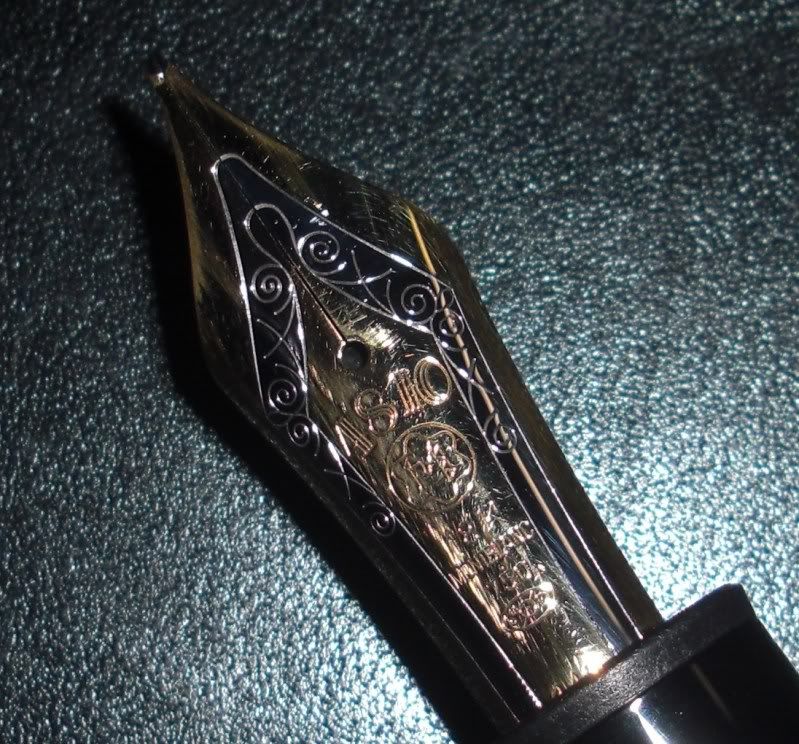 In terms of writing experience this is a very fine nib. This was originally a medium nib and the flow and flex are tuned just right. The iridium point lays down a nice smooth line that's as consistent as it's beautiful. As with most good fountain pens, there is minimal pressure needed to form a line and this adds to the comfort level of this pen as well as the endurance allowed the writer. There's just a tad of feedback from the nib while writing and as this is something that most look for, it's a good thing. If you're one to prefer a glass smooth touch, then that's something that can easily be remedied by any nibmeister.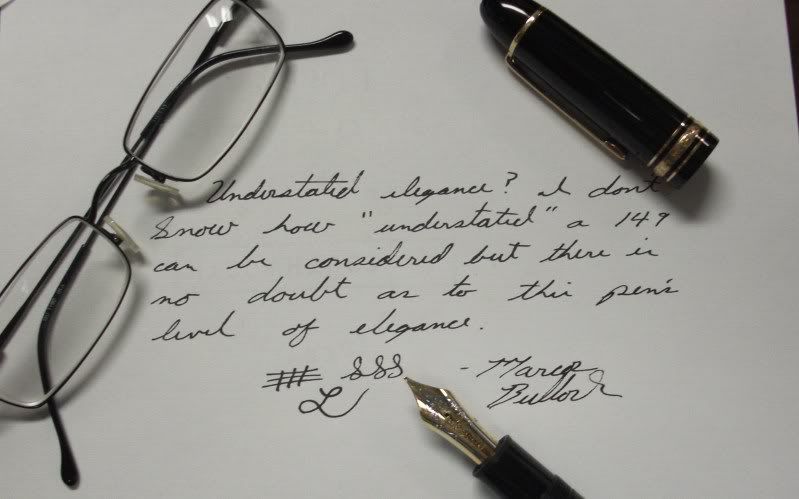 Cost and Value…Four Droolies:
I bought this pen used for a very good price. However, I think that even at full price this is a good pen to buy. I know that many don't like to spend more than a double digit figure on a pen but there is nothing that this pen does not offer. The 149 is a pen that's considered an icon for very good reason. If you buy a 149, you can very easily go the rest of your life without needing another pen to make you happy. I paid a good price for this pen but even if I had paid full retail, I would find comfort in the fact that this is a pen that will be pleasing me for the rest of my life. This isn't a throwaway Lamy or a fun little Phileas…this is the writing instrument of kings, diplomats, and famed artists worldwide.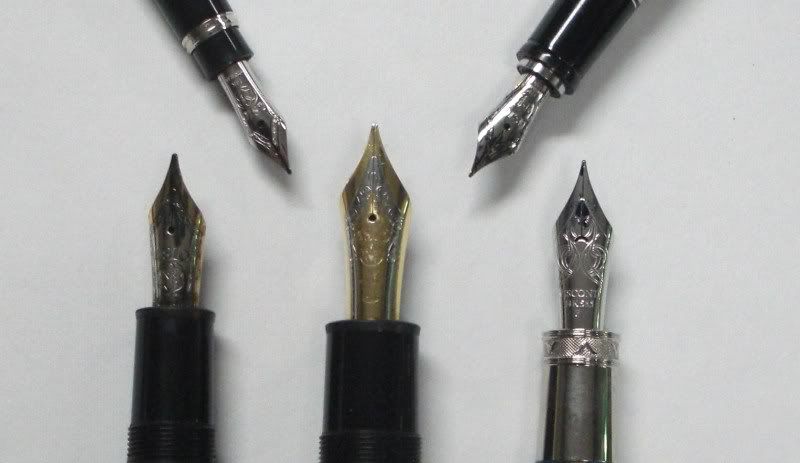 Conclusion…
The Montblanc 149 Diplomat is just about as top tier as it gets. Granted, there are higher end pens and there are certainly more expensive pens. However, I don't know of any Montblanc or Meisterstuck that's as pleasant a writer for the money. I've bought more than my share of pens and a lot were just to collect for the sake of collecting. This, though, is a pen that stays in my daily rotation and will do so until the day I can no longer write. And I don't even mean just this line…the best thing about the 149 is that I can safely say that if well maintained, this particular pen will last me a lifetime.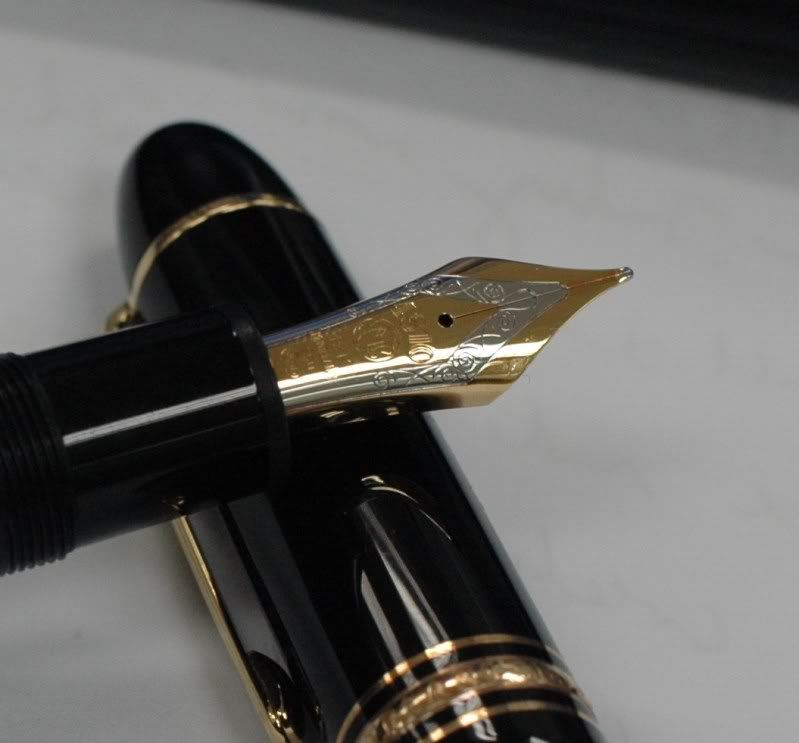 Final Rating...Four Droolies:
Regards,
Marcos
Diplomat #001
Edited by asimplemaestro, 20 July 2009 - 22:39.