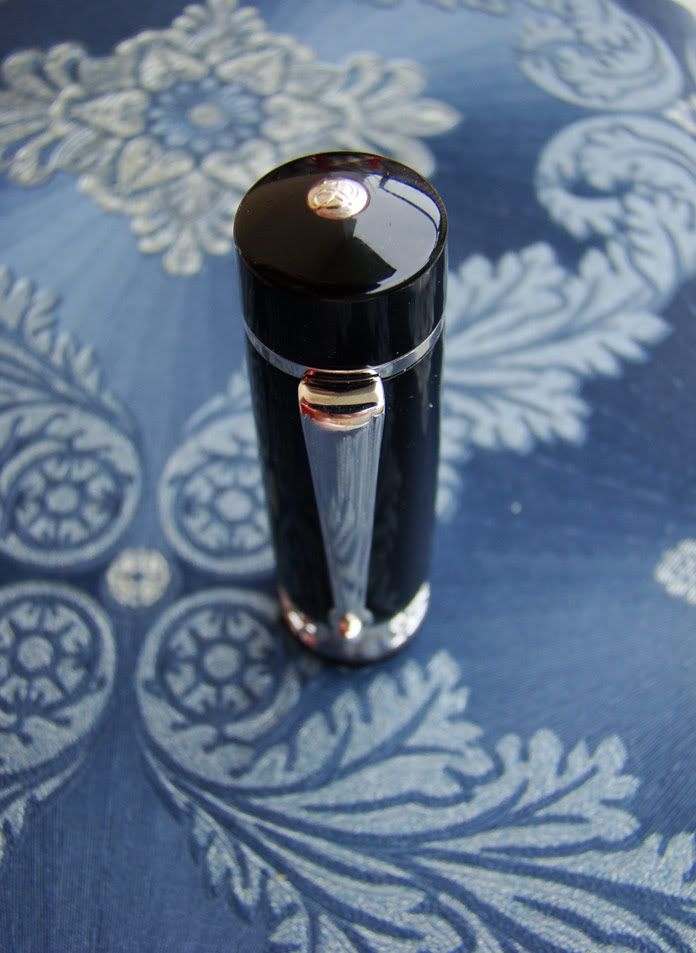 Introduction
This is my first Delta and my first Italian pen and it was bought on pure impulse - at a bargain price. Thus, I was mostly curious about it - I didn't really have any particular expectations. What sealed the deal - beside the great price - was the pics of the cap band and the pics of the nib - after checking it up here at FPN. It is a more "blingy" pen than I usually buy, but there is something with it that made me buy it.
First Impressions
"
It is a huge, fat pen
!" This pen makes the Duro (which isn't a petite pen) look small and slender. The cap, with the small silver mark on the top and the special cap band, is beautiful and has simple, clean lines. The barrel - cracked ice white is nice and well made, but this pen is all about the cap and the nib. "
It is not my ordinary style, but I like it. Like it a lot actually
". The box is neat and smart. Not over designed, but fills its purpose as a simple and stylish package for the pen.
8/10
Accompanied by a Pelikan M605 and M215 to get a picture of the size.
Design & Build
This is where this pen shines - the attention to details is impeccable! It is very solidly built. Beside my instant love for the cap I'm also especially fond of the 18k white gold nib. Clean, simple, big and beautiful with an exquisite heartshaped hole (and very nice to write with, but I'll write more about that in the nib part). The clip with a wheel is both clever and beautiful - combining beauty and function.
There is nothing flimsy about this pen - everything fits together very well. The cap screws on and off easily, but when the pen is capped it isn't likely to come off spontaneously if you have capped it properly. The only drawback is that you must use some "force" to get it posted without risking that the cap falls off. It is well balanced - both posted and unposted.
In the leaflet that comes with the pen Delta emphasizes that this pen is made for everyday use - thus the name 365 - and I find that very sympathetic and would say that it really feels like it is built to last. The more I look at this pen (and use it) the more it grows on me. It has a quite original - yet classic - design.
8.5/10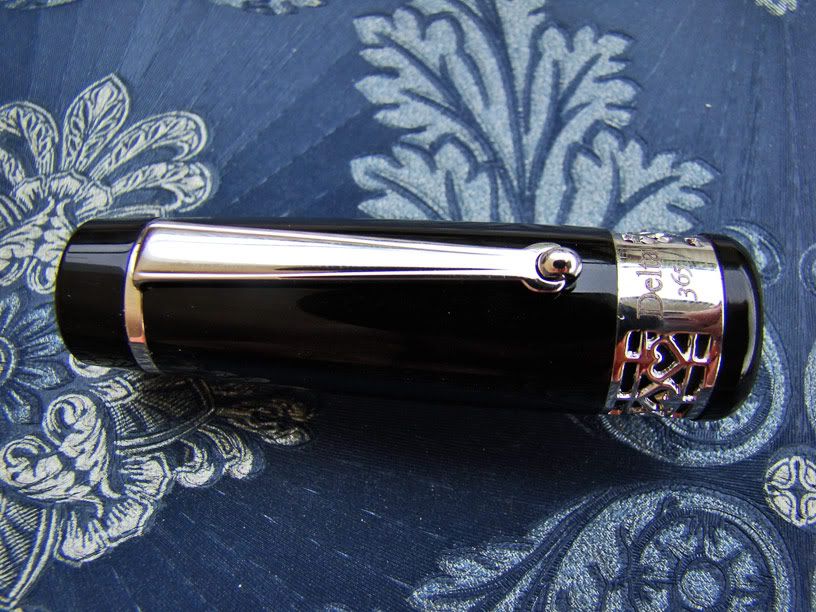 Dimensions
Weight: 28 g
Lenght capped: 15 cm
Length uncapped: 13.2 cm
Lenght posted: 16.5 cm
It is really a big pen. The grip section is really nice and I'm surprised that it could be so nice writing with such a big pen.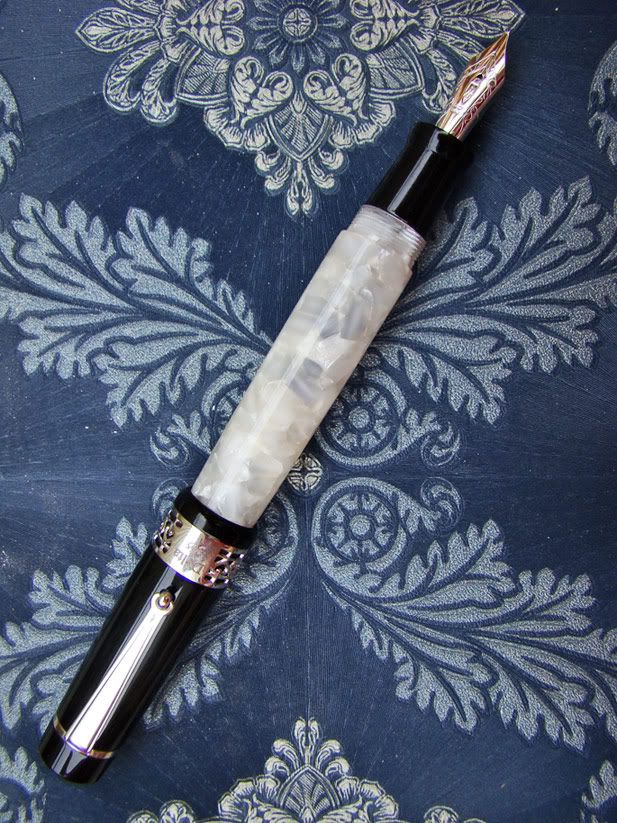 Nib and Performance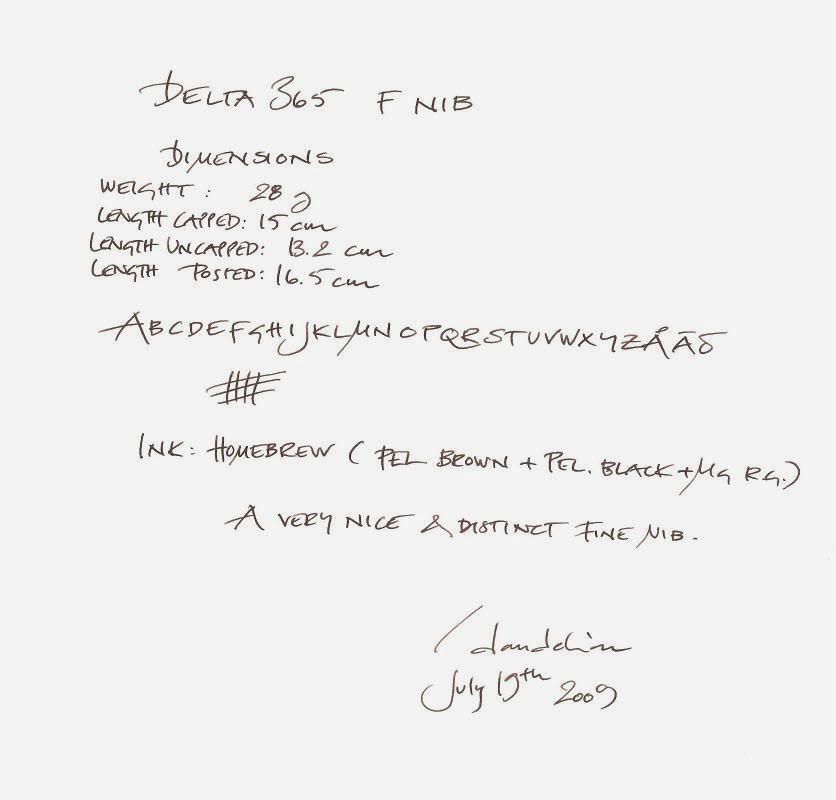 As it was bought on an impulse, I had only a vague idea on what to expect from a Delta nib. I chose a F nib and I can happily say that this F nib is a real F - almost on the verge to an EF, which I like very much. It gives more feedback than My Pel with a F nib, which suits me very well for notetaking as I write very fast. It seems to drink Diamine and Pelikan inks without any hesitation, but was more reluctant to Noodler's El Lawrence - with El Lawrence it had some starting problems, but no flow problems once started. Flow is generally good - not too wet nor too dry. It puts down a very distinct line - I'd overall say that this nib has a very distinct feel to it without being toothy - which is a pleasant experience.
9/10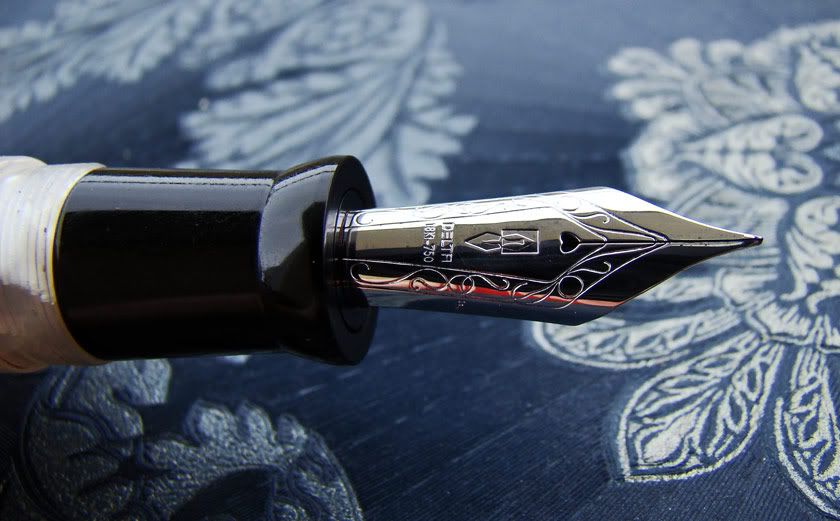 Filling system
This is a cardridge/converter filler which takes international cartridges. It had been nice with a piston filler, but the converter works fine and I like that they stick to international cartridges/converters.
8/10



Price/Value
I bought this new (I'd guess that it is NOS, since it has been out of production for a while) for a bargain price (£100 at GBA pens) for this kind of pen. It is a pity that Delta doesn't manufacture them anymore, since it is a very pleasant acquaintaince.
10/10

Conclusion
I'm very happy that I gave in to the impulse to buy this pen. It is a very special pleasant writer and I do believe that it is a keeper. It is a pen with a somewhat specia design. I like the attention to details on the cap, which is very nice to look at when I'm writing.
43.5/50