The pen in question is a bargain basement pen from Sailor, called just the 'INK PEN', which I kindly received from fellow FPNer, Jared, who purchased it in japan for the princely sum of 100 Yen, or about a dollar or 63 pence in the UK. This will buy you a bag of salted peanuts in a British pub – a pint of bitter is about 5x this amount. So it literally does cost peanuts! Anyway, enough of the pre-amble, on with the review.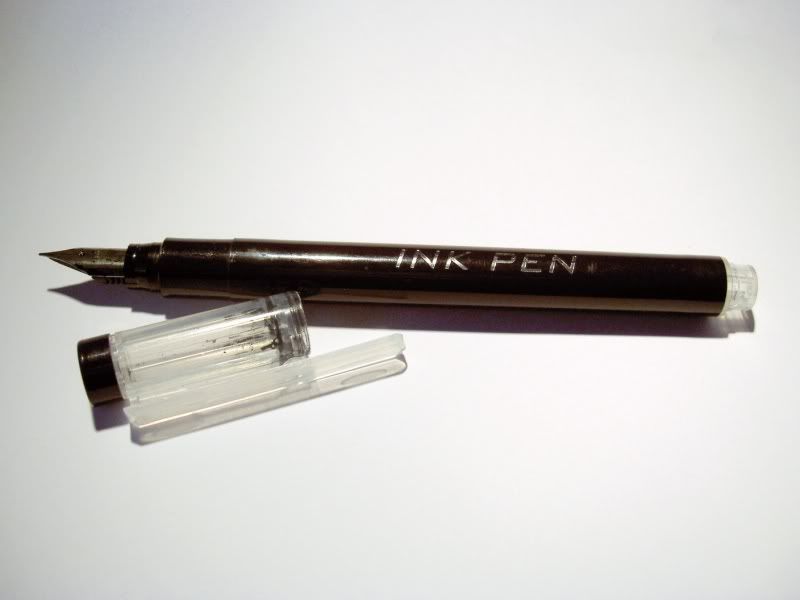 1.First impressions: My first thought was that this looked like a slightly fatter version of the Muji gel ink rollerballs. It's light, plastic and functional – it makes no pretence of looking like a 'proper' fountain pen. In the case of the Muji rollerballs, they are disposable, but this one is a cartridge filler, so you might expect to be hanging on to it a bit longer.
2.Appearance and finish: It's a nice colour though, a dark purply blue with a short clear cap. Being all plastic, it's very light but it feels ok in the hand. It has the words "INK PEN" in capitals on the barrel and a slightly subliminal "Sailor F4" on the plain stainless steel nib (no tipping). It takes standard Sailor cartridges.
3.Design, size, weight: As mentioned its a plain straight barrel, with a slightly narrower short section and short transparent cap, which can be posted with no change to the balance. It weighs just 8 grams and is 135mm long and about 10mm diameter at the barrel.
4.Nib design and performance: The nib is a Japanese fine, and being untipped it has line variation between horizontal and vertical strokes, so it is slightly italic. Performance wise, I wrote a letter of 2 a4 sides straight off with no trouble, but then the flow started to dry up, giving very grey lines (using a Sailor black cartridge). However, having pressed hard while making short strokes a few times, the flow returned and apart from a couple of relapses, seems to be fine. It's certainly smooth enough for such a fine untipped nib, but not up to the standard of (admittedly more expensive) Pilots like the Birdie or Prera, but it's not scratchy or unpleasant. I think it helps if the paper is good quality – I was using Tesco's Finest Ink Jet paper, which is 120gsm (32 lb). On rougher paper it does tend to scratch a bit. The improved ink flow by stretching the tines has helped in this respect.
5.Filling System: standard Sailor cartridge fit. I'd imagine it might be possible to fit a converter as there is a good 70mm of inside length available in the barrel.
6.Cost/Value: Well you can't get much cheaper and I don't think you could find a better writing instrument for certainly 5, maybe 10, times the price.
7.Overall opinion: Once the flow problem got sorted, the pen really is a delight to use. The slight italic nib gives it an edge over, say, the fine nib of the find found on the Pilot Prera, but its not as silky smooth, so it may irritate some. If you can't get on with Japanese fine nibs anyway, then this pen would not appeal. Before I got back into fountain pens, I was using the Muji gel rollers quite a lot, and this has a lot in common in terms of the overall feel, but with the benefit of being refillable. All in all, an excellent pen for fine writing. In certainly recommend giving one a go if you ever see them for sale.
(Later): After using the pen quite a bit for a week, it seems that it has a slight problem with a leak somewhere around the nib or section. The clear top becomes smeared with ink around the base, so it 's unlikely to be coming direct from the end of the nib or feed underneath, but could be leaking from where it joins the section. This is a shame as it detracts from what it otherwise a smashing little pen.
Images of this review:
Side 1: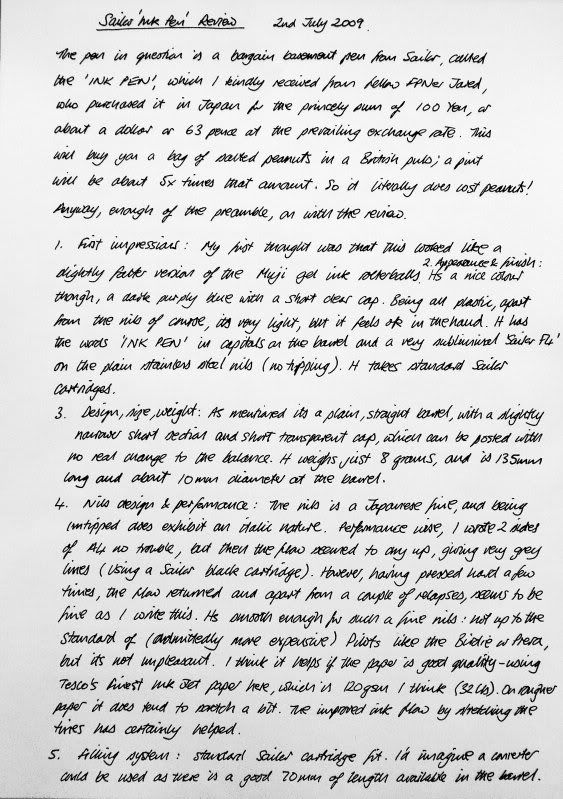 Side 2: