Introduction & First Impressions
Since buying a Danitrio raw ebonite Densho, Iíve been enamored with the Danitrio brand, and impressed with the quality. Iím constantly on the lookout for a reasonably priced Dani. After missing out on one of the Cum Laudeís on the green board I emailed winedoc to see if he had anything similar in his warehouse. He had this gray/blue Cum Laude and I took a chance on it. Here is the review
Appearance, Fit and Finish
4.9 out of 5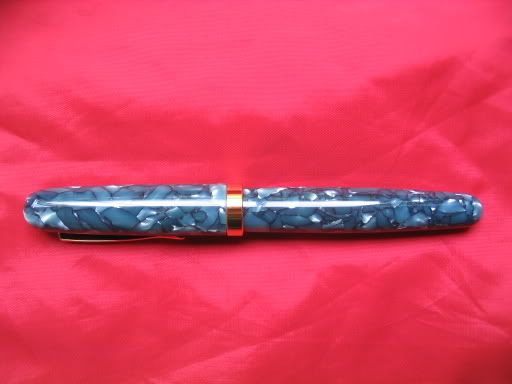 When the pen arrived it was in the same wooden box the raw ebonite Densho comes in, which is a very nice presentation case. I opened the box and saw the pen. I was immediately impressed with the depth and visual interest of the celluloid. Iím guessing this is made from a rod of celluloid, since I canít find a seam anywhere on the pen. The cap screws on securely, and the gold color metal trim is installed well. The clip is tight, and while a spring-loaded clip would be nice, this is very functional.
Design, Size, Weight
4.9 out of 5
I would call this pen torpedo shaped. The pen is rather light, especially considering its size of 5.875Ē capped. The width at the section is about 0.5Ē, which is a bit wide, but is the width that I find very comfortable. The Cum Laude is very well balanced unposted, and since I donít post, I canít comment on the balance while posted. The cap is light, so I donít think posting would make an overly back heavy pen.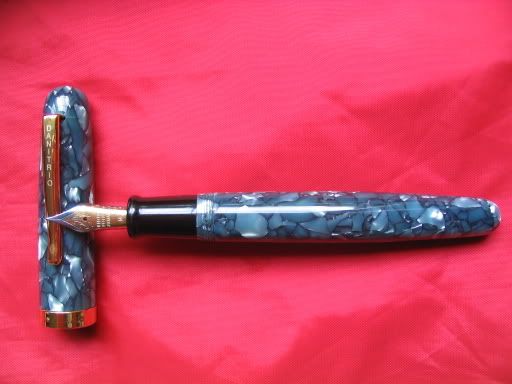 Nib Design and Performance
4.9 out of 5
The pen came with medium steel iridium point Germany nib. The nib was very smooth out of the box and the pen was a medium-wet writer. The nib was on the fine side of medium, which is what I asked Kevin (winedoc) for. However, I had been contemplating a custom ground nib for a while and this pen turned out to be the pen I sent to Dillon (dillo on FPN) for a custom grind.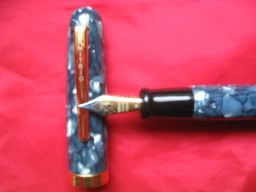 Dillon ground me an italic nib, and the nib really gave my poor handwriting some character. There is good line variation between the horizontal and vertical lines. I asked for a nib with a moderate amount of tooth. Dillon provided that. The nib has a nice sweet spot, but it can be somewhat elusive, however, I am enjoying the learning curve. I would recommend Dillonís nib grinding service (in fact I just sent him a second pen), and he as a satisfaction guaranty, so, IMHO, you canít lose. Below is a sample of my handwriting with this nib.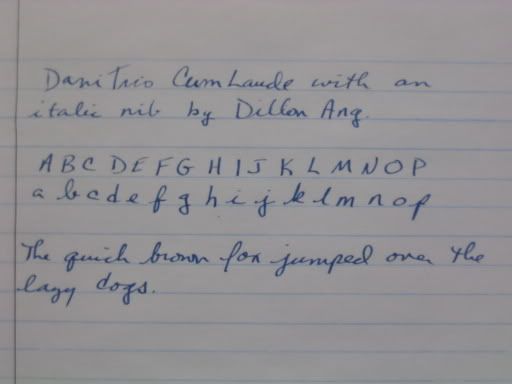 The Filling System
4 out of 5
Cartridge/Converter system, not much excitement here. The pen has metal threads on the section, so it isnít a good candidate for conversion to eyedropper. However, I donít think I would recommend this conversion, due to fear of staining the celluloid.
Cost
5 out of 5
Kevin sold me this pen at a very reasonable price, especially considering how much I like the pen. I consider this pen a bargain even including the $30 for the nib customization.
Conclusion
I would highly recommend any Danitrio pen, none of the 4 I have were a disappointment. When you combine the apparent quality control standards of Danitrio with winedocís outstanding customer service, this is an unbeatable combination. The Cum Laude is not a really flashy pen, which is OK with me. People seem to notice the nib, but the celluloid doesnít scream out ďlook at meĒ like the Danitrio Tosca does. That isnít to say the blue and gray celluloid isnít attractive, it certainly is. The combination of classic shape and understated good looks makes the Cum Laude a pen that I plan on keeping as a regular user.
This pen scored a 23.7 out of a possible 25, which I consider to be outstanding. What could have given this pen a better score? An eyedropper or other integrated filling system, maybe a gold nib. However, these also would increase the price, and the Cum Laude is a reasonable priced pen for those of us who have limited funds to spend on pens.