Hero 616 review
Started by
HenryLouis
,
Jun 24 2009 21:54
Posted 25 June 2009 - 18:02
Guts of the 616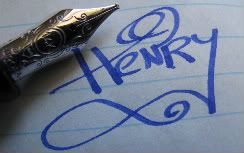 ---
Posted 25 June 2009 - 21:04
hi jbaumann.
the problem with these "packs of ten" is that they are cloning the clones! we know the hero 616 is a clone of the P51. well, some sellers are sending buyers clones of the hero's, instead of the hero 616's!!!! that's why, you gotta make sure the pictures show the arrow clips of the 616. it's also a good idea to communicate with the seller and ask before buying.

it appears Henry (the OP) got the right ones!!!!
I got the ones with the arrow clip - I knew about the "cloned clones" and made sure that I did not get the ones without it.
hmmmmm!!!! the 616 i have work really well. sorry about yours!!
regards,
---
Posted 03 July 2009 - 00:07
I've used these pens and these are very bad nibs durability-wise but what can you expect for such a cheap price. Also this was my first pen, it's a really good begginner pen

A Proud 14 Year Old Fountain Pen User!
What I want:[/color]
Aurora Talentum
Pilot Custom 823 Amber

Bought on 4.1.10

Lamy 2000
Omas Paragon
Sailor Realo
---
Posted 09 July 2009 - 04:45
Guts of the 616
is that the stained one with BSB?
---
Posted 09 July 2009 - 16:34
Guts of the 616
is that the stained one with BSB?
Yeah they stain easily. The sac is stained, as you can see.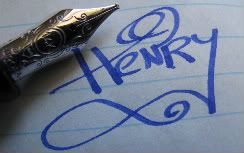 ---
Posted 30 January 2012 - 00:44
Word of advice, work on your handwriting. I know mine is not perfect, but seeing yours makes me
The heart has its reasons which reason knows nothing of.
Blaise Pascal
Tell me about any of your new pens and help with fountain pen quality control research!
---
Posted 31 January 2012 - 22:32
Good on you for taking a photo of the top of the cap! The size of the clip jewel looks suspiciously small, and I've never seen a 616 cap without  engraved lines running the length of the cap (in the style of the Parker 51 gold filled liney caps). Possible they've sold you a fake my man!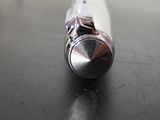 Edited by Flounder, 31 January 2012 - 22:43.
---
Posted 01 February 2012 - 12:48
There are a number of threads listing the differences between the Hero 616's and the lesser quality copies. The most recent was the review of a fake 616 by Celesul. You might want to compare your pens to confirm they are Heros. I have a 616 and have never had a problem with the fill bar being sharp. This is a commonly noted problem on the fakes. Check it out and post your results. We are all curious, I'm sure. It might be a good thing to know if you have identified a seller who is selling counterfeits. Thanks.

---
---