I was looking for an inexpensive Chinese Calligraphy pen, because I was curious about the turned up nib. I found one on comeon1788's eBay site, with free postage. I won it for US$12.
When it arrived, although the packing reflected the free postage, I was very impressed with this little pen. It filled and wrote immediately, no flushing with detergent needed, although it took some getting used to the strange nib. In fact, I was so impressed with this pen, that I decided to buy another, but this one with a normal nib. This second one, again with free postage, I won for US$11.
Using comeon1788's stock ID's, the normal pen is LE24 and the calligraphy one is LE25.
They have a discrete black lacquer or plastic coated metal (brass?) barrel, a plastic section with a reasonable screw-piston converter, and a black clip-on cap. The clips have a tiny portrait of Leonardo da Vinci, and the word Leonardo etched on them. The pens aren't large and heavy, like the Jinhao X-450's. They weigh about 30g, and are a little shorter and narrower than a Platinum Preppy. They are ideal daily carry pens for occasional use, which is what I use them for.
Neither pen is comfortable when posted, but both feel nice in the hand when unposted, if a little short. But then, I use them as convenient shirt-pocket carry pens.
Initial tests on the new 'normal' LE24 shows that it is a medium wet nib, in medium-fine width, and it writes with a little shading on Clairefontaine DCP copy paper.
The 'calligraphy' LE25 tends to be a little wetter, but with substantial line width variation, depending on how it contacts the paper. It took a little practice to get used to, but I find it now gives attractive line variation as I write, simulating a flexy-nibbed pen.
Piccies from comeon1788's website --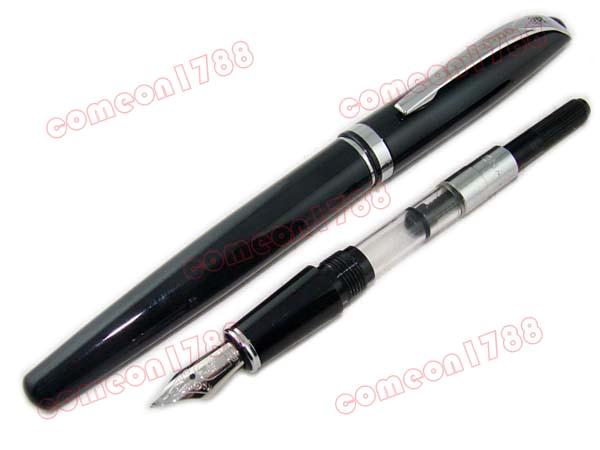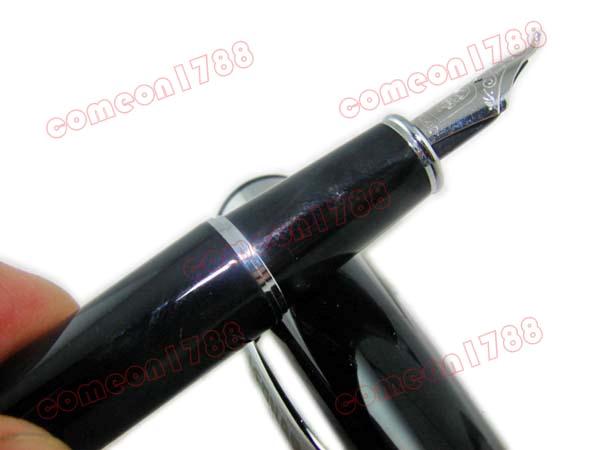 This is the LE25 Calligraphy one, and you can just see the turned up nib. The LE24 is identical, but with a normal nib. Both nibs are stainless steel.
I will post some scans of their writing, especially the Calligraphy one, when I have time.