Review for Meisterstuck Solitaire Doue Fountain Pen 146GP LTD Anniversary Edition 1924.
Presentation: 3/5
Nothing really special about the box except for the nice plate that say 75th Anniversary on it.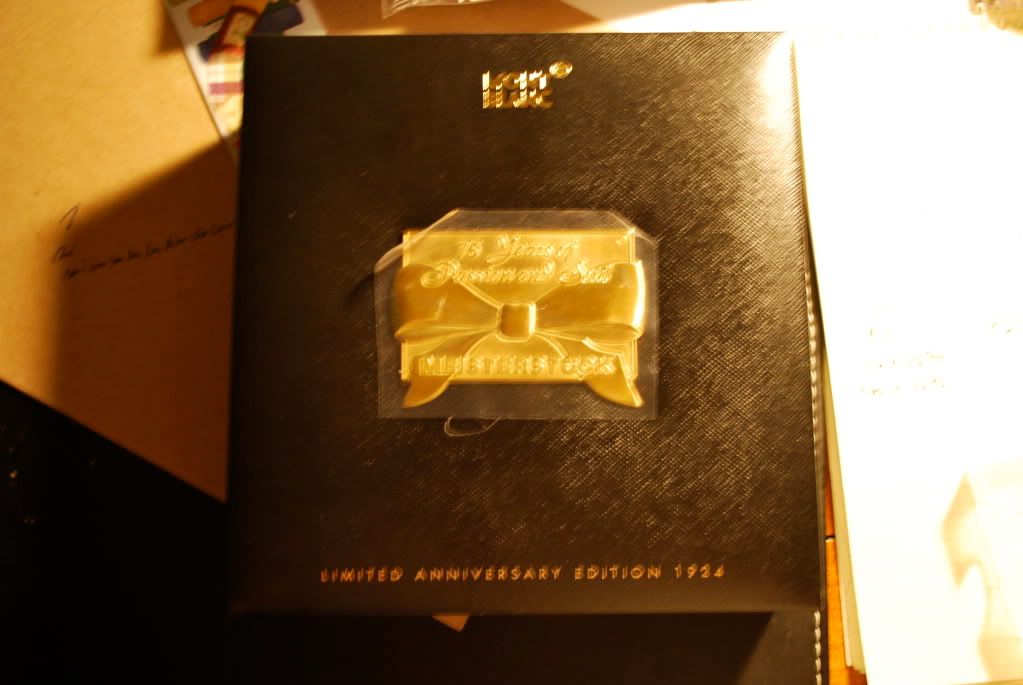 Pen Size: 4.5/5
The body is standard resin and the size is the standard 146 size. I did not measure the pen because I think most people knows the size, if not let me know I will measure it for you.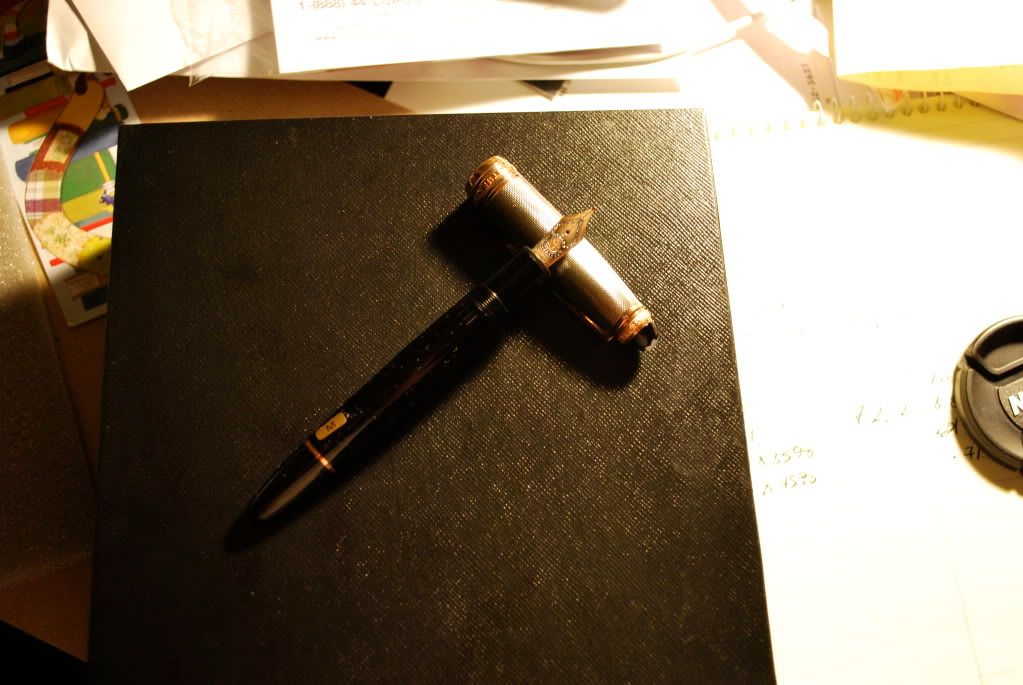 Nib: 5/5
The nib is medium 18k gold with rose gold plating. To my surprise this nib has flex in it, when I write with this pen it has a nice feedback feeling to it. Out of all my MB pens this is the only nib that has flex without the help of a nibster. The ink flow is also very rich compare to my other Mont Blanc pens. In term of smoothness I would have to place this nib above my Dupont and Sailor pens. When you have that kind of smoothness and add in nice flex I think I found my perfect nib.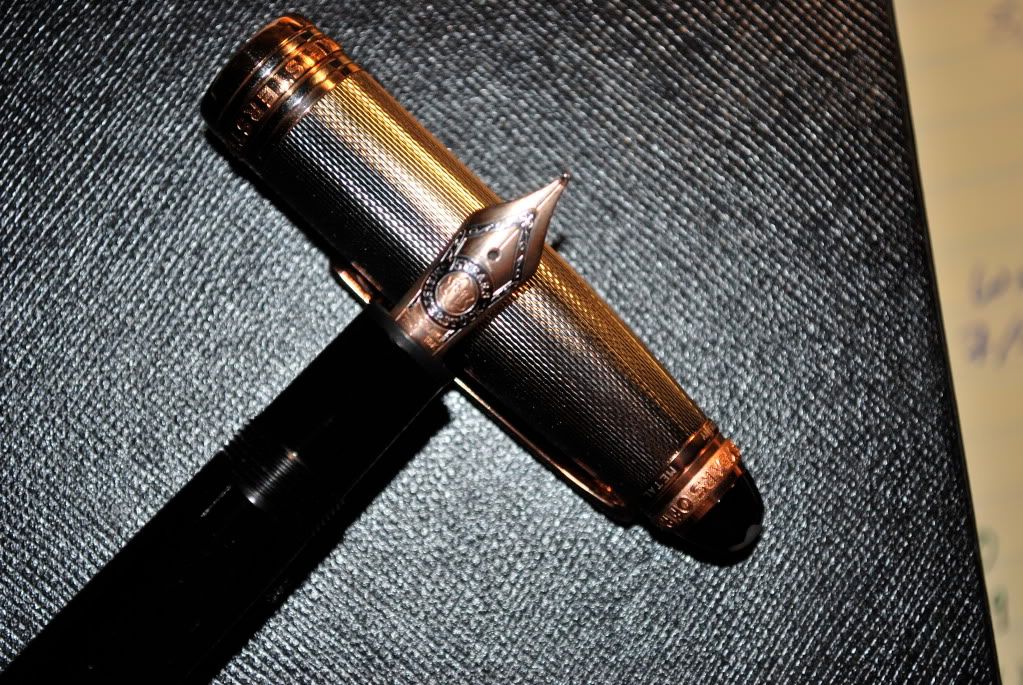 Cap: 5/5
In most of the reviews few people talks about the cap, I mean why would they unless the cap is the reason why the pen is beautiful. The cap is made of sterling silver with barley pattern engraving, rose gold accents, and mother of pearl MB star. The barley pattern is very fine giving it a very nice look. What I think works really well with this pen is the rose gold clip and the three rose gold ring near the bottom of the cap. In contrast with the sterling silver the rose gold clip and rings really capture your attention. There is also a very small diamond on the clip ring that replaces the "O" in the word "passion" but the diamond is so small that it is barely noticeable. The whole engraving says " 75 years of passion and soul". Last but not least is the mother of pearl MB star (not step-mother of pearl), it really bring this elegance look to this pen. Personally I really like Mont Blanc's mother of pearl it is one of the reason why I got my J.P Morgan POA pen.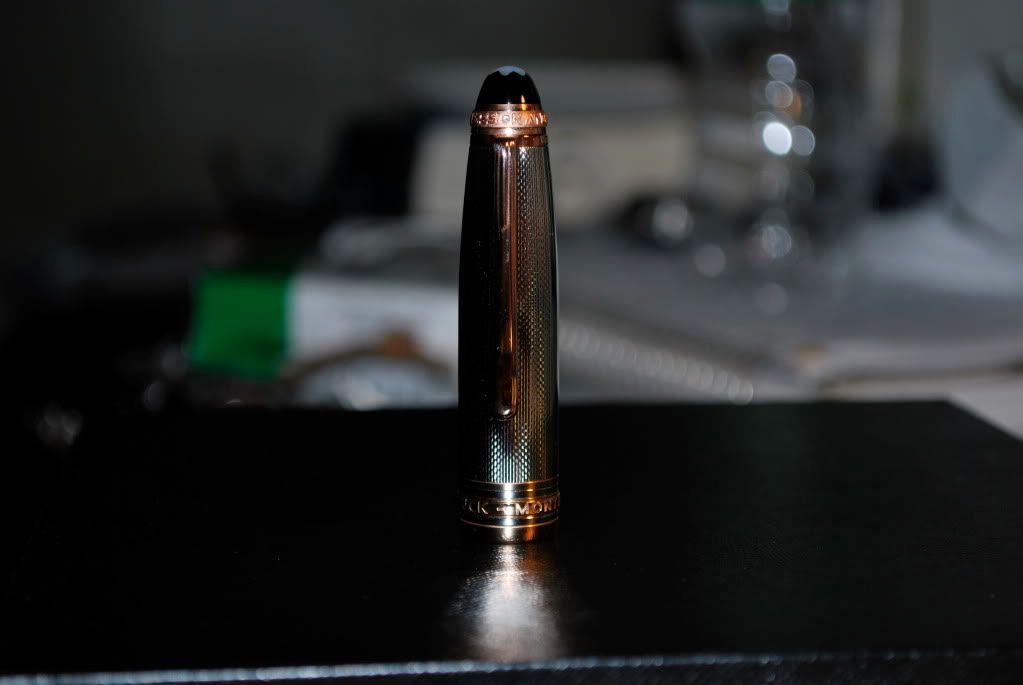 Value: 5/5
I paid the retail price back in 1999 when the pen first sold. In terms of today's price for MB pens it is an absolute steal. But that did not earn a 5 out of 5 rating from me. What really push this rating to a perfect rating are the smoothness and the flex of the nib. To date I think this is one of the best value in term of price I have spend on FPs.
Here is few comparison picture between my 75th Anniversary SE 146 and the Doue.