I did it. I traded off my raw ebonite Mikado.
It is not something I had ever considered doing, but there in my inbox was an email from a fellow FPN'er, asking if there was a way I would consider a swap for his Takumi.
Appearance:
3/5
After looking at numerous Dani's on FPN and elsewhere, I was less than impressed with the Bokashi-nuri finish. It just seemed a little bland.
The model I was being offered was the beige to black version. There were other derivatives, including red/black and green/black. After I looked at them, I realized that the black and tan version (not to be confused with Guiness/Bass) was the classiest version. It is not obvious in the photo's, but there are distinct brush marks between each change in color. From a distance, it almost looks manufactured. This look really does grow on you.
Another aspect of this pen (which might be an issue in all hand made pens) is that one side of the cap is lop-sided. It is difficult to see in the pictures, but it is there.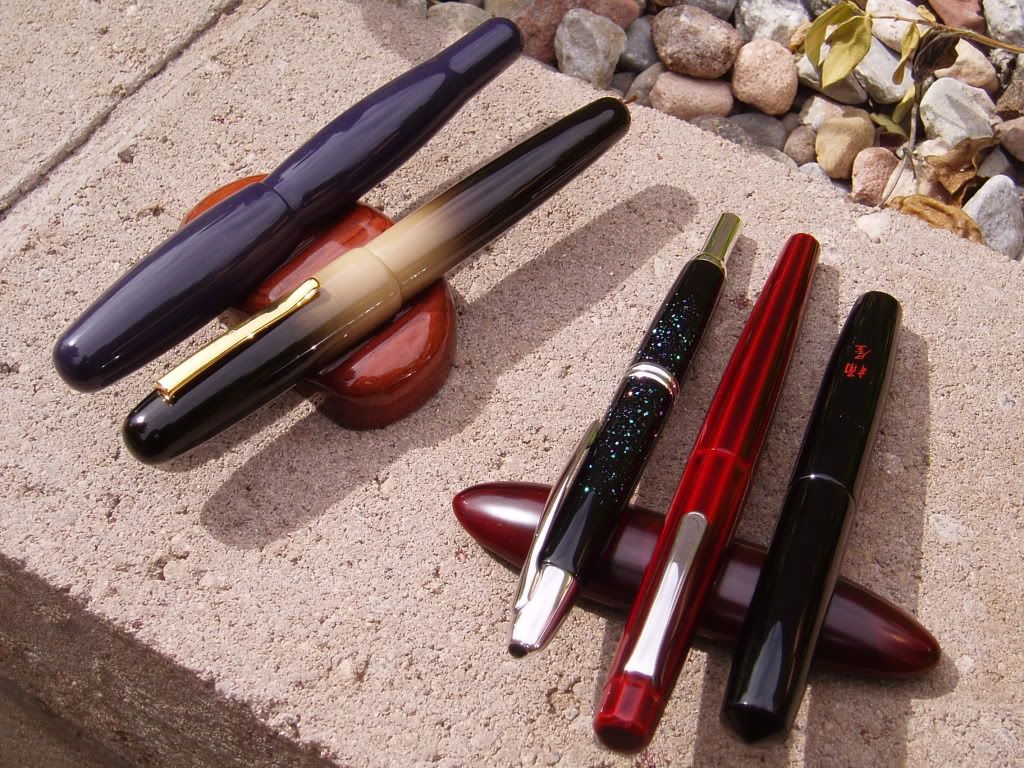 Nib:
4/5
I now have a stiff fine and flexible fine nib from Dani. They are both very nice.
My (sob..) ultra-large fine nib that is found on the Mikado is now gone. Honestly, the Mikado nib was a little too large for me; no matter, I will have another one some day (this was my primary desk pen).
All Danitrio nibs seem to work perfectly (they are Bock nibs, which is no bad thing) and this is just testiment to the fact that the set up is as important as the actual nib.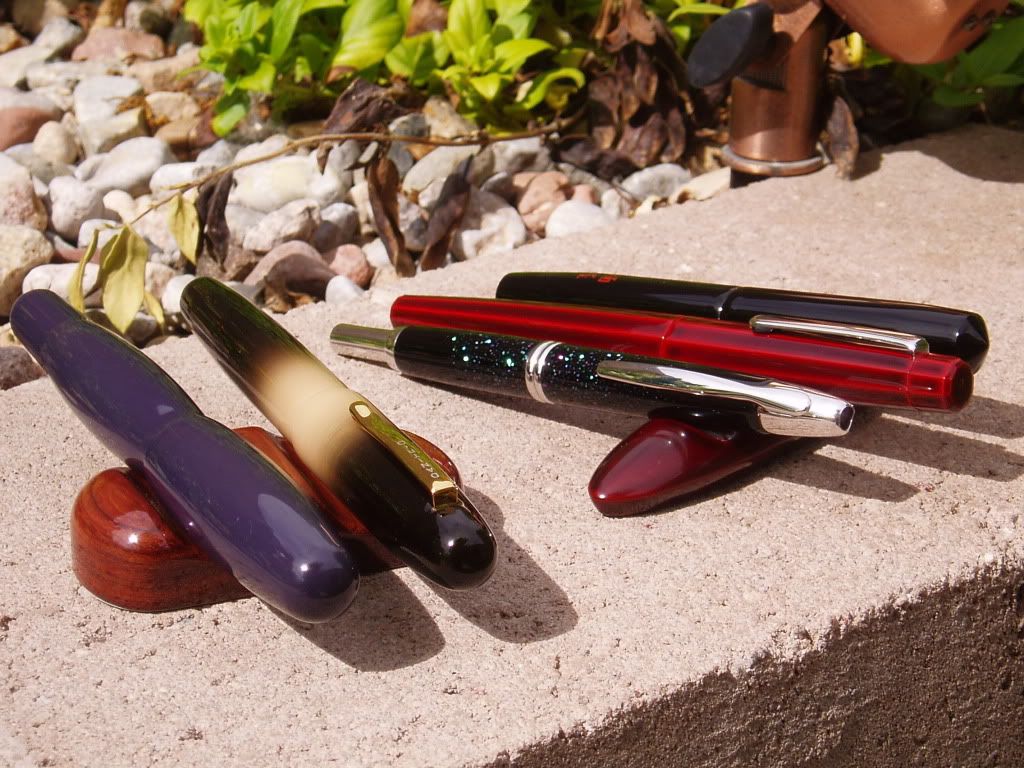 Value:
4/5
With all pens, value is in the eye of the beholder. After years of collecting Italian pens (I still dearly love them) I have come to the conclusion that no resin (i.e. PLASTIC) pen is worth $500 or more. I want to see noble materials (Ebonite, Celluloid, Metal, Enamel,
Urushi
).
Most high end Japanese pens have this. In addition to superlative performance, this is the reason I have been attracted to them.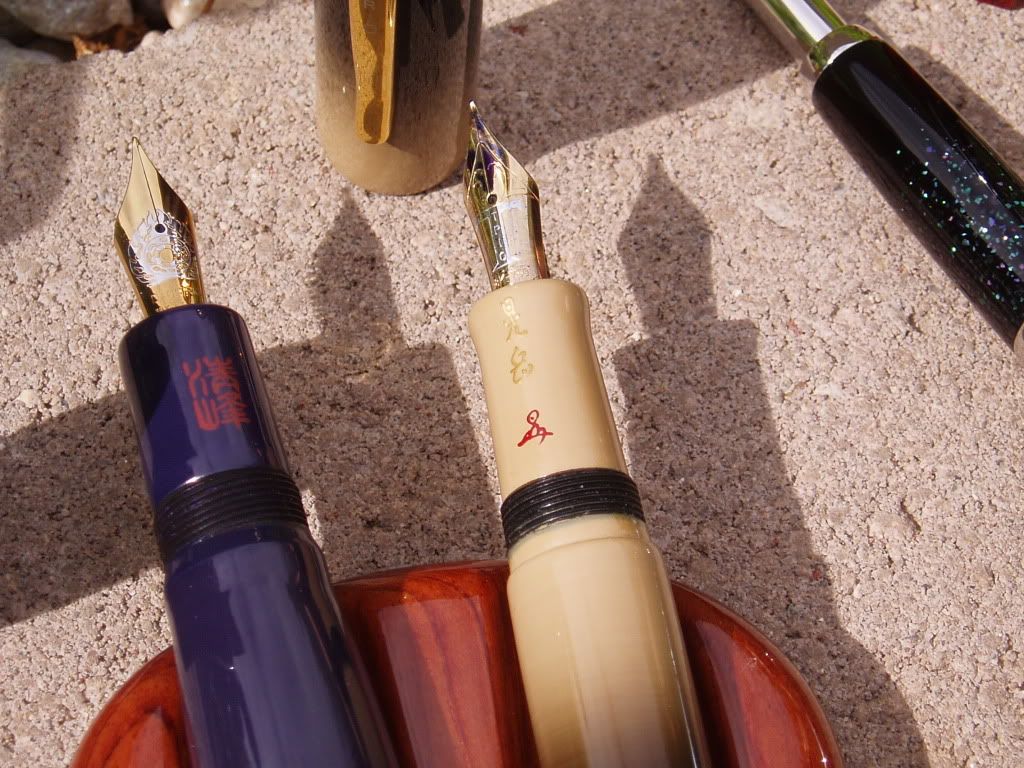 Conclusion
:
4/5
What can I say???
I can't wait for the Danitrio Fellowship to arrive at my doorstep with great anticipation...
(L to R: my current urushi pens: Danitrio Mae West Purple Hana Nuri/Danitrio Takumi Bokashi-Nuri/Namiki Vanshing Point Raden/Nakaya Ake-Tamernuri Decapod/Nakaya Black Urushi Piccolo).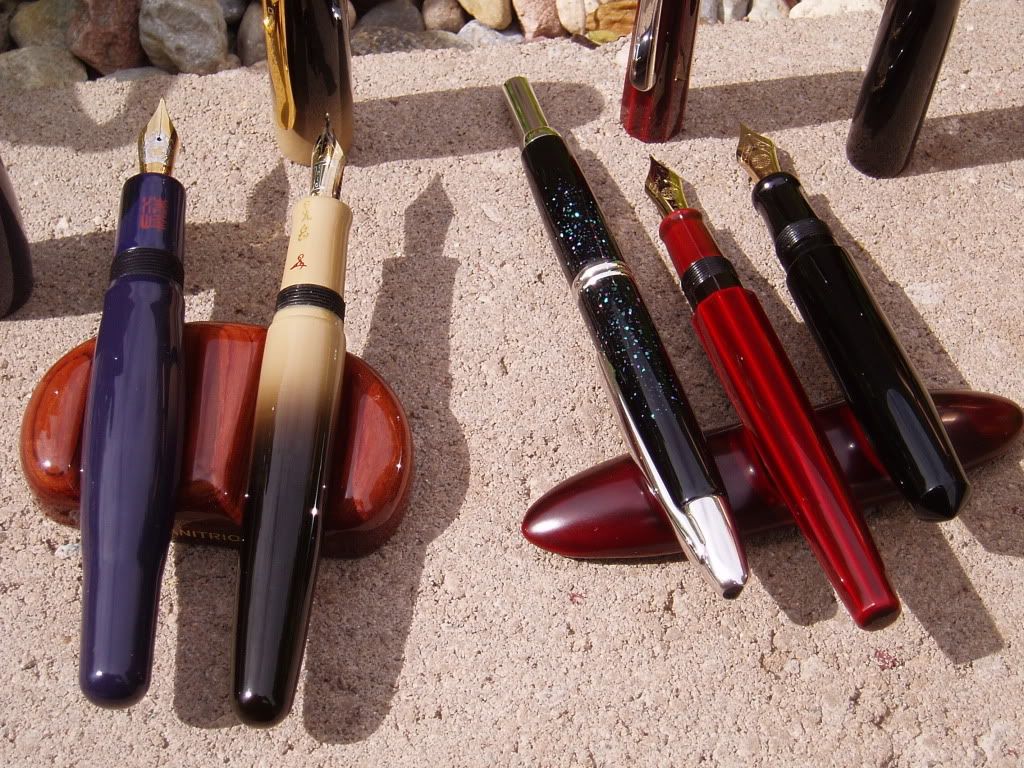 Edited by Doug C, 04 June 2009 - 23:35.