PILOT Custom 845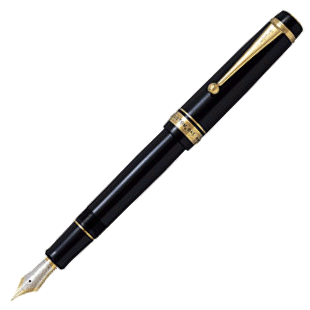 INTRODUCTION
Pilot has been making fountain pens since 1918. Over time, their expertise in creating pens has grown and their creative teams have conceived of some remarkable designs. They are best known for their less traditional designs like the MYU steel integrated nib, the Elite pocket pen, and the Capless. But along side those pens, Pilot has been quietly making some of the best traditional nibbed pens in the world.
The Pilot Custom line has gone through several stages of change. One of the more prominent milestones was the large inlaid nib that was first produced in the 1970's and still continues to be made to this day for the prized Namiki Silvern line. Then came the nib featured in the Grandee, sporting a large crescent breather hole in addition to the main breather hole to assist with ink flow. More recently, Pilot made an unprecedented move to produce a pen that doesn't use a converter--the Custom 823 that has a vacuum-fill design (an updated version of what Sheaffer produced back in the mid 1930's and was initially conceived back in 1905). Several models in the Custom line, including the 823 and 845, feature large sized traditional nibs.
So, I bought one. And although J-San wrote a great
review
of the 845 last year, and seikoguy shared with us some excellent
photos
of his, I felt I still had to write a review. The pen compelled me to, honest.
NOTE
: Images shown were borrowed from a
GX blog website
in Japan. I will eventually incorporate my own photos.
______________________________________________________________________
First Impressions (09/10) - The box unveiling...

The Pilot Custom 845 is essentially a traditional pen. No unusual design features about it. However, it does have one distinction not found in the other standard pen lines from Pilot: clear urushi coated ebonite. From a distance, it's a large glossy black pen with gold accents. One might be tempted to say it's a cross between a Montblanc 149 and a Sailor Professional Gear. It has the girth and length like a 149 and the squared off ends of the Pro-Gear. I have tried all three... and naturally, you know which one I picked.

Incidentally, the box is pleasant... certainly more impressive than the usual hard plastic boxes that other Pilot pens come in. It has a "suede" like exterior and a velvet lined inner bottom that hugs the pen in position. The quality of construction is not quite up to the appearance, but then this is just a box--the pen is what you're really buying here. If I could have a choice, it would be the rubber coated spring loaded hard shell case that is provided with the Pilot/Namiki Vanishing Point.

I didn't need another pen. I've got dozens. Not that I'm bragging or anything--it's a confession to suffering from CPAD. Compulsive Pen Acquisition Disorder. Well, I did make some sacrifices and sold off one pen with a few more in the queue. But why this pen? Why the Custom 845? Well, to put it plain and simple, I'm a big fan of Pilot. I really enjoy so many of their pen designs across the years. They are usually of high quality and write extremely well. The only strike against Pilot is the extreme rollerball reputation in the USA. Ask anyone on the street in America about the Pilot pen corporation and they'd be surprised to hear that they made fountain pens. But I digress... my love of Pilot led me to wondering about their flagship pen. The 845 is just that. The top of the line. And the most expensive (excluding limited editions and maki-e works). Timing is everything and in the past month, something happened--more 845 pens began to appear up for auction, bringing the price down. And so I decided it was time to get one. If I wasn't impressed, it seemed like a sure thing that I could recoup my money by selling it anyway. What's the harm?
…
Appearance & Design (10/10) - The classic, timeless gloss black pen with gold accents

So, as I mentioned earlier, this pen has a very traditional appearance. It's like the torpedo Montblanc 149 with squared off ends. But instead of a piston filler, it has a converter installed. Just as Montblanc Meisterstuck proclaims its name on the cap band, so does the Custom 845. The band has some layering to it and some tasteful accents. "Pilot Custom 845" *** "Made in Japan" *** is what wraps around it, with one thin gold band above. The top of the cap has a thin gold ring around it, visible from above (not from the sides). And there are two more gold rings, one at the section and one near the end of the barrel. The clip is like an elongated triangle, very wide at the top and narrowing towards the end that terminates in a very large ball. It's a grand, stately looking pen. It screams "chief executive", as I could easily see a CEO of a major corporation using one of these (perhaps this is the usual case in Japan). The ebonite body is glossed in a fine layer of urushi lacquer. It is beautifully done. Unlike your traditional highly polished black resin, this urushi gives a little depth to the appearance of the pen. There's a slight curvature near the ends the belies the lacquer, aside from the obvious reminder "URUSHI" printed in small gold lettering. Aside from the appearance, there's a subtle feeling to it. It's ever so slightly less slippering than resin. And from what I hear, it is much more scratch resistant. So, in terms of scoring, in my opinion this is the best looking of the "tuxedo" styled pens (I'm not a big fan of the cliche torpedo shape).
…
Weight & Dimensions (10/10) - It looks heavy, yet it is moderately light and well balanced
The Custom 845 is a larger than average sized pen, measuring 146mm long capped and 165mm posted. The diameter is approximately 12.7mm. It weighs about 28.6gm. It looks heavier than it is, but still feels substantial. Compared to the Danitrio Takumi raw ebonite, it felt about the same weight and slightly shorter. And I love it. For a long while, I craved a big pen. I was glad that I experienced the Takumi, because it proved to me that I wouldn't be happier with anything larger than a Densho, at least as a writing instrument (instead of artwork that can write, as in the Mikado and Genkai maki-e pens). The pen works well whether the cap is posted or not. So, I have to give it a perfect score.

Incidentally, follow this link to a website showing some Pilot pen size comparisons that include the 845.
…
Nib & Performance (9/10) - Oh, what a nib... it is so well respected, Hakase uses it in their $1500+ pens

The Pilot 15 nib is big and beautiful. Pilot sells it in F, M, B and BB sizes. I decided to get my Custom 845 with a broad nib, despite being biased for fine and extra fine nibs. Outside of Japanese brands, they tend to be wetter than I like. I guess it's hard to keep the ink flow from being wet when you edge up in size. Pilot is traditionally Japanese, so a broad is more like a generous medium. The inlaid nibs from the older Custom series (and in the Silvern series) are generally dry writers, so my hope was that the 845 broad nib would follow suit. But with an open nib design and a big generous feed, I was half expecting the nib to be hopelessly wet. I was wrong...

This nib is delicious! It's very smooth. Almost "butter smooth". And if you write with a taller angle, your line becomes more like a western fine. Drop it down to a normal angle, and you've got a buttery smooth medium that's just wet enough. Apply a little more pressure, and now you've got a broad line. I think it's one of the best modern ones you can buy today. However, I wish there was just a bit of tooth to the nib... with all that sleekness, I find there's a touch of "slip 'n slide". I can't control it as I wish to. So, I'm afraid I'm going to have to get it stubbed.
…
Filling System (10/10) - I was once a piston snob... but no more

Converter! (wince). Yes, I know. I said that awful word when speaking of an expensive pen. Granted, there are plenty of pen companies making very expensive pens that use converters (heck, Montblanc did this with some of their limited editions). But in my mind, a pen costing several hundred dollars should at least come with a nice venerable piston filling mechanism. Or harken back to vintage days with a lever filler design. Why not outfit the 845 with a vacuum-fill mechanism as with the 823? Well, Pilot chose to use the CON-70 converter instead. And this is really the best converter on the market. If you've never used one, you should get around to it someday. Squeeze bladder converters expel their contents when squeezed and suck in fluid when released. You repeat it a few times, to improve the suction for the last release, so that the near maximum ink capacity is taken up (unfortunately, there's usually an air bubble left inside). Piston fillers do an even better job. But with both of these, you're twisting or squeezing for a while to complete the process. With the CON-70, you push a button with just a couple of quick taps. And amazingly, the fluid loads up and no air bubbles are left behind. Quick and complete. So, in my mind, Pilot made an excellent choice with the filling mechanism. Yes, I still love pistons, but this CON-70 has won me over. And, there is an advantage... run out of bottled ink and you'll be out of luck with a piston filler. A converter can be pulled and a cartridge inserted instead in an emergency.
…
Cost & Value (09/10) - It's a lot to spend in this economy, but...
The Custom 845 has an MSRP of around $525 USD. Street prices float a little lower. From time to time, on "that auction site" you'll see buy-it-now for the 845 at $485. If you're diligent enough, you can find some in the mid to low $300's. Is it worth MSRP? Well, I wouldn't be comfortable spending that much. I think it's a good value in the mid $400's, so any pricing below that is excellent.
…
Conclusion (Final score[57]: 9.5) - I'm happy to say this is my highest pen score to date
Have you longed for a big and bold black pen with gold accents? Is a Montblanc 149 calling your name, but for some reason you just can't get yourself to buy one? You missed out on that 50% off sale and hope to catch the next one in the future? Or, you've been giving that Sailor Professional Gear the eye but you're put off by the very lightweight resin body? The Custom 845 is an excellent choice. Sincerely, I didn't really expect to like this pen. I don't normally go for that black and gold traditional look. But I have to admit, Pilot achieved something amazing with the 845. I can see why it is the flagship model. And I would not be surprised to find myself still writing with this pen many years from now.

UPDATE:
(6/20)
Since writing with the pen a bit more, I'm starting to feel like I may need to either get the nib reground or exchanged for a finer size. I already have a bunch of stubs... I'm not so sure I want yet another. I'll check with Pilot customer service first and see if I can get it exchanged.
Edited by MYU, 21 June 2009 - 03:12.