I had been curious of Bexley pens a while before I purchased this pen. I also like the story behind Bexley pens and when I saw this flattop model in cherry red I decided to get one. Especially as the price seemed very reasonable this being a quality pen cheered by enthusiasts. Now I've used it a lot during 10 days and think I can write a fairly balanced review.

First Impression
: I had very high expectations and even though I instantly liked the vivid, candy red, patterned and shimmering plastic, I was slightly disappointed of the cap. The top section of the cap (above the clip) is black and I would have prefered an all-red cap.
I was also (I'm a shape fanatic) slightly disappointed that the edge of the cap has a rounded profile, not a straight one. I had also expected it to be a little bit more sophisticated than this very happy, bright hard red candy. It doesn't look cheap, though - only more playful than I had expected. A happy surprise was that the Cherry Haze is somewhat translucent, which add much to the beautiful red colour. I've tried to capture it in the picture below. It doesn't make justice to the translucent, beautiful red, but it gives a notion of it.
3.75/5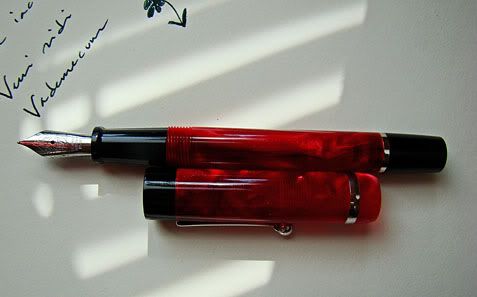 Size & Weight
: It is a medium sized pen that measures 13.2 cm capped, 17.5 (!) cm posted and 12.3 cm uncapped. Weight is approx 20 g. No grade needed.
Design/Build:
The classic flattop design is very attractive in my eyes. Except for my critique above of the cap it is a well designed pen. Nothing cheap about its build and it doesn't appear fragile. The clip is very nice and the nib is rather big which suits this design. The nib has a clean and simple engraved pattern.
3.75/5Nib:
The nib is an F which is made of steel and is large with an F and Schmidt iridium point inscribed along with the engraved pattern mentioned above. The nib is very good. It wrote right out of the box and is smooth, medium wet and is a pleasure to write letters with. It is a true F on the verge to XF, which I like very much. It is smooth, but gives some feedback and the flow is neither to wet or to dry. This is a nib that suits very well for notetaking - extensive everyday writing.
4.25/5
.
Function/Ergonomics:
It is very comfortable to write with. Well balanced, light and easy to use for extensive writing. The nib is very, very good according to its price. But, as it must be a but, the posting could be better. It feels like the barrel is slightly too wide for the barrel and I would like to be able to post it more safely to the barrel. It feels like the cap is posted on the very verge of the barrel. The posting problems is responsible for the rather low grade. If the posting problem should be excluded I think I'd graded it around 4-4.25 in this section.
3.50/5Filling:
The filling system is a c/c and it comes with a converter. Easy to use. I don't grade it because it is a normally functioning c/c. I think it has its place and it is very convenient to be able to choose between cartridge and converters - especially when travelling. I also like that international standard cartridges can be used (Brands that persist having their own cartridge standards annoys me).
Value for the money:
I got this for $90 and it gives very good value for the money. I like it and am growing more and more found of it. One extra plus is the registration form that comes with the pen. If you fill in the form and send it to Bexley you have a life time warranty. That is amazing for this kind of pen.
4.25/5Conclusion:
This is a very nice pen. It was not exactly as I had expected, but most surprises was on the good side. Especially the nib gives very good value for the money. I have gotten curious to try Bexleys more expensive. This is a quality pen for a very good price. And my sympathetic notion of the Bexley company has been confirmed.
Total grade: 19.50/25
/dandelion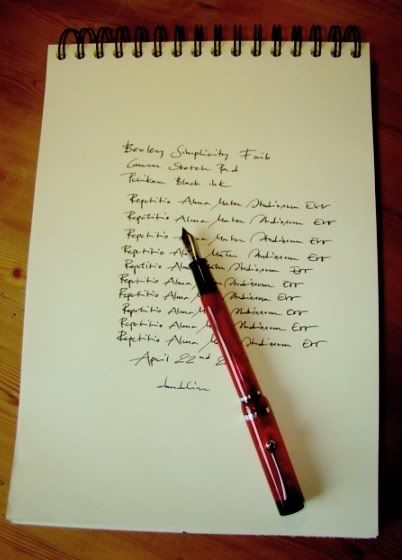 Edited for grammar and adding two new pics.
Edited by dandelion, 02 May 2009 - 12:33.