This ink really surprised me. I don't like pink or cerise. I was very into pink during my early teens and haven't been able to cope with any forms of pink on clothes [on me] or interior [in my home] since. But this dark pink/cerise ink is the exception that confirms the rule. I got some free samples from Diamine and thought I'd better try it and I'm very happy I did. I will write letters to my mum and some friends with this ink or maybe use it when I draw birthday cards. This is not an oversweet dark pink - more on the happy, playful side. I like it.
As all Diamine inks that I have tried so far this is a very well behaved ink. The flow is excellent - nor too dry or to wet - the shading is very good and brings out the temperament in this ink. The only thing I miss with the Diamine inks is that they are not bulletproof. In all other aspects they belong to my favourites. I like my everyday inks to be bulletproof since I like to highlight my notes. It comes both in cartridges (at least if you order directly from Diamine) or 30 ml (from Diamine) bottles or 80 ml bottles. Great value for the money.
Best/dandelion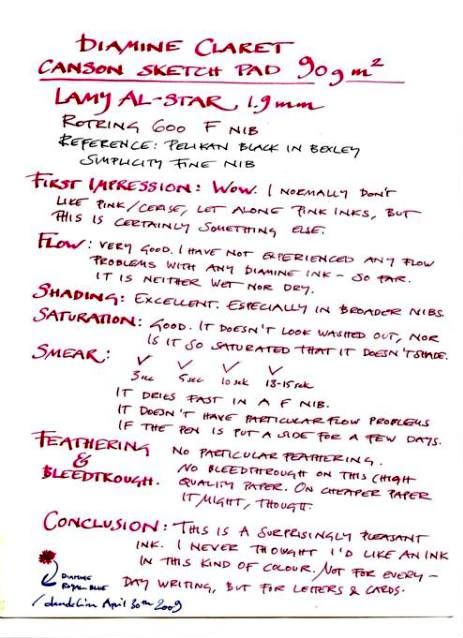 Edited by dandelion, 01 May 2009 - 11:12.