Waterman Concord
One day while searching around for vintage Waterman C/F pens, I happened to notice a model called "Concord." I wondered... a tribute to the Concorde SST? Well, Waterman did make a pen specifically for passengers of the Concorde but it was a different design and sported "Concorde Air France" lettering printed on the cap. However, when looking at the nib of the Concord, one can't help but be reminded of the nose-cockpit module from the world's fastest passenger jet. I'm not exactly sure of the years of production... some sellers have sold these pens while claiming a year in the 1960's as date of manufacture, and yet others have stated production was started in the 1970's. I tend to believe the latter, as the design of this pen embodies a 70's look to me.
______________________________________________________________________
1. First Impressions (9/10)
- Succeeding production of the impressive C/F and DG models, Waterman introduced a model with a rather distinctive departure in design--the Concord. It is more modern looking than its predecessors, a serious impression about it that says this pen means business. "Waterman" is boldly imprinted in the metal cap, along with "Made in France." A pen to trust and use regularly in business and in life. Mine came with a matching companion ballpoint. Together they look quite attractive.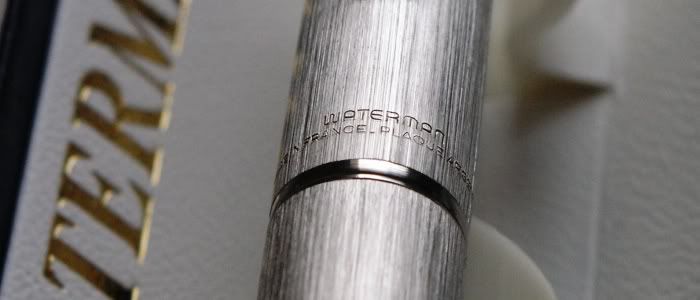 …
2. Appearance & Design (9/10)
- Gone are the elaborate metal sections and Art Deco inspired lines, seen in the C/F and DG models. Instead we have your basic black plastic partially-faceted section and rather triangular looking nib--no curves. However, the design is still appealing. What's interesting is that this pen is the precursor to the Carene. The Carene design returns to artful curves, with a beautiful inlaid nib that arcs gracefully across the front section. So, the Concord is the momentary break with tradition. Clean, crisp, conservative. It was made in a variety of materials: a brushed or smooth plastic cap and barrel, a brushed metal cap and plastic barrel, or all brushed metal cap and barrel (either in silver or gold). The slip-on cap has a subtle but interesting design. The overall shape is rounded/tubular, but with two flattened sides that feature highly polished triangular accents in contrast to the brushed metal. The top of the cap is polished and squared off, then met by a rather firmly planted clip with "W" embedded logo. It mates to the barrel with a clearly audible "snap" and a snug fit. Alas, Waterman decided against a spring loaded mechanism and instead crimped the clip onto the cap. Although tastefully done (unlike a typical Chinese pen), the clip is really firm and may end up causing pocket wear with repeated use. The cap will post to the barrel, and due to the high quality brushed material I expect that there won't be discernible posting marks over time. Still, I always post gently to avoid encouraging marks.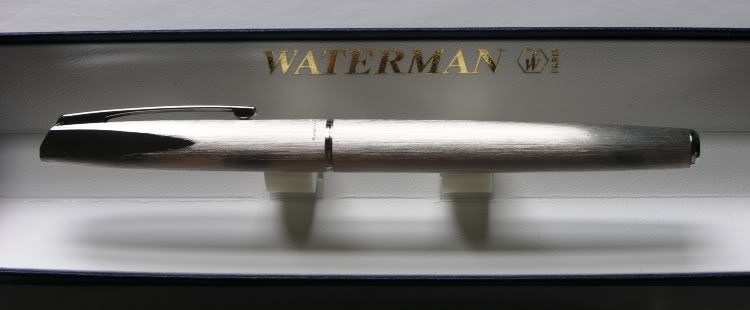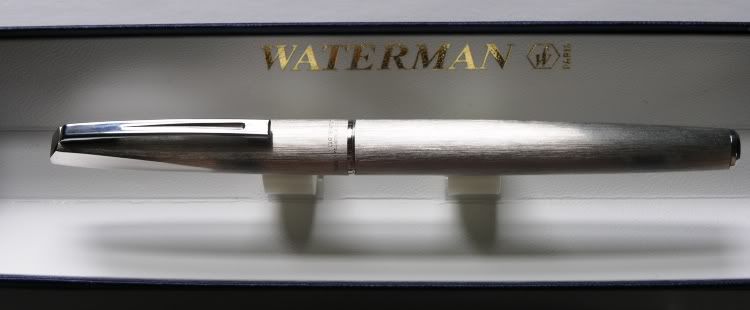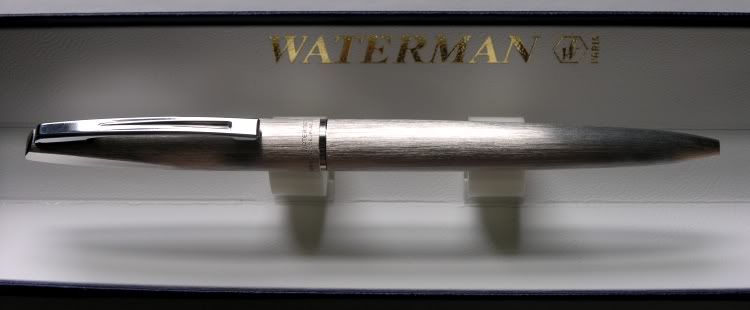 …
3. Weight & Dimensions (9/10)
- It looks heavy, but thankfully the core barrel material is lightweight. The pen is nowhere near as heavy as a Rotring 600 and yet it feels more substantial than a plastic based pen. Length wise it is 5.25" capped and 5.75" posted, with the widest part being 3/8" where the barrel meets the section. A nice dimension, with general appeal to most people.
…
4. Nib & Performance (9/10)
- Waterman is well known for making very firm but smooth nibs in the C/F and DG lines. I'd say the Concord nibs tend to be slightly softer, offering a little spring when pressed. I once owned a Carene and have to say that it's very similar (assuming a standard Carene nib). Butter smooth with only the slightest suggestion of tooth. Alas, I do better with a little more tooth and a stub hides my inconsistencies well. I love the smoothness but I wish I could print better with Waterman nibs. Cursive writing flows nicely, though. The upper half of the section is faceted, which seems to help a bit with orientation and grip (it is subtle, definitely not like the Lamy Safari). As for the ballpoint, it is cap actuated by rotating in either direction.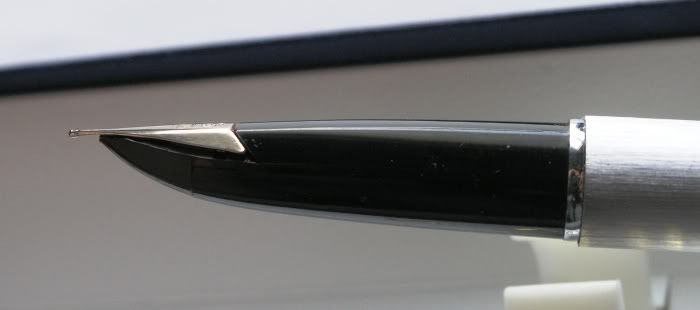 …
5. Filling System (9/10)
- It appears that the section opening has been widened on this model. Whereas on the C/F pens you cannot fit in a standard cartridge, the Concord has a larger opening and will take the long style cartridges. I also test fit the old style converter--it does attach, but not firmly. Unfortunately, the new style piston converter does not fit properly on the Concord. I haven't tried international cartridges, although I expect they might work. The extra long Waterman cartridges hold in place reasonably well--no leaks. I tried a Montblanc converter and it also fit.
The ballpoint is nicely done, but just as with the C/F and DG pens it has a proprietary filling system. The refills have a kind of flared "horn" back end that is used to keep it in place. This design was eventually abandoned by Waterman and they no longer make the refills. Fortunately, Cartier makes one that 'almost' fits... there is some lateral refill movement within the pen, but it's tolerable.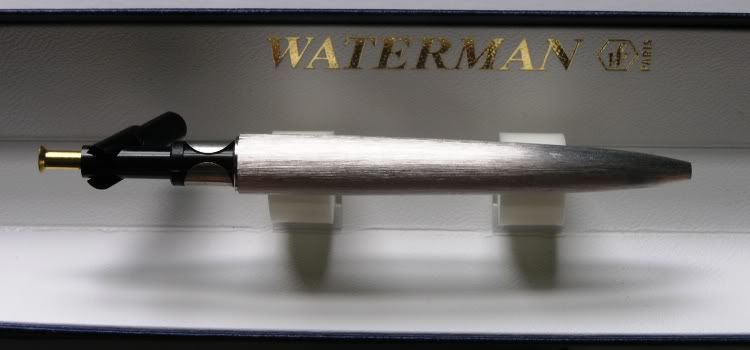 …
6. Cost & Value (9/10)
- The Concord does not appear to be a well known model. I've watched quite a number of auctions end with only light to moderate bidding activity. I would say on average that a reasonable value would be close to but below the going price of a Carene. For a matched set in mint condition, I'd go higher than the Carene, mainly because it is just as well made but more exclusive--a vintage model no longer produced. I put the cost/value rating at what I have observed as the going rate (around $100 for a near mint all brushed metal example). If you are lucky enough to get it for less, all the better.
…
7. Conclusion (Final score [54/6]: 9)
- There is a tendency to be kind with scoring when a pen appeals to you. But really, this is a high quality pen. Waterman paid a lot of attention to details, creating a very well made pen with artistic accents. Everything about it is well done. I really can't cite any serious complaints, except that I wish the clip was spring loaded and the ballpoint didn't have an obsolete refill type. Overall, a great pen that has a nice place in Waterman history.
Edited by MYU, 21 April 2009 - 18:14.