Waterman Directeur General (DG)
Petra wrote a review of the
Directeur General
and Giuseppe (gicoteni) followed up with some
fabulous photos
. I finally got my first DG and have to say it really is an elegant pen, enough to inspire me to review it. I don't have that much to add to what is already written, but I'll try to contribute some supplementary information. My pen came with a matching ballpoint, which compliments the fountain pen nicely.
______________________________________________________________________
1. First Impressions (9/10)
- In the 1970's, the use of fountain pens was waning and production diminishing. But that didn't stop a number of fountain pen companies from continuing to produce beautiful examples of liquid ink based writing instruments. Waterman introduced two very appealing models: The Concord and the Directeur General (DG). The DG was essentially a setup up from the C/F (cartridge filler) models. It is an elegant looking pen, with a bit more of a luxury essence than the fully precious metal plated C/F pens. The clip design takes a little getting used to. It may not appeal to everyone.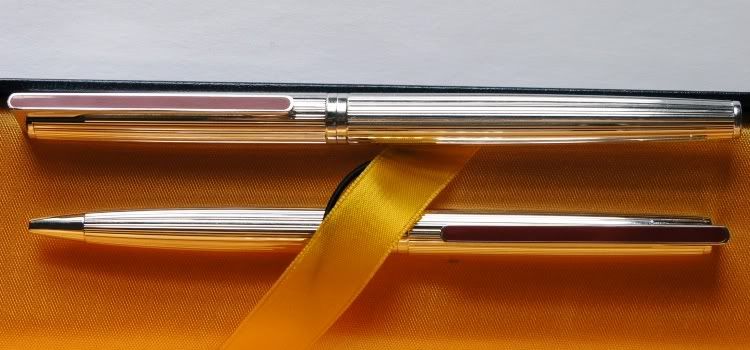 …
2. Appearance & Design (8/10)
- The DG was made with several appearance variations. From what I've learned, the pen was either gold or silver plated. A colored inlay theme existed in all models, but in some it was limited to only the cap clip while others had a colored inlay on the barrel and section. Some had a smooth surfaced while others featured a fluted design. Mine has a dark red colored inlay only in the cap clip and a fluted silver plated surface. The fluting is a nice touch, as it looks attractive and reduces the sight of fingerprints (the bane of smooth polished metal pens). The cap features a rather large clip in a kind of squared off "J" shape that loops around the top of the cap. It's very unusual, and I think only one other pen had a similar clip design (from Cartier). Of course, the clip is spring loaded and pressured to a nice degree, with a decent swing arc (you could clip this pen on a corduroy jacket pocket). The most striking design element is the nib. It was definitely influenced by the C/F model. But instead of the section and nib being flush together, the DG nib is slightly recessed in the section. The curvature around the nib is quite artful. However, the design lends itself to some maintenance issues... ink can collect in the groove between nib and section and make for a bit of a mess with low saturation inks. The cap does not really post--it will fit over the barrel, but does not secure. But the barrel size is good enough to not miss the cap. My only gripe with the slip cap design is that the clutch grips are made of hard plastic... I would expect the plastic to wear down over time and make for a loose cap. Hopefully that won't be the case. My cap still seats securely with barely an audible click.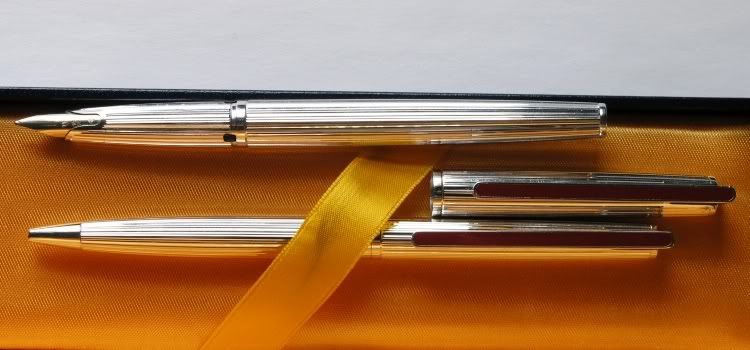 …
3. Weight & Dimensions (8/10)
- It looks heavy, but thankfully the core barrel material is lightweight. The pen is nowhere near as heavy as a Rotring 600 and yet it feels more substantial than a plastic based pen. Length wise it is 5.5" capped and 6" posted, with the widest part being 3/8" where the barrel meets the section.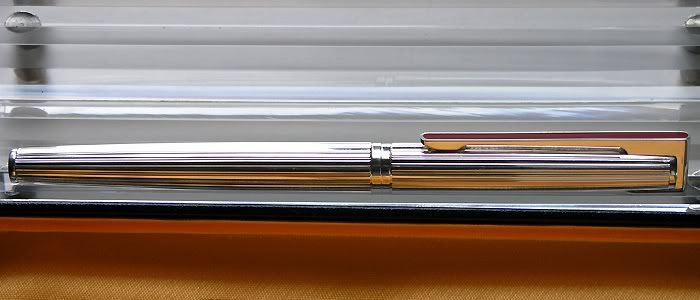 …
4. Nib & Performance (9/10)
- Waterman is well known for making very firm but smooth nibs in the C/F and DG line. This pen is no exception. Although not quite as rigid as a Rotring 600, the 18kt nib does not have any flex. However, the lack of spring or flex is not really noticed as the nib glides so smoothly over paper. A delight to use.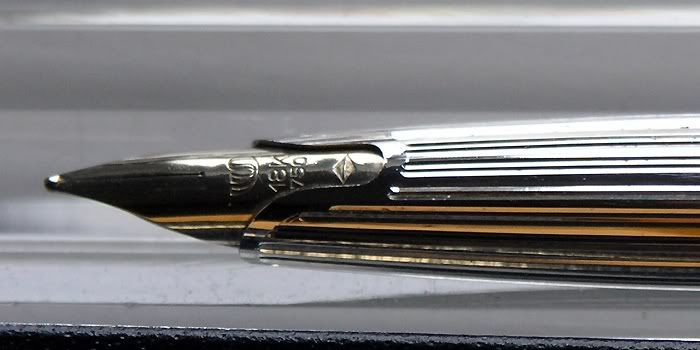 …
5. Filling System (6/10)
- If there's one thing I'd complain about Waterman, it was their decision to go with a non-standard cartridge connector. From what I've heard, Waterman was one of the pioneers in using cartridges over a bladder filling system, so there wasn't really a standard set. And maybe Waterman was just too competitive to try setting a standard with other pen companies. So, as Sony ended up with their unique Betamax video tapes, so did Waterman with their proprietary cartridges. In time, Waterman switched to making pens that are compatible with conventional sized international cartridges, but abandoned support for their design (as Sony abandoned Betamax). That's not good for those still wishing to use these pens. Thankfully mine came with a converter, but I have to say I'm not very pleased with the design--I'd much prefer the more trustworthy Pilot CON-20. In one C/F pen I own that has one of these converters, the bladder began to crack and leak... a special shoe glue fixed it, but temporarily. The good news is that you can still find cartridges and squeeze converters that fit the DG and C/F pens, if you're resourceful enough in searching around (some auction sellers offer them from time to time). There is a Waterman mini-purse pen with a converter that apparently fits the DG and C/F pens, but this is not something Waterman overtly proclaims. They are a bit small. And there is no certaintly on how long that mini-purse pen will be supported. Anyway, for all the trouble, I have to give Waterman low marks for this.
The ballpoint is nicely done, but along with the fountain pen it also has a proprietary filling system. The refills have a kind of flared "horn" back end that is used to keep it in place. This design was eventually abandoned by Waterman and they no longer make the refills. Fortunately, Cartier makes one that 'almost' fits... there is some lateral refill movement within the pen, but it's tolerable.
…
6. Cost & Value (8/10)
- I bought this pen sometime last year and can't remember the exact amount I paid. I'm fairly confident that it was about $150 for the set. Over the years I have seen these sell higher and lower than that amount, so I'd say this is a fair price given what the pen delivers on comparison to similar models.
…
7. Conclusion(Final score[48]: 8)
- There is a tendency to be kind with scoring when a pen appeals to you. Given the frustration with the filling system (difficult to locate converter/cartridges, and somewhat meager ink supply), I might have knocked this down the final rating to a 7. But really, this is a high quality pen. Waterman paid a lot of attention to details, creating a very well made pen with artistic accents. The section is one of the most beautifully designed, from the 1970's period. I have to say that my adoration with all metal pens has waned a bit... I probably won't put this pen to use much. But then, I know when I do it'll make me smile. I love things of beauty.
Edited by MYU, 21 April 2009 - 21:30.