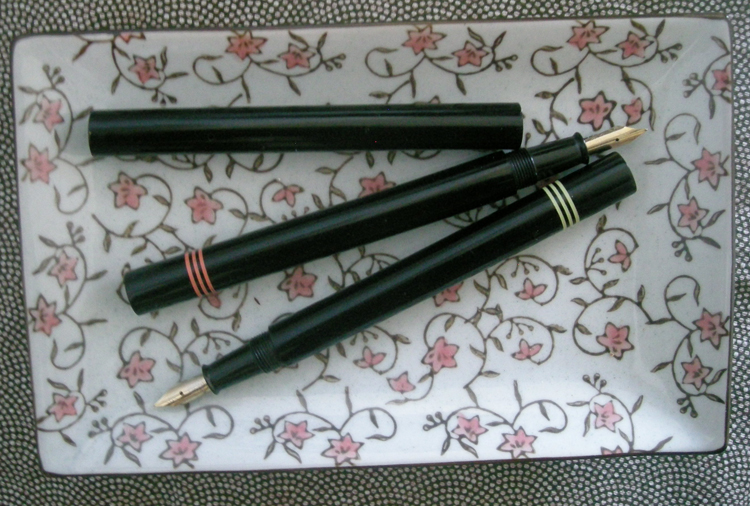 VARUNA DOUBLE-END PEN
Indian Ebonite Eye Dropper Two-in-One
As soon as I saw a photo of Varuna Double-End Pens, I knew I had to own one. First, the sheer uncanniness of this object:
it looks like a baton and disassembles into two separate fountain pens. Second, the logic of it: The "two pens in one" concept
allows the use of two different ink colours, which makes it a convenient pen to keep on your desk for editing and grading.
And finally the looks: the simple flat-top form is beautiful, and the pastel rings at the ends are an irresistible touch.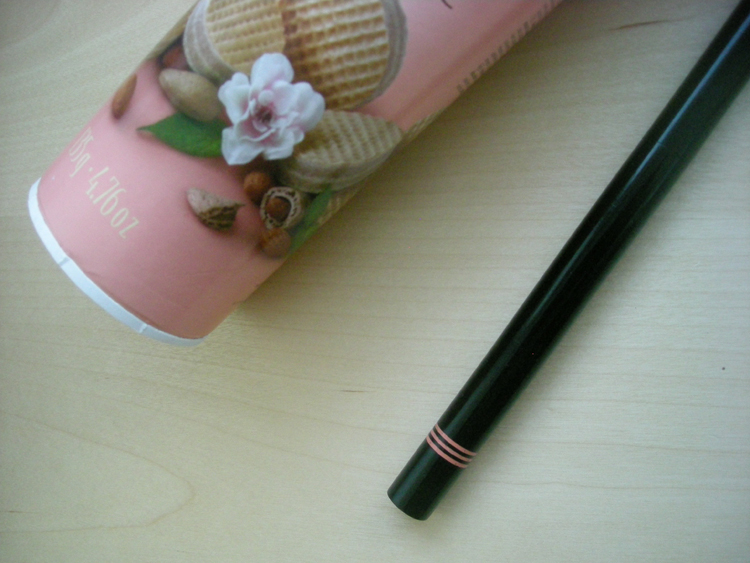 Looks
What fascinates me about this pen, is the graceful elegance it exudes despite its freakish anatomy. The black ebonite body
is smooth and glossy, looking like the polished surface of an expensive piece of furniture. Because the pens on each side
are flush with the middle piece, there are no visual breaks in the length; until the pastel-coloured rings at the ends, it
is one continuous, endless plane.
The pastel-coloured triple rings -- which I am guessing serve the purpose of indicating ink colour -- add visual interest
to the expanse of classic black. The rings on my pen are soft pink and lime green, though I believe several other colour
combinations are available. From having seen photographs of these pens, I assumed the rings were plastic add-ons. In fact,
they are painted into grooves in the ebonite. The shades of the colours are soft and unusual. They look particularly striking
set against the black.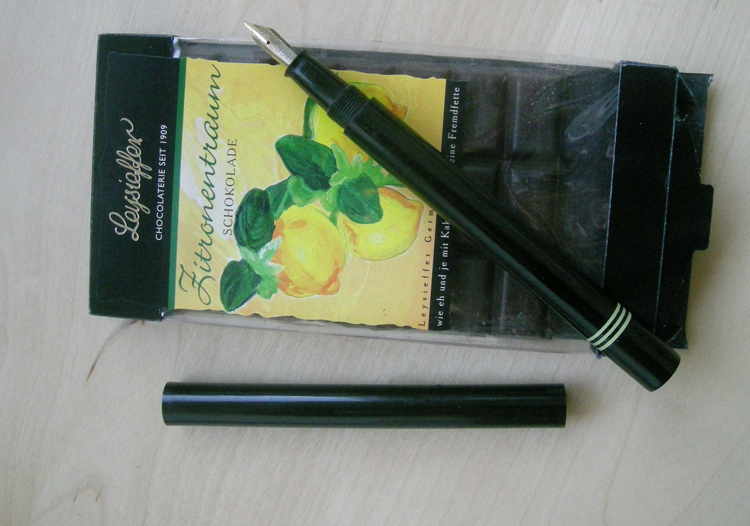 Construction
The Double-End Pen is constructed of 3 main parts: two pens, and a middle connector section that functions as a shared
cap for both. This middle section is quite long -- nearly as long as the barrel of each pen.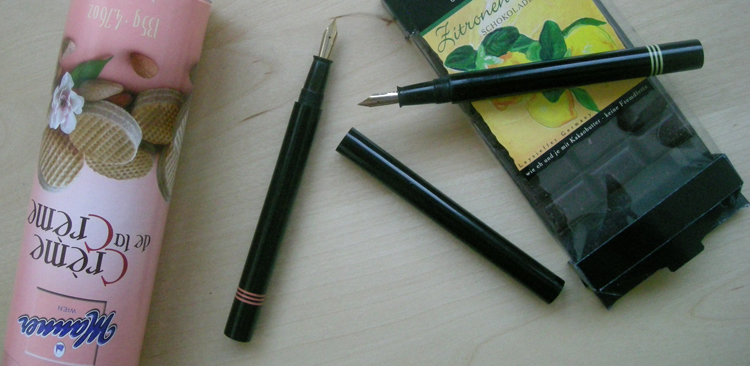 Looking inside the connecting piece, there is a divider in the middle that separates the individual capping areas like a
partial screen. On each side is a breather hole.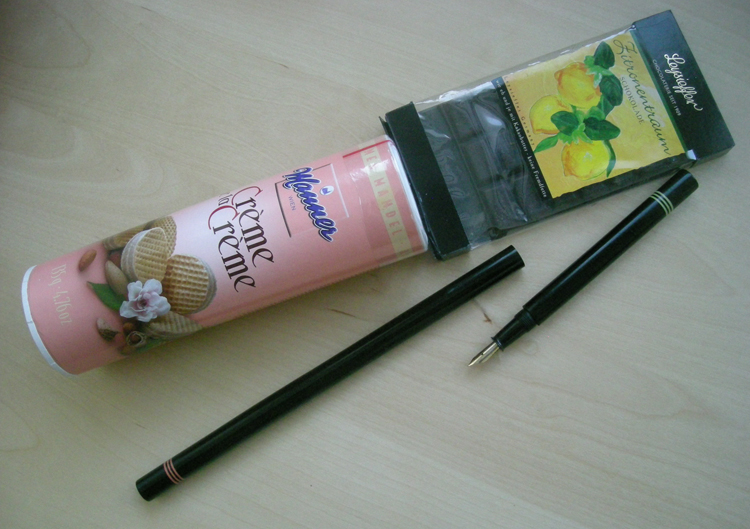 When using one of the pens, simply unscrew the end-piece from the middle. The threads at each end of the middle section
are pen-specific, so the pink and the lime side are not interchangeable.
From what I understand, each pen is hand-turned individually on a lathe, including the process of making the triple grooves
for the end-rings and filing them with pigment. All the parts fit together perfectly.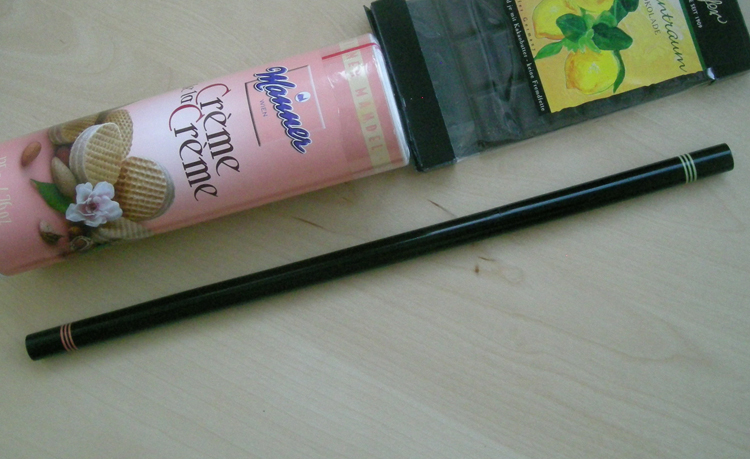 Size, Weight, Balance, Comfort
When completely assembled, the Double-End Pen really does resemble a baton. Its presence is quite striking, and it takes
up a large portion of the surface area on my office desk! Here it is next to some office supplies for size comparison!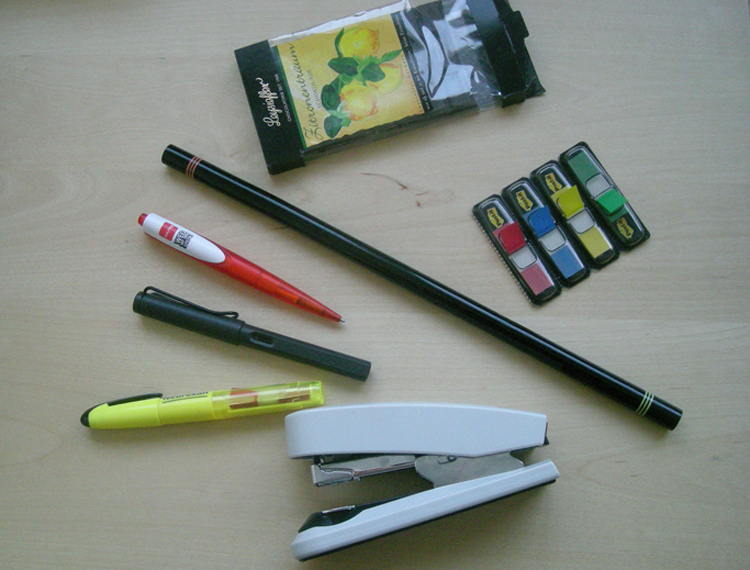 And here is an individual pen next to a Lamy Safari. These are full-size pens, both in length and in width.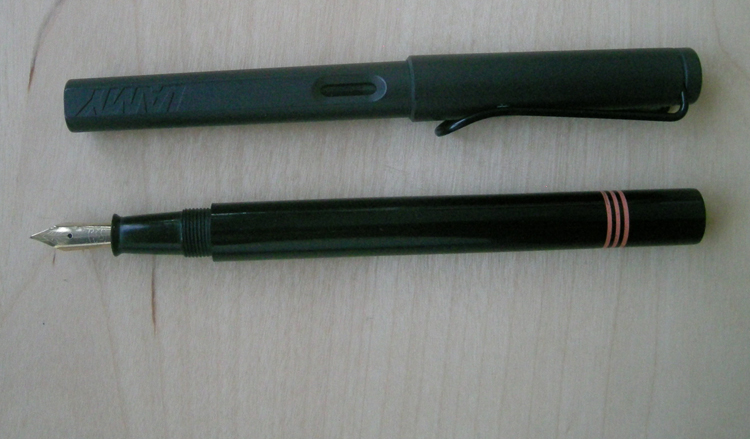 Individually, each pen is fairly light-weight, as it is made of ebonite. The biggest determinant of weight is how much ink it
is filled with (and being an eyedropper it can hold quite a lot). The sections are dramatically curved, like sections on vintage
pens, with pronounced "lips". As I always explain in reviews, this is a major plus for me, because I hold pens very close to
the nib and the lip prevents my fingers from slipping.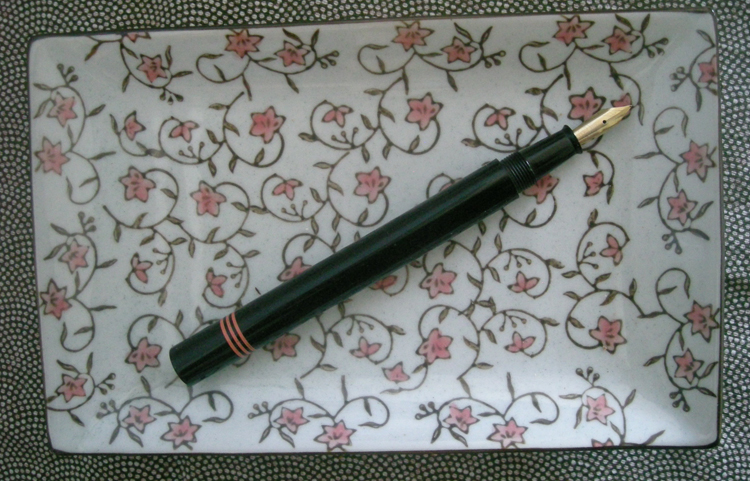 Filling System
Each of the pens fills individually via eyedropper. The benefits of an ED system are mainly the huge ink capacity and the
lack of breakable inner mechanisms. The drawbacks are possibilities of leaking and blobbing. However, Steve Braun,
who is the seller of these pens, tunes each pen individually prior to selling, so with these particular products you should not
experience these problems. Some are reluctant to try eye dropper fillers because of the "extra fuss" involved, but since
this is a desk-pen anyway, it already invites ritual -- and so I feel that the ED filling system is very appropriate here.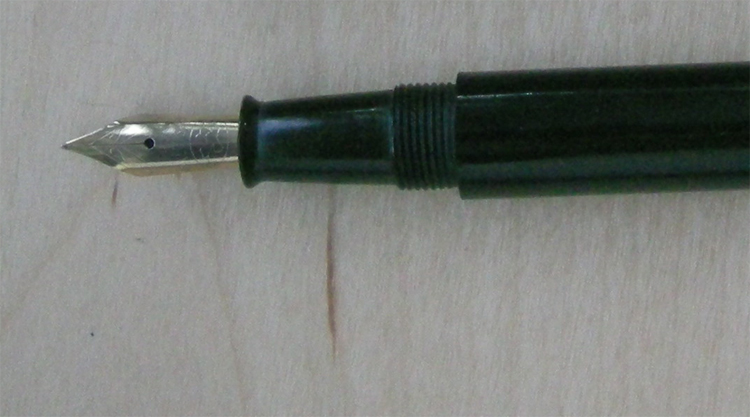 Nib
The nibs on these pens are very attractive steel "Fellowship" nibs. They are decorated with an engraving of a dove -- a
symbol of peace. I do not know where these come from or who makes them, but they are quite nice and of high quality.
Mine write like F nibs, on both ends. I believe that these pens can also be fitted with 14K nibs, but I am more than content
with these "Fellowship" ones. It is worth mentioning that these pens are fitted with ebonite feeds that are individually
checked and finished by Steve Braun. Both ends of my pen write smoothly and display no problems.
Value
The Varuna Double-End Pens have just been introduced at
All Write Now
for $50. For such a unique, hand-turned pen
that is really two pens in one, I think the price is excellent.
Conclusions
Just in case I haven't mentioned it yet, I think the Varuna Double-End Pen is extremely cool! It is the Siamese Twins of pens
and a unique addition to any collection. How practical is an enormous baton-like creation as a "desk pen" used to edit manuscripts
and grade papers? Well, time will tell! But regardless, I am quite pleased to own this unique object and to use it ceremoniously
when appropriate occasions present themselves.
Oh, and if you want people to notice your pen, forget Montblanc! This baby is much more likely to get their attention : )
Hope you enjoyed the review,
QM2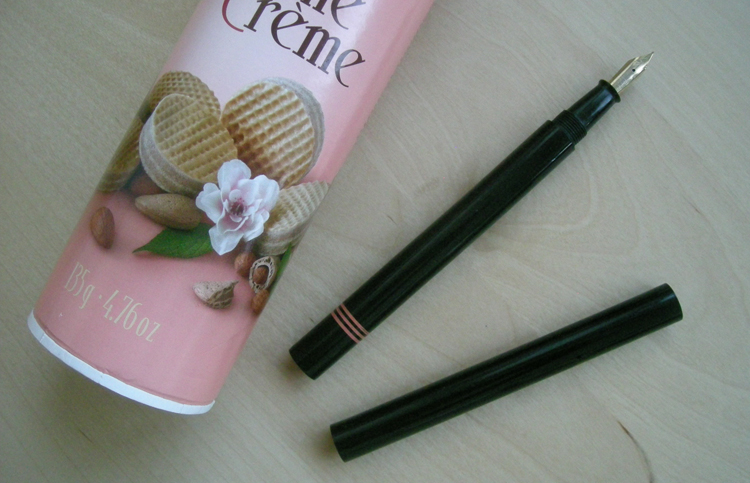 Edited by QM2, 12 April 2009 - 06:58.