The Latitude appears to be the successor model to the recently discontinued Inflection, although at a lower price point. It comes in several finishes, but I bought the simple stainless steel model for my Parker Flighter collection. This new Parker follows the general trends of the Inflection: the slanted cap ends and barrel and cap tassies, wide feathering of the arrow clip (albeit with the feathers in metal and integrated with the length of the clip), and the same general size and body shape.
The Latitude Flighter does not sport the cap grooves of the blue and black lacquered models. At this time, the Latitude Flighter is only offered with chrome trim, while the Inflection was only offered with gold plated trim (purists, by the way, do not deem a stainless steel model with other than gold filled or plated trim to be a true Flighter, following the model of the original Parker Flighter, the 51). But the Latitude, in spite of its lower price, does have nicer chrome tassies on cap and barrel, compared to the plastic ones on the Inflection.
When I got my Inflection I had to straighten the teardrop shaped cap tassie, which was mounted crookedly. I also had to sand the plastic mold seams on the section--they were rough and very noticeable. On the Latitude, the chrome tassies are well mounted and while there are seams on the section, they are not anywhere nearly as apparent as with the Infection.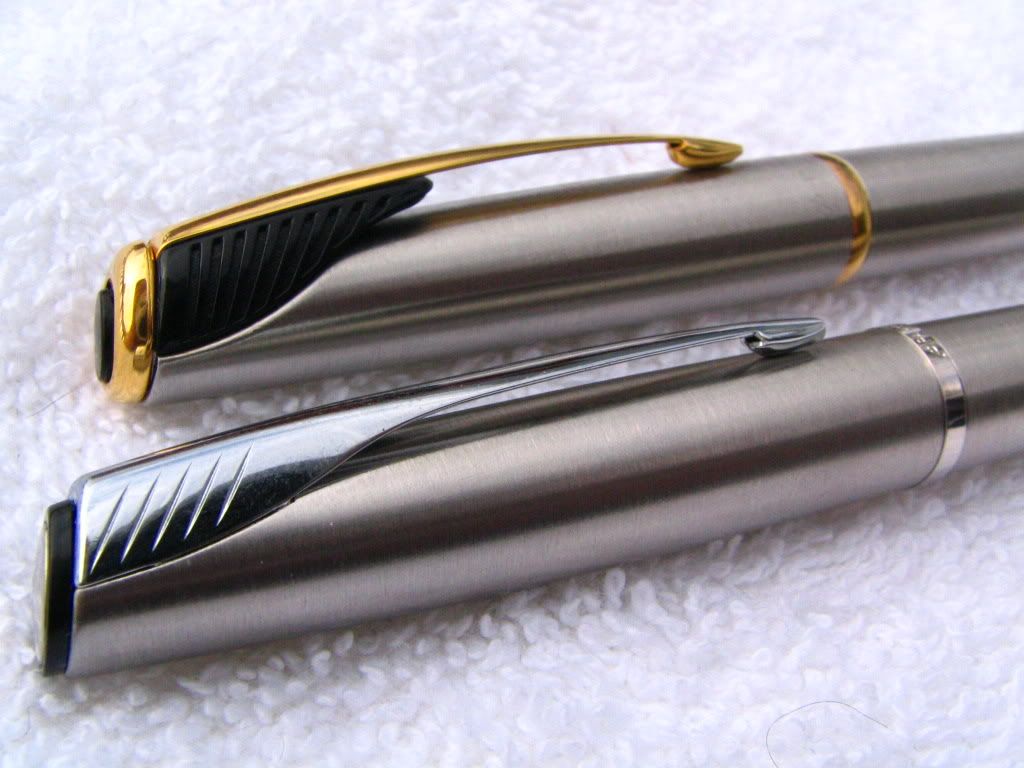 On the Inflection, the "cap band" is actually part of the barrel and the cap snaps onto a plastic ridge on the section near the nib. The Latitude also appears to snap--with a crisp, audible snap--onto a similar section ring, but it has a highly polished cap lip and the chromed barrel ring is almost invisible.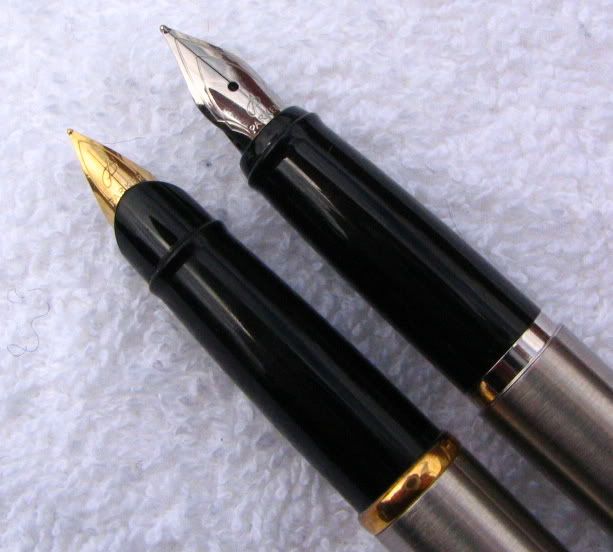 It's the nib that are most different between these two models. The Inflection has a gold-plated nib that is semi-hooded, giving an appearance something like that of the Parker 45 nib. The Latitude's polished steel nib is an open one, rather stubby nib, similar to nibs on some of Parkers lower end pens. The feeds are molded differently as well.
Please note that this review is an excerpt from a larger article I am writing about Parker Flighter. I can't give you the most important part of this review, which would be how the Latitude writes. It arrived with a medium nib, as most lower end Parkers do, and I plan to send it to Parker for a nib swap to F or EF, so I cannot ink the pen prior to sending it back to Janesville. Oh, one other little difference: the Inflection was made in the UK and the Latitude is made in France.
Finally, if you want to see some better photos of the Latitude, including the blue and black versions, as well as a review that includes a few words on how it writes, take a look at Bill Riepl's Stylophiles review:
http://www.stylophil...11-05/11lat.htm
best regards, Dan