FIRST IMPRESSIONS
Is it possible to have a "first impression" with a pen that you already have one of and you picked the material it is made out of?
Well, when I opened the box all I could say was WOW!
The pen was as good looking as I had hoped with a depth to the acrylic that was unexpected.
By the way, if you are looking for a fancy wood box with a cardboard oversleeve and a big overbox you'll be disappointed.
The Herald came is a sturdy clear plastic wrapped in bubble-wrap in a heavy duty cardboard shipping box.
This is more than ample protection and less to have to rip open in my haste to get to the pen.

APPEARANCE AND FINISH
I really like the color of this acrylic.
It has depth to the cells and the clear phase has flecks in it that catch the light adding color and interest.
The acrylic is polished to a high sheen.
The pocket clip is simple, functional, and nicely plated.
The lines of the barrel and cap are continuous and transition smoothly from one section to the next.
The Edison single tone 18k gold nib is engraved with the company logo. It is also simple and not overly ornate.
SIZE AND WEIGHT
The Herald is a large pen, larger than a Sheaffer Balance II, about 50% bigger than a Parker "51", about the same length as a Waterman Liaison, and longer than a capped Pelikan M800. Uncapped it is about the same length as the M800 but slightly bigger in diameter.
One word of note, Heralds are hand made by Brian Gray and so two won't be exactly the same. Take a look and compare, you can notice differences in length and contour of the cap and barrel ends: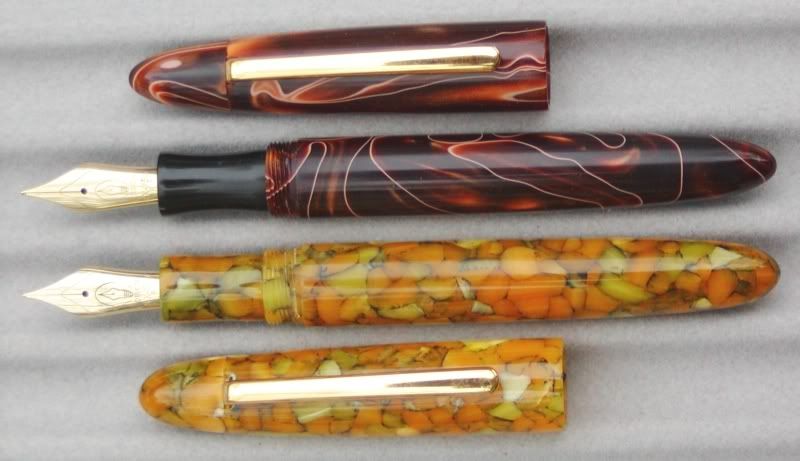 The Herald is not heavy as it would appear based on its size. The acrylic is thick so its not light, but it doesn't have a brass insert like the Balance IIs for weight.
The weight is comfortable for long writing sessions.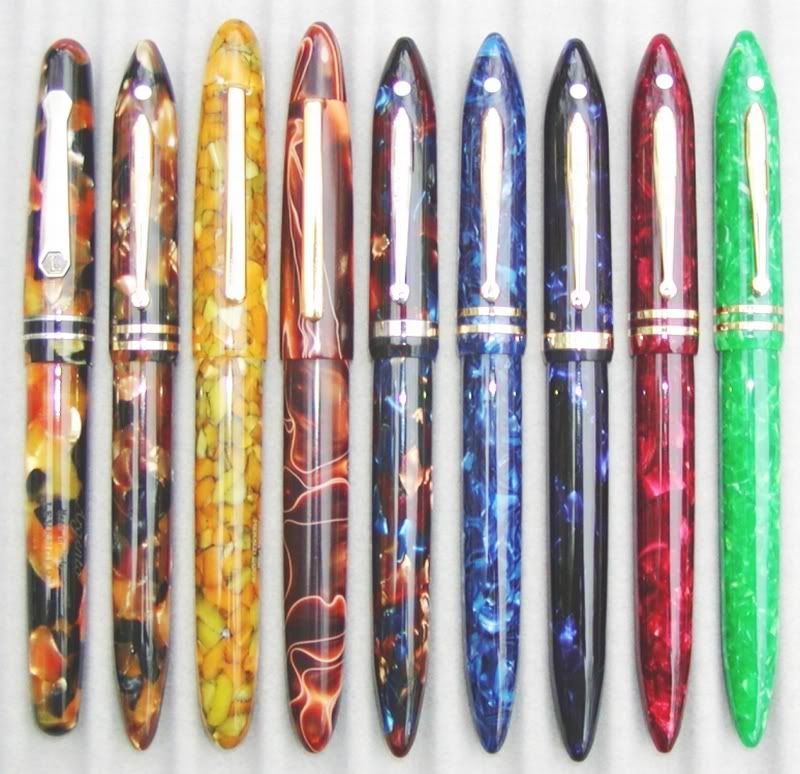 NIB DESIGN AND PERFORMANCE
I got the unplated gold nib. All the gold nibs are is simply engraved with the Edison logo.
Brian works all the nibs himself and this one is super smooth with just a touch of feedback, which I like very much.
At the request of another FPN Member I did some writing tests.
[I have the pen filled with Aurora Black, which I like because it is as black as I can get.]
We wanted to see how tolerant the nib was to grip angle and rotation. I held the pen at 90 degrees (straight up and down) and it wrote just fine in every direction. (My typical hold is pretty much 45 degrees from the vertical.) The nib was not as smooth as with my normal hold, but just a bit more tooth. Line width and ink flow were great.
Guess that answers that question.
Next I went back to 45 degrees from the vertical and rotated about 45 degrees counter-clockwise from square. The start of the stroke was none-to-dry then about half way through it went to normal. I rotated the pen so it was about 30 degrees counter-clockwise and it wrote perfectly fine. I tried rotating 45 degrees clockwise from square and then 30 degrees clockwise from square and the results were about the same as the counter-clockwise test.
So I say the nib is tolerant of at least +/- 30 of axial rotation and from about 30 degrees (as low as I seem to be able to get my hand) to perpendicular to the paper. That is itself is amazing and far better than any other pen I've ever used.
FILLING SYSTEM
While the pen is advertised as being eyedropper fillable, it comes with a standard twist converter.
The converter fills and empties just fine. That's about all I ask of a filling system.
COST/VALUE
The basic pen with a standard steel nib costs $190. The Edison 18k nib is a $100 upgrade.
You get to pick the design, barrel and cap material, nib material, and nib color.
For a pen that I have yet to find a fault with it is hard to argue that the price is fair.
CONCLUSION
1) I'm already trying to figure out how to afford another one.
2) WOW!