PRIVATE RESERVE SONIC BLUE
Review with Comparisons
electronic text follows the handwritten review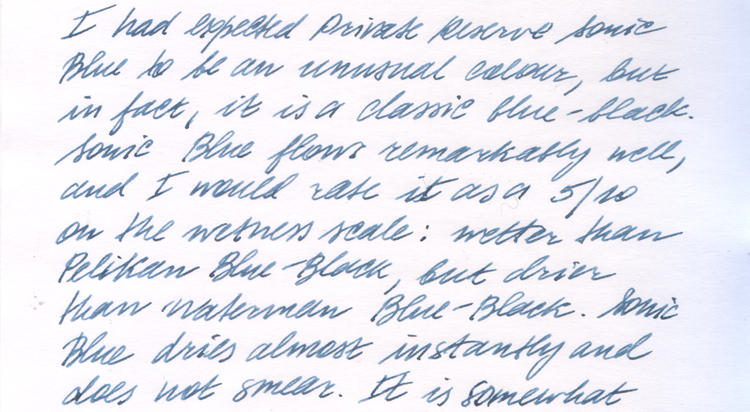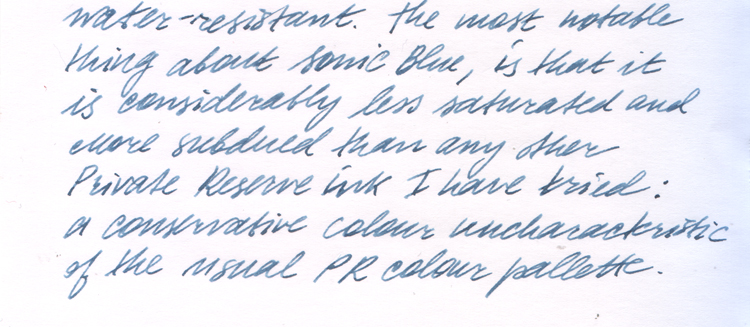 I had expected Private Reserve Sonic Blue to be an unusual colour, but in fact it is a classic blue-black. Sonic Blue flows
remarkably well, and I would rate it as a 5/10 on the wetness scale: Wetter than Pelikan Blue-Black, but drier than
Waterman Blue-Black.
Sonic Blue dries almost instantly and does not smear. It is somewhat water-resistant.
The most notable thing about this colour, is that it is considerably less saturated, and is more subdued, than any other
Private Reserve ink I have owned or tried. This conservative colour is uncharacteristic of the usual PR colour palette.
The handwritten review was written with a fine-nibbed Waterman Carene on Clairefontaine Triomphe paper. Here is a
closeup of the writing:

And here is a comparison between Private Reserve Sonic Blue and three popular blue-black inks: Pelikan Blue-Black,
Waterman Blue-Black, and Montblanc Blue-Black (cartridge).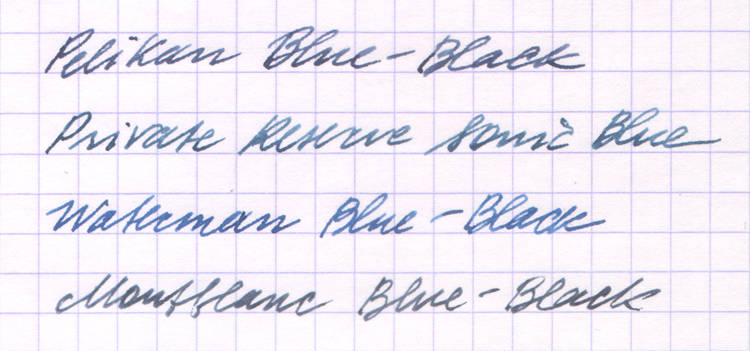 Hope this is useful,
QM2
Edited by QM2, 02 January 2009 - 02:24.