Here is a short review that I did.
Click here for the full review.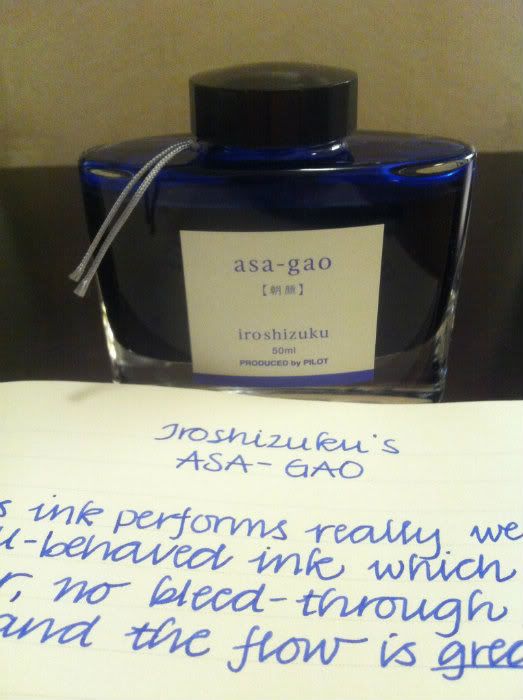 Asa-gao is a dark, serious blue. It´s perfect for work - it´s equally good for students.
I do like this ink, but maybe not enough to justify buying another bottle of Asa Gao bottle once the one I have runs out. Don´t get me wrong: it is a pretty, strong and clear blue, but I wish the colour was a tad more exciting. I doesn´t quite stand out from other blues like a lot of the other Iroshizuku inks do. So, if you want a very different and exciting blue, this might not be it. If you want a pretty and practical blue, this is perfect for you. I have only tried this ink with a medium nib - I´m curious to try it out in a broad and see what that does to the colour. It is definitively a perfect ink for tons of notes.
This ink performs really well - it´s a well behaved ink which doesn´t feather, no bleed-through, no nib-creep and the flow is great. It dries quickly, but it´s unfortunately not tea-proof and there is no shading.
Positives:
- A strong, clear and practical blue - perfect for work or for students
- Flows well
- No bleed-through
- No feathering
- No nib-creep
- Dries quickly (3-5 seconds depending on paper)
Negatives:
- Expensive
- Not waterproof
- No shading
Asa-Gao compared to other iroshizuku blues: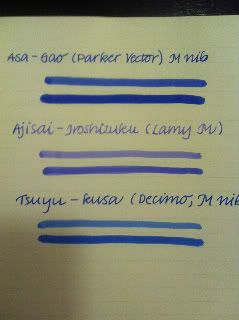 Edited by whitelily, 28 April 2012 - 16:42.