STARTERS
■ This is not only a fast mini review but also a somewhat hesitant one. I have not yet read any great comments on this ink but rather disappointments instead (see * below).
■ Also, this ink colour is not really my cup of tea. But I'm reviewing it anyways because it seems that some others here at least had some interest in seeing what a new gem might look like on paper (see ** below). Mabe you won't like this ink because you won't like my handwriting. Hope you can at least read a word or two. Whew!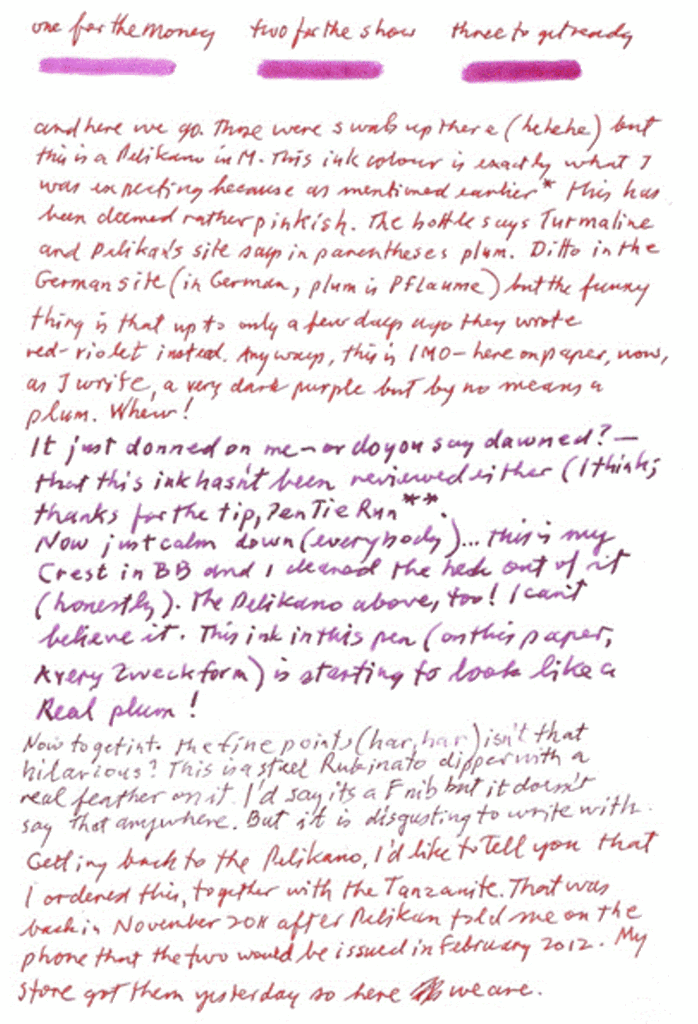 BTW, the name and/or word "Turmaline" (also written in German as "Turmalin") is usually written in English as "Tourmaline". You might want to Google that. There are in fact very many different colour possibilities involved with that gemstone. In any case, the name for this ink isn't all that bad after all. Maybe they should have just refrained from the adjective "plum".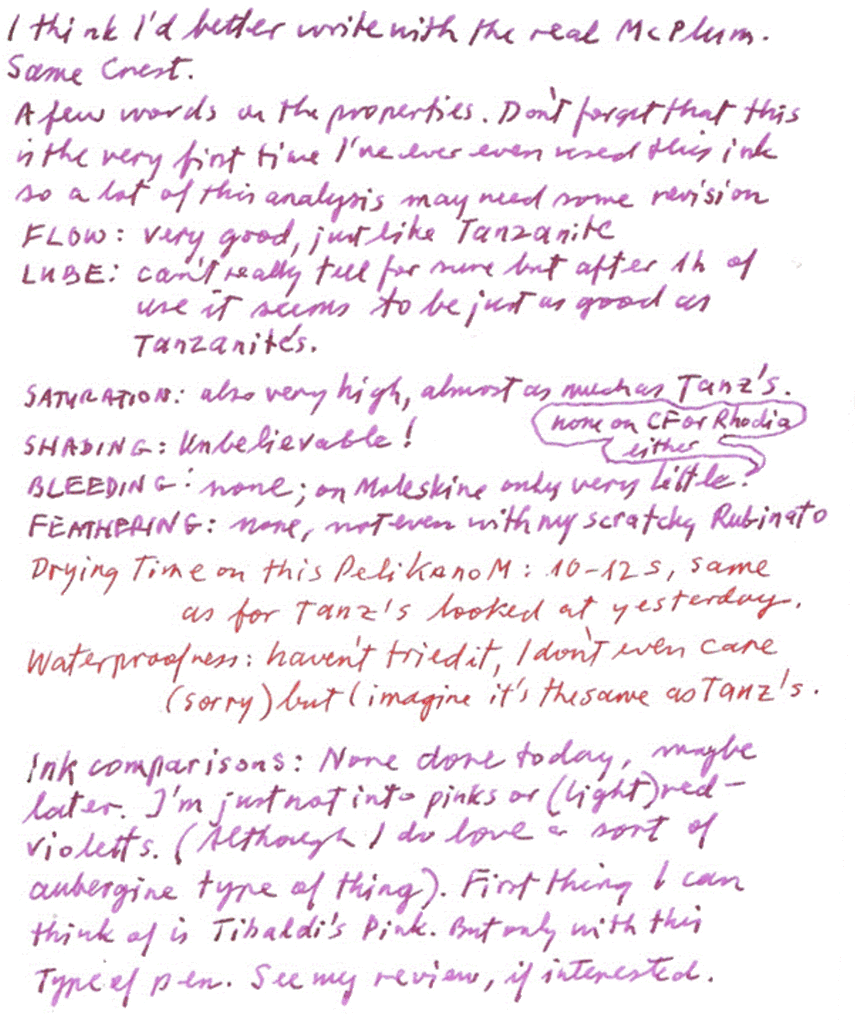 CONCLUSIONS
· This ink colour isn't as bad as I thought it would be.
■ The posts mentioned above are as follows:
* =
http://www.fountainp...nite-turmaline/
and
http://www.fountainp...-edelstein-ink/
** =
http://www.fountainp...ost__p__2277432
■ A word on the packaging again: as with all of the 9 Pelikan Edelstein inks, I do find the bottles "nice". Maybe not as nice as Iroshis', Viscontis' etc. and not as practical as MBs', Levengers' or Lamys' etc. The trouble is -- as I see it -- that the whole packaging is a pain in the ahh, y'know. I find that to open the box and get the bottle out, it's even harder than Noodlers'.
■ A word or two as to what I see on my monitor: this is definitely bluer than the real MCoy, but not more intense (to my eyes): I guess I'll have to monitor my monitor again. Do we have to that for each and every ink? Hmm??

■ Sure, it has been claimed to be too expensive. It really depends on what you like and need. It's as expensive as all 9 Edels. Twice as expensive as the 4001s, but still only 60% as expensive as CdAs or Iroshis.
■ My "advice": If you like this type of colour, then get it. It's not really a pink IMO but still not quite a plum. Maybe there are a lot of different plums out there. Its properties, especially shading, are really worth it. Same colour on Avery, Moleskine, CF, Rhodia and HP papers. But very different depending on your pen/nib.
■ This ink has been donned by Pelikan as "INK OF THE YEAR 2012 – Ltd. Edition". That means that it'll no longer be issued next year. How about this: "Maybe in 2013 there will issued an Edelstein ink called "Diamond" ?
Har, har