☞

For convenient viewing of the images in all their inky goodmness, you may wish to scroll to the menu at the very bottom of this window, then ensure the FPN Theme is 'IP.Board Mobile'.

Please take a moment to adjust your gear to accurately depict the Grey Scale below.
As the patches are neutral gray, that is what you should see.

Mac http://www.wikihow.c...te-Your-Monitor
Wintel PC http://www.calibrize.com/

Grey Scale:


: ∴ :


Figure 1. Line Comparison

Rather than use the ubiquitous but flakey swab comparison, lines from the NIB-ism samples are shown below.


Top: MBIoF
Pen: Notorious Pink Safari + B


WRITTEN SAMPLES - Moby Dick

Figure 3.
Paper: HPJ1124



Left: MBIoF

Figure 4.
Paper: Rhodia




Left: MBIoF


OTHER STUFF:
Smear/Dry Times.
Wet Tests. ☂

Figure 5.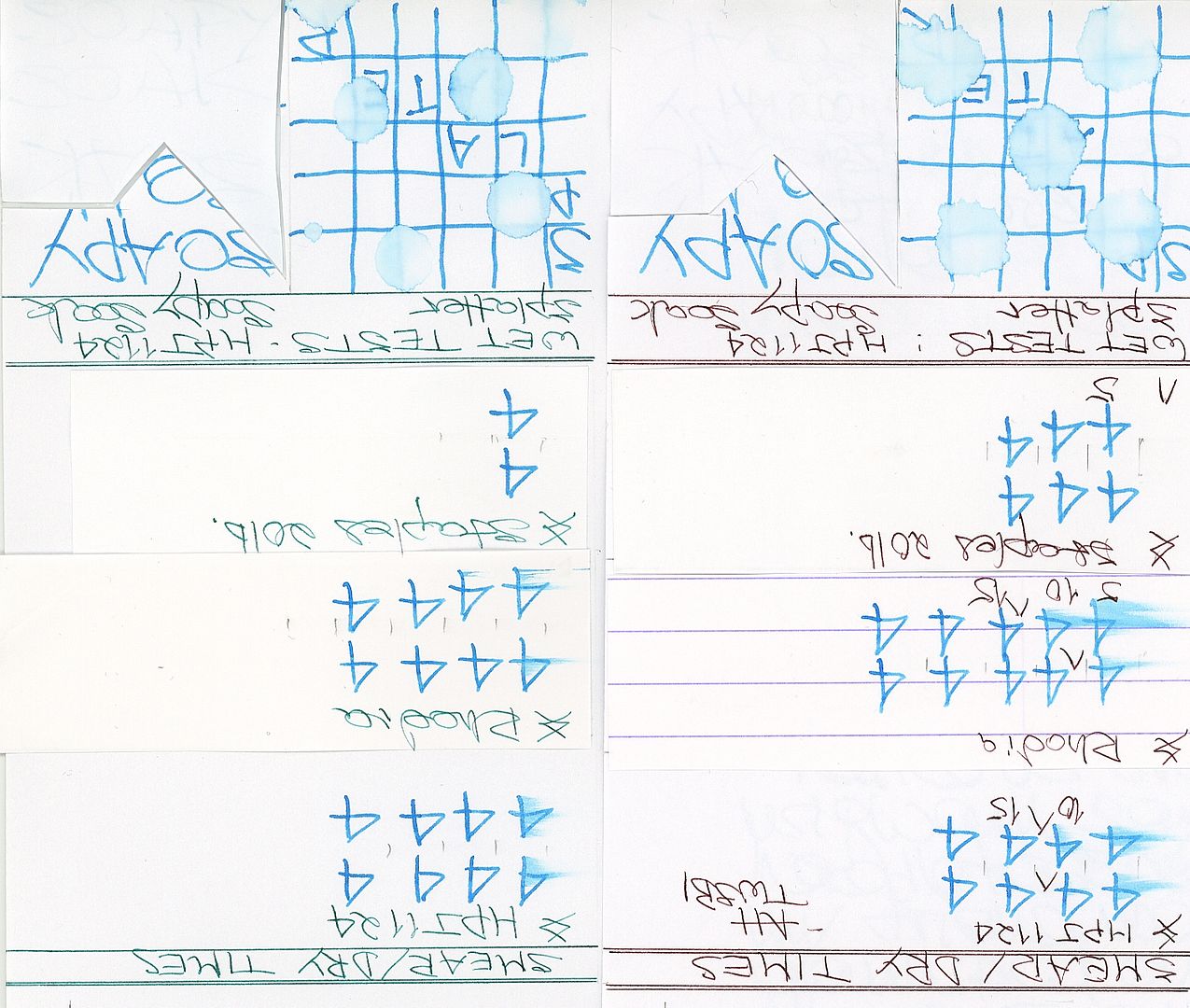 Note: S/DT for SST was 5 - 10 on HPJ1124; 5 - 15 on Rhodia; <5 seconds on Staples.




High Resolution Scans



Originals are 63x40mm.

TWSBI on HPJ1124:

MBIoF:




SST: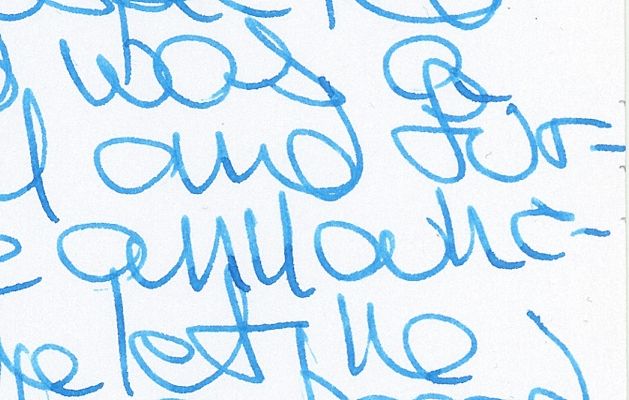 NPS on Rhodia

:

MBIoF:




SST:





Observations

:


These are the things which are not apparent from the Images.

These observations may differ ever so slightly from the Ink Review/s that may be in place.

My contribution was to generate enough reasonable samples, then capture the appearance of those samples.

If you'd like more detailed information, please send me a PM. (Within reason - you naughty FPN boys.)

I leave it to each viewer to interpret what is seen, and/or to initiate discussion in the usual way.

Type:

Both are dye-based FP inks.
Flow Rate:

Both inks are OK.

SST was slightly greater.
Nib Dry-out:

Start-up:

Lubrication:

Both inks are OK.

MBIoF was a bit more pleasant.
Nib Creepies:

Staining:

None after three days for both inks.
Clogging:

Bleed- Show-Through:

Both had problems on the Staples 20lb.
Clean-up:

Both cleaned-up thoroughly with plain water.

= = = = = =

NUTS & BOLTS



Pens



TWSBI 530 + steel M nib.

The Notorious Pink Safari + steel B nib.
Images
Scans were made on an Epson V600 scanner; factory defaults were accepted.

Written Samples were scanned at 200 dpi.

HiRes images were scanned at 300 dpi.

Scans went straight to the file sharing thingy without manipulation.
Fine Print


The accuracy and relevance of this Comparison depends in great part upon consistency and reliability of matériel used.
Ink does not require labelling/notice to indicate (changes in) formulation, non-hazardous ingredients, batch ID, date of manufacture, etc.
As always, YMMV, not only from materials, methods, environment, etc., but also due to differences between the stuff I used, and that you may have.
Also, I entrust readers to separate opinion from fact; to evaluate inferences and conclusions as to their merit; and to be amused by whatever tickles your fancy.
- 30 -


Tags: Fountain Pen Ink Review Comparison Montblanc Ink of Friendship Turquoise Cyan Limited Edition 2011 Sheaffer Skrip Turquoise Sandy1
Edited by Sandy1, 17 February 2012 - 10:35.