☞

For convenient viewing of the images, you may wish to scroll to the menu at the very bottom of this window, then change the FPN Theme to 'IP.Board Mobile'.

Please take a moment to adjust your gear to accurately depict the Gray Scale below.
As the patches are neutral gray, that is what you should see.

Mac http://www.wikihow.c...te-Your-Monitor
Wintel PC http://www.calibrize.com/

Gray Scale.


= - =


Figure 1.
Swabs & Swatch
Paper: HPJ1124 24 lb.



Figure 2.
NIB-ism ✑
Paper: HPJ1124.

Depicts nibs' down-stroke width and pens' relative wetness.
IMG-thumb: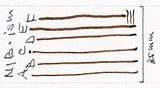 Pens: L → R: Somiko, P99, C74, 45, Phileas, Prelude.


Figure 3.
Paper base tints:



L → R: HPJ1124, Rhodia, G Lalo white, Royal, Staples 20 lb.


WRITTEN SAMPLES - Moby Dick
Ruling: 8mm.

Figure 4.
Paper: HPJ1124.



Figure 5.
Paper: Rhodia.



Figure 6.
Paper: G Lalo, Verge de France, white.



Figure 7.
Paper: Royal - 25% rag.





Figure 8.
Paper: Staples Creme 20 lb.



Figure 9.
Paper: Staples multi use 20 lb.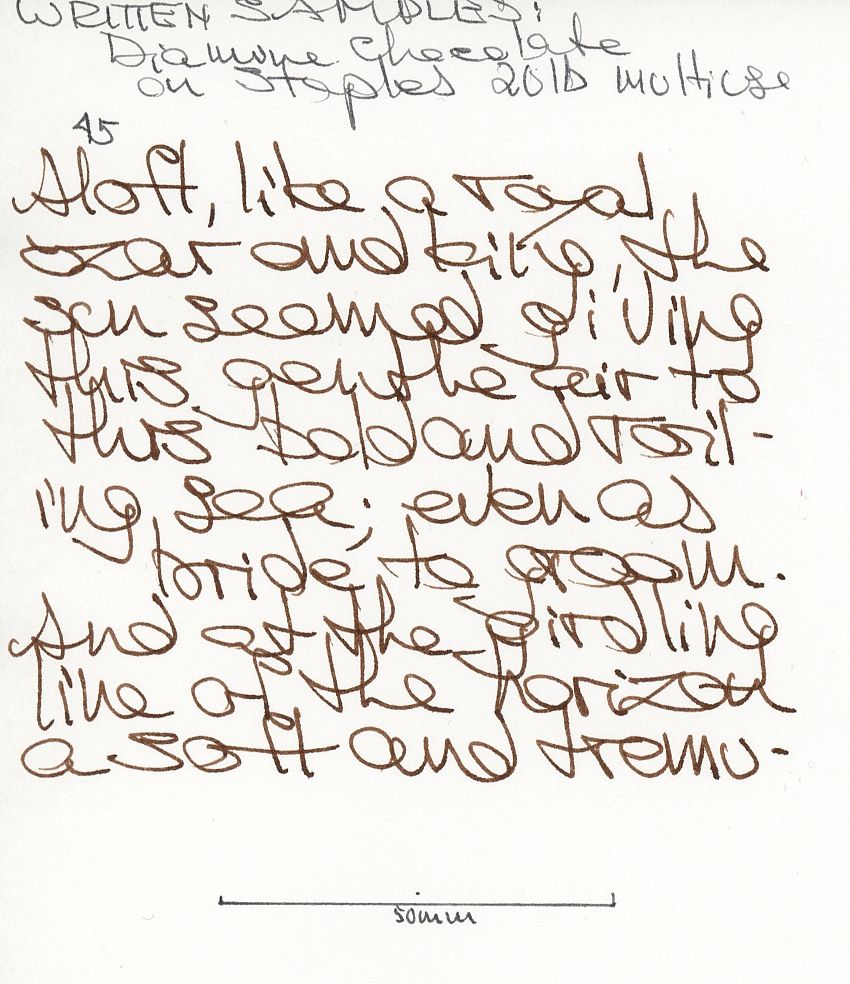 Figure 10.
Grocery List
Paper: Pulp.



OTHER STUFF

Figure 11.
Smear/Dry Times & Wet Tests.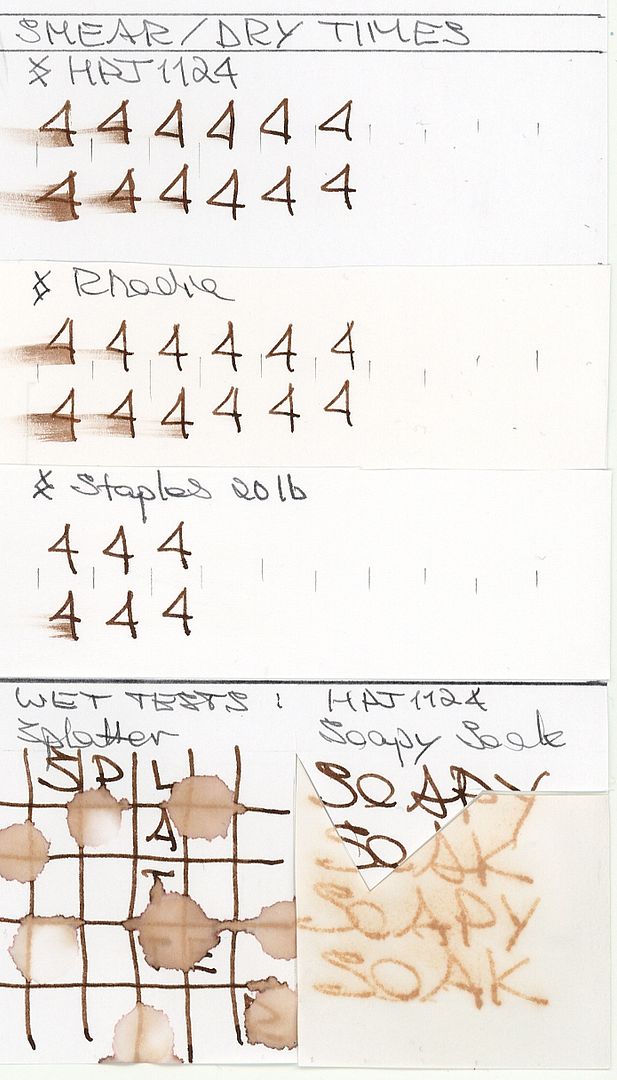 GENERAL DESCRIPTION

Type:

Dye-based fountain pen ink.
Daily writer?

A go-to ink?

When a delectable Dark Brown is desired.

USE

Business:
(From the office of Ms Blue-Black.)

My search continues for Brown inks which I could consider as appropriate for business. i.e. Business Browns that are alternatives to Business Blues.

DChoco certainly has the dark tone appropriate for business. I could easily see use for personal work product, and in an egalitarian / team environment.

It may still be necessary to keep a Dark Blue or Blue-Black handy for items that need a bit more gravitas.


A pleasure to use, and its high readability suits those who write and read tomes.

While not as fleet-of-foot as some inks, there is sufficient energy at densities shown to keep from bogging down.

Not enough zip for working on Black-printed documents, but if one's daily writer is a Medium Blue, then DChoco could be called upon for mark-up / editing of that text.

Not nearly enough zap for grading or error correction. (This ink is a pleasure to look at, so a mixed message is possible.)
Illustrations / Graphics:

Certainly.

Invites all manner of application. (That plump sable water colour brush beckons!)

Suitable for figures at high densities, and space-defining grounds when diluted.

Line quality is quite good, and when care is taken choose the wetness of a pen, can do well on papers of various wetness and surface characteristics.

There is little risk of shading, so a fair choice when lines of even density are required.
Students:

Quite possible.

Performance on 20lb 'lowest bidder' paper is OK, but two-sided use on such is not all that likely.

As for Business Use, the writing experience and readability are very good, so DChoco is likely a good pick for general notes - but do watch for the possibility of extended smear/dry times.

Safeguard what's written against exposure to fluids. It is one of the inks that if were to be wet and kept wet, the sheet might be rinsed free of ink that has come adrift - a disaster recovery technique.
Personal:

No doubt.

This stuff is tastieeee.

Far too nice for pro forma personal business writing, so I'd use whatever default Blue is closest to hand for such tasks.

Without a doubt more 'personal' than my typical Blue-centric choices, I still would not use DChoco as a default ink for closest family and friends: some times for some people is perfectly wonderful.

The ink is moderately saturated and offers a tantalising flicker of shading, so would be a good choice to run with a variety of nib shapes, widths & wetness.

Billets doux? Not quite.

PHYSICAL PERFORMANCE & CHARACTERISTICS

Flow Rate:

Nib Dry-out:

On the 45 after just a few minutes upcapped. (?)


Ink in the feed was OK, so only a few mm of virga resulted.
Start-up:

Lubrication:

Very nice.

Ran smoothly from all pens on all papers.

Watch for loss of fine control when/if using slick nibs on smooth papers.
Nib Creep:

Staining:

Not seen after three days contact.
Clogging:

Bleed- Show-Through:

HPJ1124: C74.

White & Creme 20 lb: 45. Both sides of the page could be used in a pinch.
Feathering / Woolly Line:

Not seen on papers used.

Line width varies across different papers.
Smear/Dry Times & Water Resistance: ☂

As shown in Figure 11 above:

HPJ1124: 10 - 20 seconds.

Rhodia: 15 - 20.

Staples: <10.

Smell:

Hand oil sensitivity:

Clean Up:

A bit slow but thorough with plain water.
Mixing:

No stated prohibitions.

I see no reason to mix into this ink.
Archival:


THE LOOK

Presence:


Saturation:

Shading:

Very low.

Seems possible, but not sure if DChoco can be pushed that far.
Variability:

Pen+nib combos used:

Papers used:

A bit less than expected - setting the line-width variance aside.

Malleability:

Low.

Suitable for a daily writer ink.




Hi-Res Scans

:

As I do not wish to be known as 'Queen of The Bandwidth Bandits', these are IMG-thumbs .

C74 on Rhodia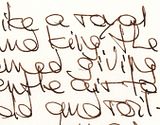 45 on G Lalo


Prelude on Royal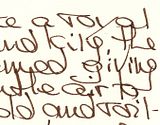 FIDELITY

Is the name appropriate?

Well within the realm of imagination.

Are swatches accurate?

The sample shown on the Diamine site for Product 059 is ever so slightly cooler than my scans, and is of greater density than my three-pass swabs. LINK http://www.diaminein...px?prodcode=059

SIMILAR COLOURS:


Diamine Chocolate is one of the 'One of The Eleven' series of Brown inks for which care was taken to prepare Written Samples that support comparison through manipulation of browser windows.

However, if you feel the need for a specific comparison Topic or Post, please do not hesitate to send a PM.


PAPERS

Lovely papers:

White.

Warm white.

Cool white.
Trip-wire Papers: ☠

Those which cannot suppress bleed- show-through, or constrain line-width variation.
Tinted Papers:

I would keep to the Buff, though warm tints up to Champagne should be OK if DChoco is used at high density.

May actually do well on pale Powder Blue stock.
Pre-Printed Papers:

Forms:

Pleasantly do-able.

There is just enough warmth in DChoco so that it detaches ever so slightly from the typical Black-printed text, making what's written very clear and comfortable to read.

Watch for plump lines on low-grade paper - a narrow/inverted nib may be a good idea on poorly designed forms.

Charts & graphs:

Possible.

Unlikely to be mistaken for other primary/secondary colours.
Is high-end paper 'worth it'?

Perhaps.

DChoco seemed to offer most of what it has on the penny-a-page HPJ1124. With its good lubricity, the writing experience is fine even on somewhat toothy papers.

Only if one is determined to wring some/any shading from the ink would high-end paper be in the mix.

ETC.

Majik:

No.

Not sufficiently malleable.
Personal Pen & Paper Pick:

Parker 45 on Royal.

The nib generates enough coverage that the ink is well anchored to the paper. The line is without variation of density or width, which allows the attractive simplicity and balance of the ink to be seen.
Yickity Yackity:

While chocolate itself is a dietary staple, I'm not so sure if inky Chocolate is a staple on my ink shelves.

Ah kushbaby, will a wee 30ml bottle find its way onto your ink shelves? Or will you wait for one of your other bottles of Brown ink to run dry first?

= = = = =

NUTS & BOLTS

Pens:

Sailor Somiko + TIGP F nib.
Pelikan P99 + steel F nib.
Pilot Custom 74 + 14K SFM nib.
Parker 45 + g-p steel M nib.
Waterman Phileas + steel B nib.
Sheaffer Prelude + factory stock steel B stub nib.

For lines & labels:
Noodler's Lexington Grey from Pilot 78G + F nib.

______

Papers:

HPJ1124 24 lb. Laser Copy.
Rhodia.
G Lalo, Verge de France, white.
Royal, 25% cotton rag.
Staples Pastel, creme.
Staples 20lb. multi use.
Pulp. One-a-Day Calendar page.

______

Images:

Scans were made on an Epson V600 scanner; factory defaults were accepted.
Figures shown were scanned at 200 dpi & 24 bit colour.
HiRes Images linked were scanned at 300 dpi & 24 bit colour.
Scans were not adjusted post-capture, and went straight to Photobouquet.

______

Densitometer Readings:
(HPJ1124)

Red 138
Grn 98
Blu 81
Lum 103

______

FINE PRINT

The accuracy and relevance of this Review depends in great part upon consistency and reliability of matériel used.
Ink does not require labelling/notice to indicate (changes in) formulation, non-hazardous ingredients, batch ID, date of manufacture, etc.
As always, YMMV, not only from materials, methods, environment, etc., but also due to differences between the stuff I used, and that you may have.
Also, I entrust readers to separate opinion from fact; to evaluate inferences and conclusions as to their merit; and to be amused by whatever tickles your fancy.

-30-

TAGS: FPN Fountain pen ink review Sandy1 Diamine Chocolate Brown

Edited by Sandy1, 24 January 2012 - 08:07.