Meghan did a great review of MB's new Hitchcock red here and in the Ink Review section here. Just wanted to give a comparison with these 5 below, and Ink of Love which I forgot to include in this first photo.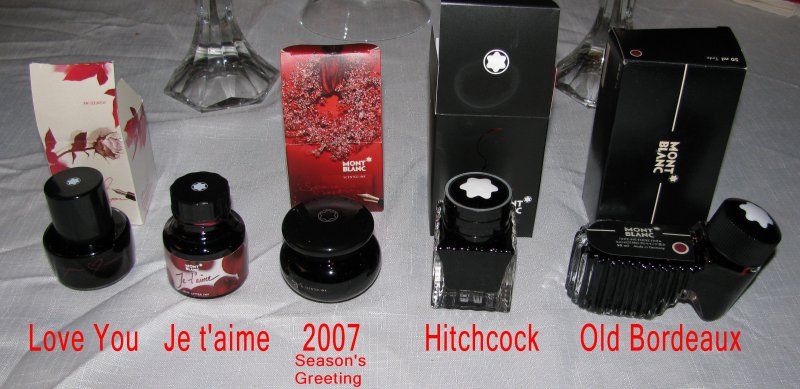 First thing I found is how hard it is to capture actual red colors with a camera or scanner. The scanner images are a lot closer to in person views. For descriptive reference, the darkest is 2007 Season's Greetings, then Hitchcock, then Ink of Love (2011 release), then old Bordeaux, then Je t'aime, and finally Love You is almost a pure rose color. The first photograph is the least accurate, with it looking way too orange. The "Love You" should be a vibrant pink color....but oh well. The final photo is drops on a paper towel.

It was interesting how they separated out on the coffee filter chromatography strips, with Hitchcock and 2007 Season's Greetings being a continuous pink/red plume, but the others carrying most of the color all the way up. I am certain that these are all unique colors, and you can get the Hitchcock next week (Wed/Thurs they are getting 52 bottles) at Pen Boutique, where amazingly, they also still have the 2007 Season's Greetings in stock.
(
thumbnails
)