Well recently I have been into pencils, they're just alot more simple and efficient for doing work. Of course, I wouldn't be going back to cheapBic pencils. I like to do a bit of technical drawing, like making a
diagram of the respiratory system so I would be able to make it on the compute
r
. These allhave fixed 0.4mm lead sleeves which make them suitable for technical work, butnon pocketable. I've tried a lot andhere are the ones I like:
Rotring 500, 0.3 mm: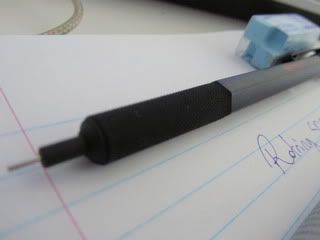 I rarely have seen this one reviewed. I wanted to get a rotring 600 but wasafraid of the weight the pencil itself, and lead breakage at the 0.3mm level.If I ever do get one, it'll be 0.5 I think. Anyways onto the pencil itself. It'squite good looking, the main difference between this and the 600 is that it'shalf the price at jetpens. I don't really mind the plastic barrel, becauseeverything feels solid anyway. The barrel says it's 0.35mm but it takes regular0.3mm lead refills (the company says that 0.3 lead measures closer to 0.35). <br style="mso-special-character:line-break"><br style="mso-special-character:line-break">

Likes:

-Uncommon

-Simple, efficient design

-Nice black colour

-Grip is VERY comfortable

-Excellent Balance

-Plastic does not feel cheap

-Hexagonal grip reduces rolling on uneven surfaces.

-Lead grade indicator



Dislikes:
-no lead cleaning rod.

Price: $15+





Pentel Graph 1000, 0.3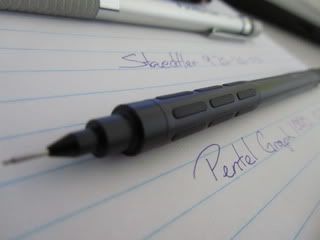 This one is one of my favourites. I've had it for a whileand it's been great. Everything about this pen speaks of quality. Although thegrip was a bit unorthodox, I quickly became used to it. It's pretty long. Ithink the insides are made of brass entirely, but i haven't fully taken itapart. It feels really, really solid when clicking. A lead cleaning rod isincluded. No rattles when writing. The grip is part metal, part rubber. I'vewarmed up to it. The barrel is interesting. While it feels plastic, when I pickit up in the morning it seems to feel cold, as if I was touching metal or something.Perhaps this is it's metal construction on the inside? I'm not cutting it opento find out... but it's great.



Likes:

-Solid clicking mechanism

-interesting grip

-lead grade indicator

-solid construction

-Light, but not cheap.



Dislikes

-Perhaps some more rubber inserts on the grip would makeit more comfortable

Price: $12



Uni 552, 0.3

Looked interesting, so I bought it. It's pretty uncommon to see a pencil with ametal grip at under 10 dollars. The grip is removable for some reason. I neverlike the colour finishing of 0.3mm pencils. They always seem to be yellow orbrown! I don't understand why they don't give them a nicer colour



Likes:
-Simple lead indicator

-solid click

-Feels a bit wider than the other pencils

-Well balanced

-Blue eraser!!




Dislikes-
-grip is cold, and while comfortable it is a bit slippery as well

-They could have done a better job with the plastic, itdoesn't compare well to the rotring or the graph 1000



$7.50 at jetpens






Zebra Drafix, 0.3: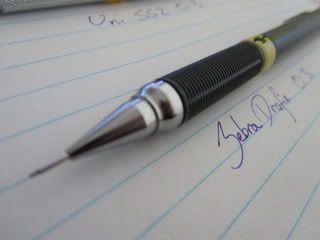 Cheapest drafting pencil I have. It's served me verywell, though and is an excellent value.


Likes:

-Plastic grip is unique and has not seemed to wear

-unique metal front is functional.



Dislikes:

The plastic on the cap is not that great and has shownsome wear.



Price: $2.5-$3



Staedtler 925-25 (0.3)


An interesting all metal pencil. It's heavy, but not asmuch as the rotring 600 I think. The grip is very fine, but not extremelycomfortable. It rattles, and does not feel very well balanced. It looks greatand technical, but the grip irritates my hands and i find myself not using itvery much. It's weight sometimes makes me break precious 0.3mm lead.



Likes:

-Nice looks

-All metal



Dislikes:

-pencil is heavy

-rattling

-lead breakage

Price: $15+



So this stuff is almost impossible to find at office stores... So i tend to go on the internet to find some good retailers. I've dealt with two, jetpens and stationeryart. They're both extremely good, jetpens having the edge with their excellent shipping time.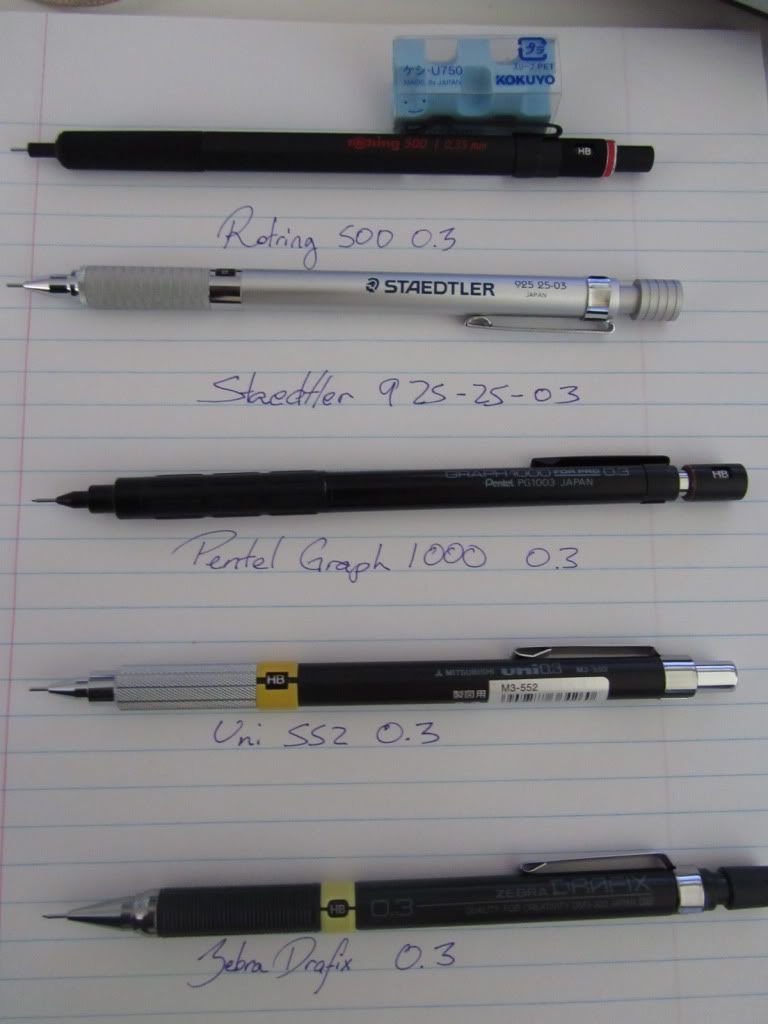 Edited by HenryLouis, 09 April 2011 - 17:05.