Hello,

This wee post offers a brief look at the effect/s of dilution on Gate City Everflo Orchid.

Scuttlebutt has it that diluting an ink may shorten the smear/dry time, (S/DT).

Being right-handed, I usually do not have a problem with S/DT. Indeed, I was taken aback by the rather long S/DT of some inks I have used for years, without even noticing such a 'problem'. (Same with water resistance.) I am blonde, but no poking the fun, or
trash-talking like rude
imolas3
, OK?

There is no 'standard' for an acceptable S/DT. And any arbitrary number would be rather meaningless due to variables of pen, paper, atmosphere, ad infinitum. So all I can say is that I make an effort to be consistent, so results are relative, and may show trends and relationships.

Also, what could be practical drawback/s to dilution? Well, obviously the ink will appear lighter (less dense), lubrication will be reduced, and what else? Shading? Perhaps inks with special properties may change. e.g. The red sheen sometimes reported on PRDC Electric Blue, the gold aspect in JH's 1670, the knock-out shading of Noodler's Apache Sunset? And my quirky area of interest - line quality.

So, let's cut to the chase ...

Written Samples - Moby Dick

Row height is 8mm.

Blocks on HPJ1124.
Figure 1.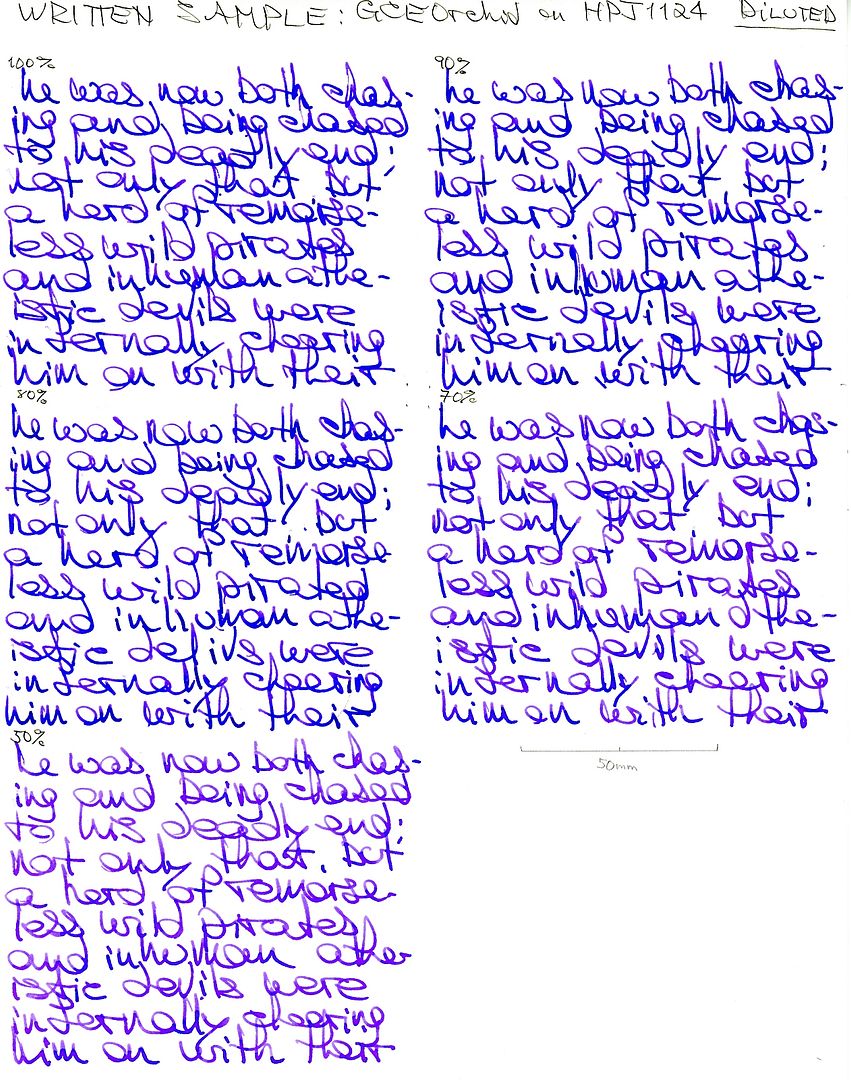 =+-+=

Row-wise Comparisons, top to bottom:

100%

90%

80%

70%

50%

100%

70%

90%

50%

80%

100%

Note: There are no cue tip swabs - they are far too flakey for this sort of comparison. Rather, I have chosen to draw lines using the sequence above for each dilution on each paper.

Figure 2.
Paper: HPJ1124.


Figure 3.
Paper: Rhodia.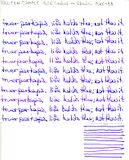 Figure 4.
Paper: Royal, 25% rag.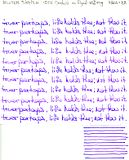 Figure 5.
Paper: Staples 20 lb. general use.





Smear / Dry Time

:

As mentioned elsewhere, I have chosen to draw the numeral '4' rather than down strokes. I like to think that the varying amount of ink put down in each direction of travel, and two 'ink pools' that seem to occur at the end of my lines are more representative of practical use.

The '4' was written every ten seconds from right to left - a countdown mode if you will - eighty to ten seconds, then a clean finger was run over the row with sufficient force to emulate a soft fold - not an (origami) crease.


Four columns, one each for each paper.

Left → Right : HPJ1124, Rhodia, Royal - 25% bond, Staples 20 lb. general use.

Ten rows for each paper: two rows at each of five dilutions.

Top ↓ Bottom : 2x 100%, 2x 90%, 2x 80%, 2x 70%, 2x 50%.

Note: Rhodia at 50% dilution has 3 rows - alas, the middle row was smudged, so was repeated.

Figure 6.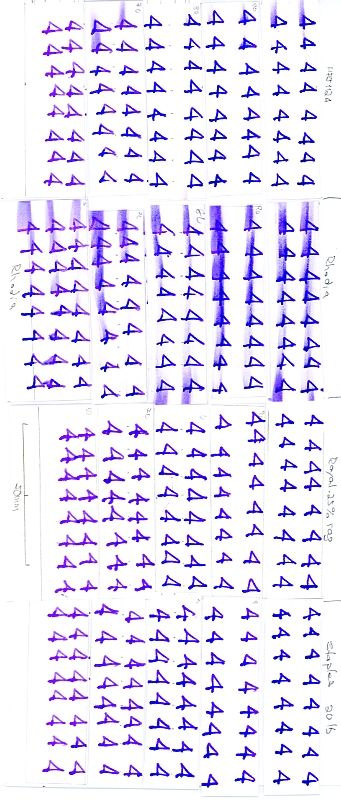 Line Quality

:

There was no significant improvement / degradation.


-+=+-


If other scans are needed, please let me know. I will do what I can within reason: scans can be accommodated, but no new Written Samples are likely to be generated in the near-term.

Also, this is the first time I have generated this type of Post, so I am very receptive to suggestions to improve / refine the presentation, template, etc.

Bye,
S1

~+≈+~



Materiél




Pen & Nib: Pelikan M200 + g-p steel BB.

Note: That rig was chosen to show more ink than a more narrow nib. The nib is a stock over-the-counter item from richardpens, so the flow is their shop default of '6'. (Also, I happen to like the bulbous little rascal.)
Papers:

HPJ1124

Rhodia

Royal - 25% rag


Staples 20 lb. general purpose



Scans

:

The usual Epson V600.

Not altered, other than the over-re-processing and dumb-down of photobouquet & FPN.

-30-

Edited by Sandy1, 20 December 2010 - 06:39.