Please take a moment to adjust the brightness & contrast of your monitor to accurately depict the Gray Scale linked below.
As the patches are neutral gray, their colour on your monitor should also be neutral gray.

Mac My link
Wintel PC My link
Gray Scale. My link


- = + = -

Figure 1.
Swabs & Swatch
Paper: HPJ1124 24 lb. Laser Copy.



Figure 2.
NIB-ism ✑
Paper: HPJ1124.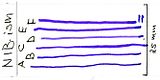 Depicts nibs' line-width and pens' relative wetness. To enlarge, please click the thumbnail.

Pens: L → R:
A. Conklin
B. Defender
C. Slimfold
D. PPP
E. NPS
F. M200 stub

WRITTEN SAMPLES: Moby Dick

Row Width is 8mm

Figure 3.
Paper: HPJ1124.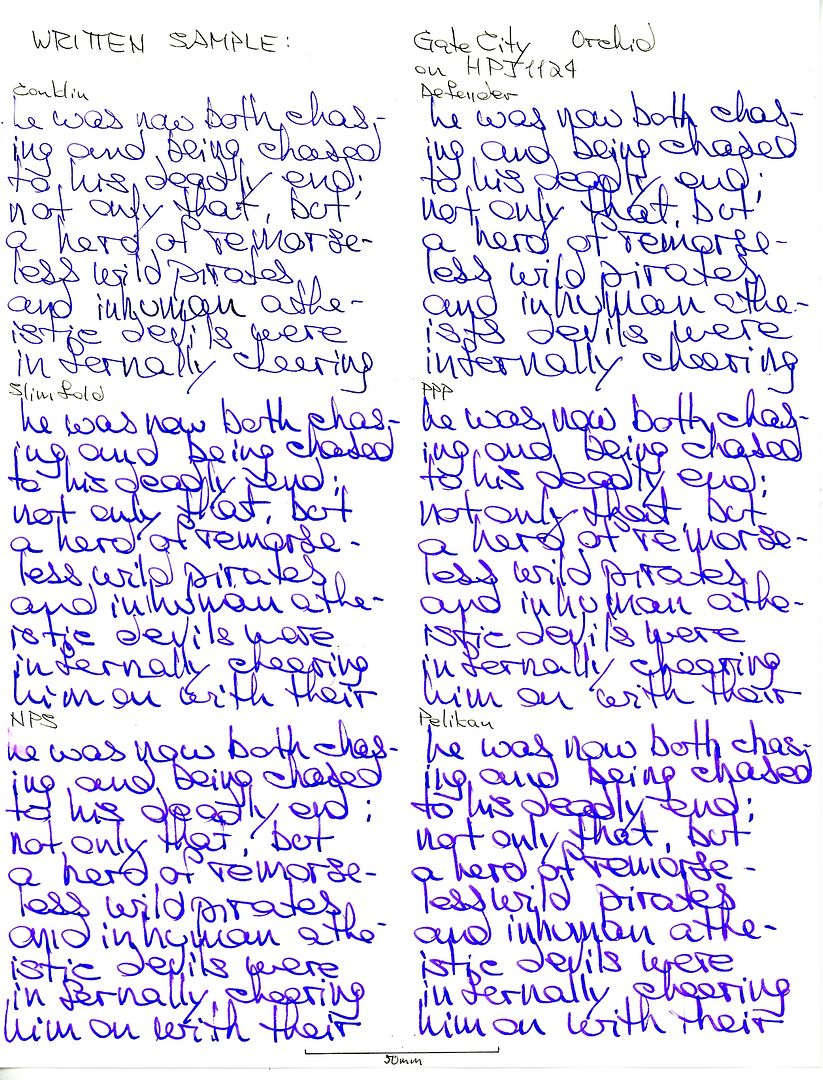 Figure 4.
Paper: Rhodia.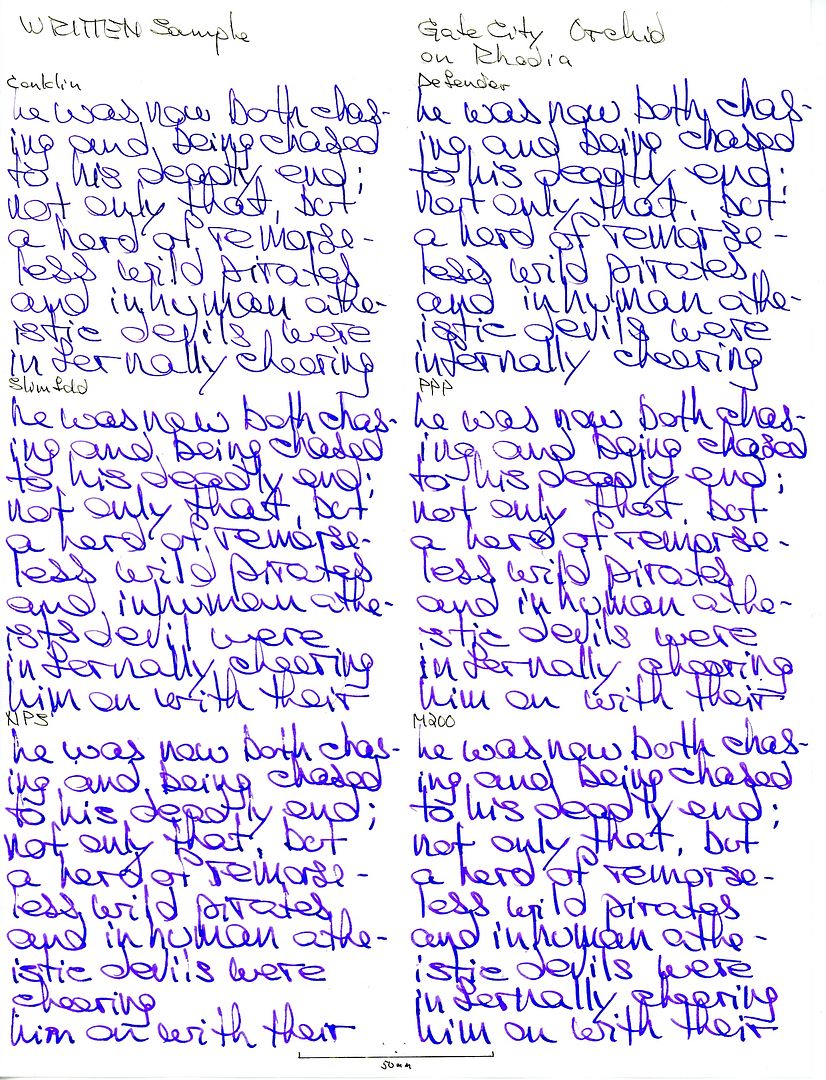 Figure 5.
Paper: G Lalo, Verge de France, white.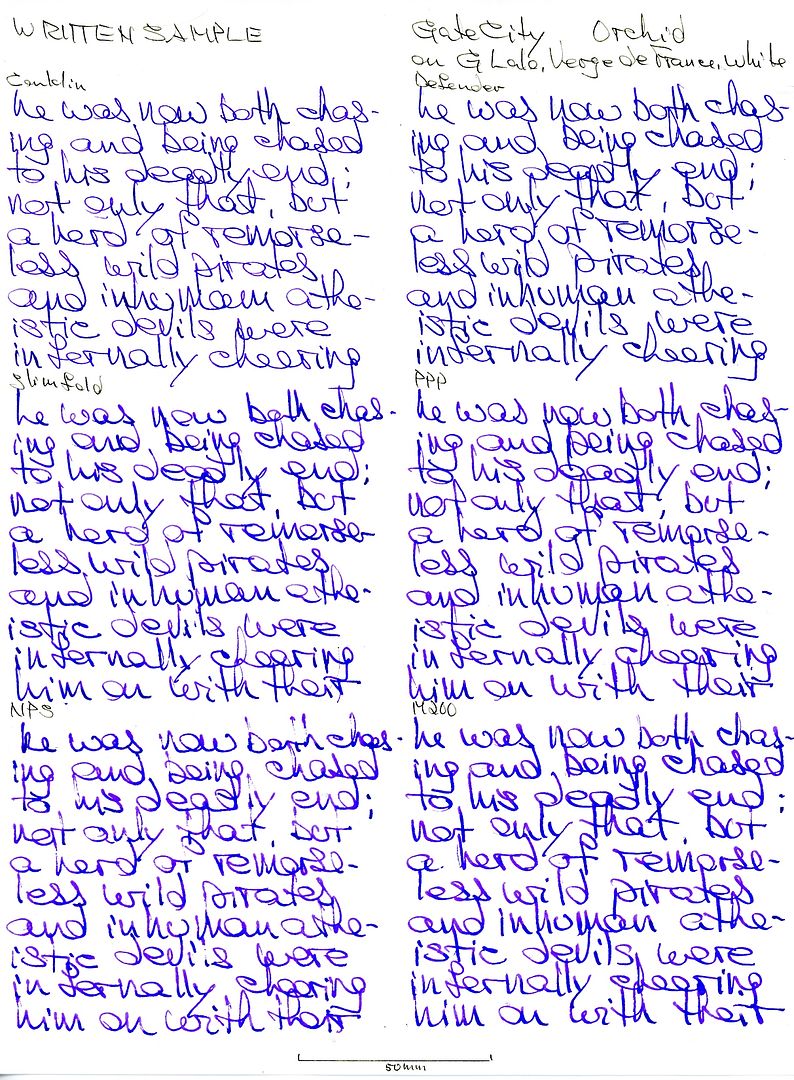 Figure 6.
Paper: Royal - 25% rag.



Figure 7.
Paper: Staples Pastels Creme 20 lb.



Figure 8.
Paper: Basildon airmail.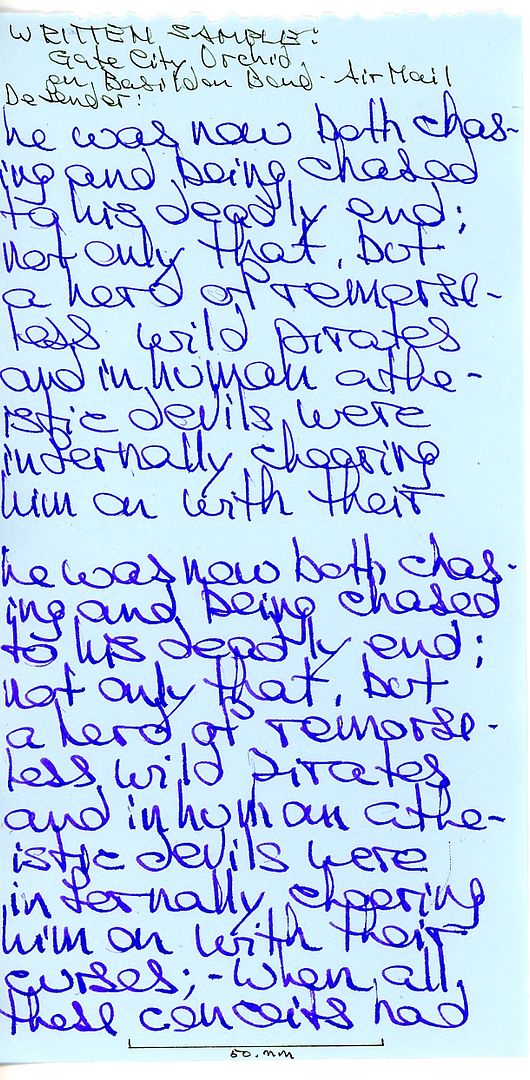 Pardon me, I did not label the bottom sample - it is from the M200.

Figure 9.
Grocery List
Paper: Pulp. One-a-Day calendar page.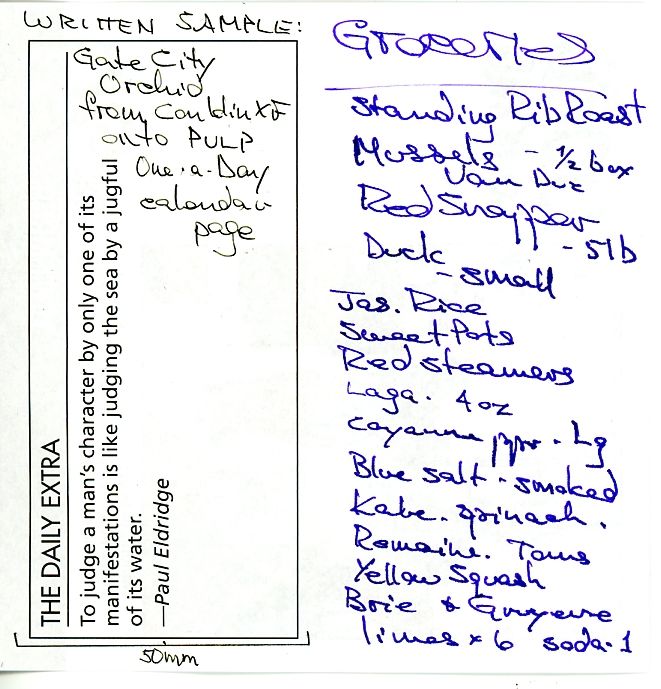 OTHER SAMPLES:

Figure 10.
Other Stuff:

'HAPPY!' on Glossy Card.

Smear/Dry Time on Glossy Paper.

Smear/Dry Time on HPJ1124.

Wet Tests on HPJ1124.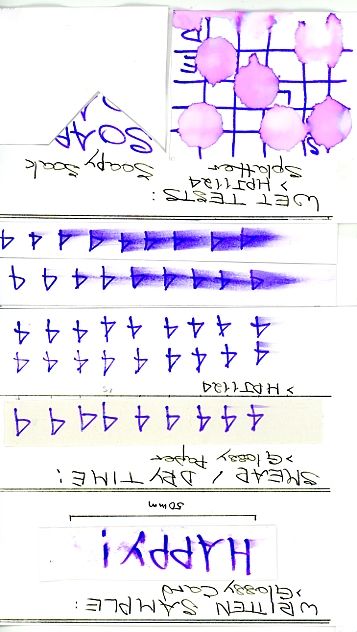 Smear/Dry Time - extended sampling.

A '4' was made every ten seconds up to eighty seconds, then a finger was dragged across the row with enough force to emulate making a fold - not a sharp [origami] crease.
Two sets were executed per paper.

Figure 10-A. HPJ1124.



Figure 10-B. Rhodia.


Figure 10-C. Royal - 25% rag.


Figure 10-D. Staples general purpose 20 lb. (Not used for Written Samples.)




GENERAL DESCRIPTION:

Type:

Dye-based fountain pen ink.
Daily writer?

For me, Ms Blue-Black, it would be a considerable stretch.
A go-to ink?

Yes - when a warm but firm ink is desired, and one controls the pen and paper to be used.

USE

Business:

An excellent choice for mark-up and editing, error correction, and grading of assignments.

I cannot envisage GCEO for internal or external correspondence; but for one's personal work product, go for it!
Illustrations / Graphics:

Rather tricky.

An astute choice for counterbalancing animated Blues. e.g. PR American Blue.

If GCEO is used as a gradient or transitory colour, please be mindful to address the vibrancy of other colours.

Line quality is very paper-dependent, so unless one is using smooth hard papers, e.g. Rhodia, I would look elsewhere when narrow tight lines are required.
Students:

Perhaps.

If one carries pens inked with different colours, GCEO could be a viable second colour to use in combination with one's daily writer.

Not the best choice for hand-written assignments.

Show- bleed-through on 'lowest bidder' papers and lack of water resistance may be show-stoppers.
Personal:

Of course.

I feel very comfortable with this colour - more so than anticipated.

At fairly high density it appears lustrous.

I think that any sort of nib could be used; but with an elegant ink, an elegant hand is a considerable advantage. (Ah me.)

Perhaps the recipient of items written in GCEO may believe that the ink was chosen - not that it just happened to be in a pen which was to hand. i.e. This is an 'on purpose' ink.

PHYSICAL PERFORMANCE & CHARACTERISTICS

Flow Rate:

Nib Dry-out:

The tips became dry quite quickly, but not the ink in the feed.
Start-up:

Lubrication:

On the lean side, but certainly acceptable.

Nibs were not slippery on Rhodia.
Nib Creepies:

Staining:

Yes.

The BCHR Conklin was stained.

⊕ [rude_word.mp3] ⊕ [fancy_cussing.avi] ⊕

I wrote to Santa about this, using GCEO; he wrote back, using Scarab Beetle, to say that certain people are to join me on The Naughty List.

Clogging:

Bleed Through:

Yes.

On HPJ1124: Defender, Slimfold & M200.

On Staples Creme: M200.

On Royal: Defender, PPP & M200.

On Basildon airmail: Defender & M200.
Show Through:

Yes.

As for Bleed Through above.
Feathering / Woolly Line:

Outright feathering was not seen.

Woolly and plump lines were typical.

This sample shows a down stroke using the same pen of WFB bracketed by GCEO on HPJ1124:
Smear/Dry Time:

YMMV.

Kindly run samples to reflect your conditions and materials.

To lower S/D times, dilution is a common work around. I've done some dilution samples, which showed a sweet spot around 80%; (four volumetric units of GCEO mixed into one volumetric unit of water; stirred not shaken). Those results are planned to be posted and linked as time and tides permit.

Water Resistance: ☂

-0- on the 4S Scale:

Nothing left but wrinkled paper.

Reuse/Recycle.
Smell:

Hand oil sensitivity:

Clean Up:

Fast & thorough with plain water.
Mixing:

No stated limitation.

GCEO does not appear to need fine tuning of the colour.
Archival:

*



* One ink is claimed to be permanent by being compliant with an ISO standard for BP inks. That ink is not GCEO.


THE LOOK

Presence:

Warm.

Firm.

Attracts attention, but may not hold it for too long.

Animated, yet sits comfortably on a plain white page.

Reminiscent of juice, fruity juice; not too sweet.

Saturation:

Shading:

Seems to require a smooth hard paper.

When shading appears, it is subtle and quite attractive.
Variability:

Pen+nib combos used:

Papers used:

Malleability:

Hi-Res Scans:

To enlarge, please click the thumbnail.

Conklin on HPJ1124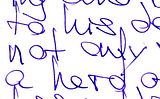 Defender on Rhodia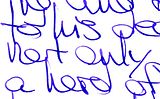 Slimfold on G Lalo

PPP on Royal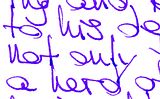 M200 on Creme

M200 on Basildon airmail Blue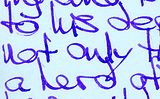 FIDELITY

Is the name appropriate?

Vague, but I can live with 'Orchid' as well as I can live with the other floral ink names.
Are swatches accurate?


SIMILAR COLOURS

Waterman Violet. (GCEO is less warm.)

Readers, please chime in.

As these things go, I believe that GCEO is quite close to the Dark Violet depicted in Wikipedia. My link


PAPERS

Lovely papers:

Not so easy!

A smooth hard-surfaced FP-friendly paper, (e.g. Rhodia), will extend the smear/dry time, but give a good line quality.

Absorbent papers reduce the smear/dry time, but cause show- bleed-through and degrade the line quality.
Trip-wire Papers:

☠ Those which are too hard/slick surfaced / ink repellant.
☠ Those which are too absorbent.

Tinted Papers:

Most reasonable tints; natural, creme & blue are shown.

I would be reluctant to commit to a lavender or rose tint without running samples. (Am I picking a posey?)

(GCEO is not opaque, so the tint of the paper upon which it is used will be added to the overall perception of the colour of what is written.)
Preprinted Papers:

Forms:

Not the best choice: Against the black text of most forms, GCEO tip toes forward, and generates unwelcome contrast to the black and white of a form.

For charts & graphs:

Quite possible.

Watch for discordance with the colour of the preprinted lines.

Should be very nice on WhiteLines. (Not sampled.)
Is high-end paper 'worth it'?

If one wishes to work on both sides of the sheet and/or generate shading and good line quality, a top-tier smooth surface paper seems mandatory at the cost of smear/dry time. Phooey!

OTHER THAN INK:

Presentation :

3 ounces by weight (approx. 85 ml.) bottle in a box.

No HazMat warnings.
Country of origin:

Container:

A tall 38mm square clear glass bottle, 88mm tall when capped.

Proportions are not conducive to stacking, and are 'tippy'.

Ink level can be easily determined.

The centred round opening is 23mm ∅.

Single tank, no sediment collector, no filling aid. Bah!

The screw cap has adequate grip.

The cap seal seems to be some sort of laminated/coated card. !(>_<)!

The cap is not child-proof.

OK OK, reality check: It's a tanker. Kindly use a different bottle / ink well to ink-up your parched pen/s.
Box:

41x89x41mm

Lightly coated card stock.

No swatch.

Ink name is written on top. Tsk Tsk Tsk

No kidding: Useless when inks are stacked, or at/above eye level.

Work-arounds:

Use some of the ink to label the box. (Watch out for s l o w dry time.)

Ask the widely beloved Biffy Beans to create an amazing design. Really!
[/list]
Eco-Green:

OK.

All should be recyclable or benign.
ETC.

Majik:

I'm afraid not.

GCEO is animated, but lacks the malleability and robust performance profile to survive attempts at conjuring.
Personal Pen & Paper Pick:

Sheaffer Defender on the Rhodia.

I like the %-age coverage, and the appearance from a firm narrow nib. The narrow line and higher density somewhat suppress the colour, but after some time I imagine I will gladly use GCEO from a dry-ish M-B nib. e.g. Esterbrook 9968.
Yickity Yackity:

GCEO seems to have enough faults which, when combined, fall short of reasonable expectations.

It is up to the practitioner to decide if the attractive appearance and satisfactory writing experience overcome performance issues with smear/dry time, line quality, show- bleed-through, nib-tip dry-out, and lack of water resistance.

Even though I consider GCEO to be for personal use, I wish it had more work[wo]man-like core properties to yield better results from a wider range of pens & papers - I do not care to be hemmed-in to this extent.

Yet, when I was writing a note with my narrow-nib Tuckie, I did like the ink. So, I'll enjoy what's in the bottle within its constraints, and cross fingers that Orchid will be reformulated by the time the bottle runs dry.

Oh, maybe next year I'll be on Santa's Naughty-But-Nice List.

Ah kushbaby, I won't awaken you for this one.


<=-+-v-+-=>:<=+--+=><:-.-:><=+--+=><=-+-v-+-=>

MATERIEL USED:

To be relevant to most members, I make an effort to use papers, pens & nibs that are readily available.
Pens are those for which I paid $100 or less, and are factory stock - not customised.


Pens:
The Conklin remains self-conscious about the stain, so appears capped.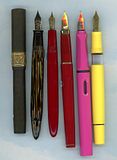 Written Samples:

Conklin BCHR + #3 nib.

Sheaffer Defender + two-tone Feathertouch #5 nib.

Parker UK Slimfold + 14K [unmarked] nib.

Platinum President Purist + 22K B nib.

The Notorious Pink Safari + steel B nib.

Pelikan M200 + g-p stub 1.0mm nib.

(The nib is a stock item from richardpens; it is not customised.)

For lines & labels:

MBRG from Pilot Penmanship + XF.
On these papers:

HPJ1124 24 lb. Laser Copy.

Rhodia.

G Lalo, Verge de France, white.

Royal - 25% cotton rag.

Basildon Bond, airmail, blue.

Pulp.

Staples 20 lb. bond.


Glossy paper.

Glossy card.
_________________________

IMAGES:

Scans were made on an Epson V600 scanner; factory defaults were accepted.

Figures shown were scanned at 150 dpi & 24 bit colour.

Images linked were scanned at 300 dpi & 24 bit colour.

Scans were not adjusted, so went straight to the file sharing thingy.
-30-

Edited by Sandy1, 05 December 2010 - 23:16.