So, I have been saying for a while now, that I was going to post a review of my Sheaffer Balance, so I decided with the new year and work looming ever present, this was my last chance and decided to whip it out.
I'm not sure if this review shouldn't go in the Sheaffer forum now that we have one, but I'll put it here because this is where I've put my others.
The Sheaffer modern Balance in Aspen color is one of my favorite pens. I purchased it about 2 years ago, and it has been in my regular rotation ever since.

1. Overall design 5*
It's almost impossible to fault the overall design of the pen, because it is such a classic. In the 30's it ushered in the era of streamline design over the flat-tops of the 20's. And its namesake due to the fact that is was designed to be well-balanced in the hand. The modern update keeps to the classic lines, but looks as good as any modern design. The key to the Balance's lines is the torpedo shape, and the traditional Sheaffer Clip.
The Aspen version has a mottled pattern in acrylic with a mix of amber, red and blue that is reminiscent of a bright, crisp fall day. This resin mix to me makes the Aspen stand out against the modern Balances for its beauty. I did some work in Photoshop to try to give the pictures you see here some semblance of the depth and vibrancy of the colors (and hopefully came close). I find that a bright blue ink really makes the blue highlights of the pen "pop" and almost always fill it with blue as a result. However, the resin is not so flashy that the pen wont look good in a more formal setting with a black ink loaded up.
The pen is trimmed in silver rather than the more traditional gold, and this tones down the overall look.
2. Size / Weight 4*
The pen lives up to its namesake, and it wonderfully comfortable in the hand, posted or unposted. It's a light resin pen so those who prefer heft won't like it. However, you'll not have a problem writing for long periods with this pen.
A somewhat overlooked comfort element is the curved section grip. I didn't notice this feature until I tried it side by side with some of my other pens. That slight curve changes the comfort factor significantly. The pen feels more solidly gripped, and yet is more comfortable that pens with non curved sections.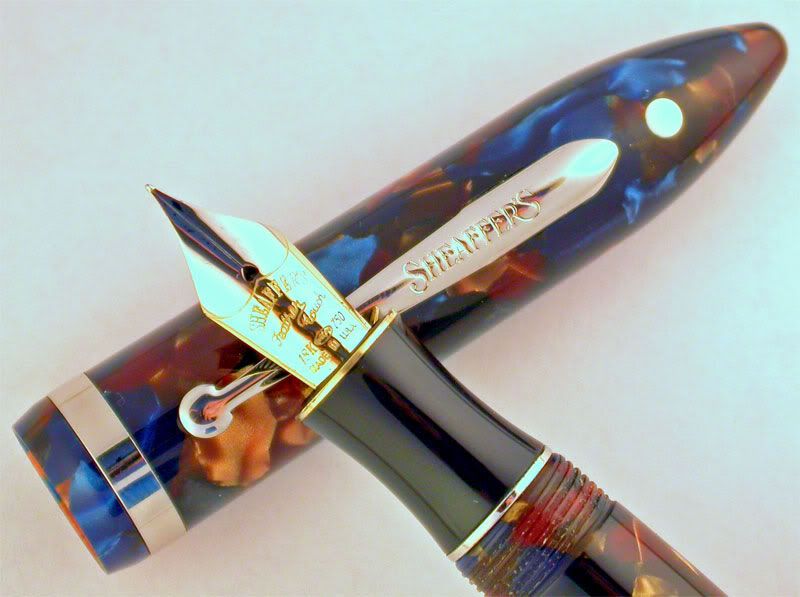 3. Nib 5*
The pens strongest feature is the 2-tone feather touch nib. Mine's a Fine, but has some flex to it. Smooth as silk, and always starts. The two tone pattern and engraving give the pen a retro feel when it's uncapped.
4. Filling Mechanism 4*
Here modernity seems to detract somewhat from the pen. Unlike its vintage brethren, the Aspen is a cartridge converter filler. This is the standard modern filling system, and while its functional in all its respects, I find it a bit dull. C/C fillers have limited capacity compared to piston fillers, and they're just... well, indistinctive but practical.
This pen gets the 4* rating however because of one little design element in the filling system. The nib only has to be partially immersed in order to get ink. That's right, this pen is my "bottom feeder" pulling ink out of bottles that my other pens couldn't dream of getting. Handy little feature seeing that most ink bottles these days are not designed to be emptied past about 1/2 inch.
5. Fit / Finish 3*
I have several criticism in the fit/finish area. While the resin is finished nicely some of the other parts of the pen I find a little lacking.
I'm a stickler for threading. To me, how a pen feels when you're unscrewing it is an important determinant of overall finish. The thread weren't turn to terribly tight tolerance and are not deep. As a result, the pen unscrews somewhat loosely, and one can pull the pen loose even though its not quite cleared all the threads. The threading was designed with multiple entry points so only 1/4 turn gets it unthreaded.
The cap band spins in its track, and will slide up and down a couple of thousandths.
While I have not experienced the problem, the cap is turned quite thinly and I have heard about caps chipping or splitting.
Finally, the one element of the classic design that could have used at least some updating is the clip. Modern mfg methods can do a nice job of making one feel that a clip is form from a solid piece of metal rather than from a stamped sheet stock. Sheaffer uses none of this in its design and the clip, though true to vintage design looks cheap.
Summary
All in all, I think everyone should have a Balance as part of their collection, whether modern or vintage. The Aspen is a great choice if modern is your route!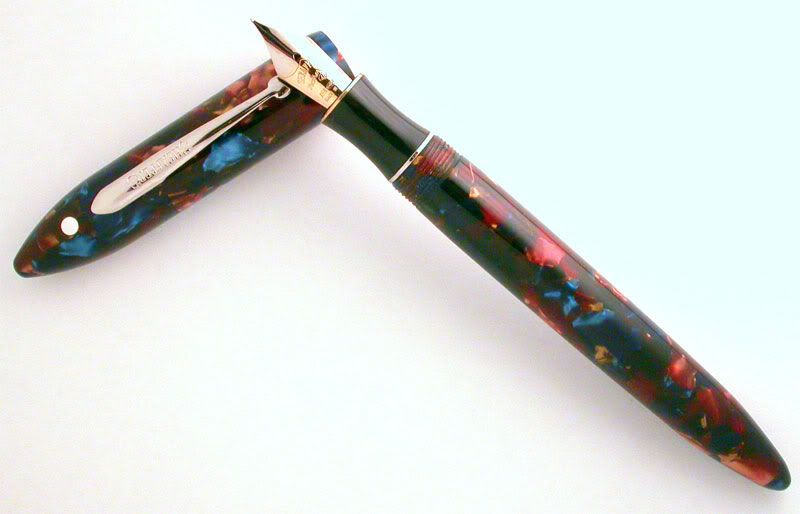 Edited by KendallJ, 04 January 2005 - 03:04.