First Impressions
I was actually tempted by the "calligraphy extension" described by Todd on I Sell Pens. That turned out to be something of a disappointment, but the pen itself turned out better than I thought.
The pen turned up in a presentation case, which I wasn't really expecting for the price.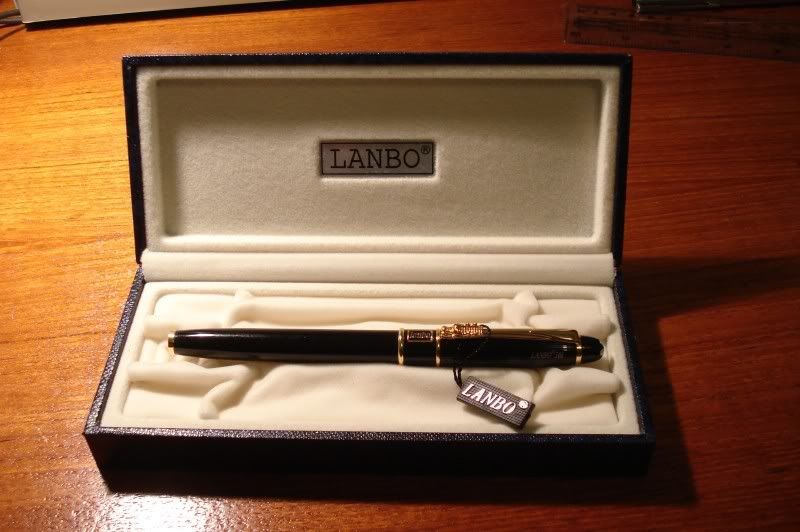 Appearance & Finish
Something of an interesting Frankenpen design, there are several non-symmetrical design features.
The end of the barrel has a flat gold end, while the cap has a round end. The end of the cap is decorated by a stylised 5-petaled flower (old-fashioned rose?) pattern that some might find vaguely reminiscent of the Montblanc end pattern at a distance.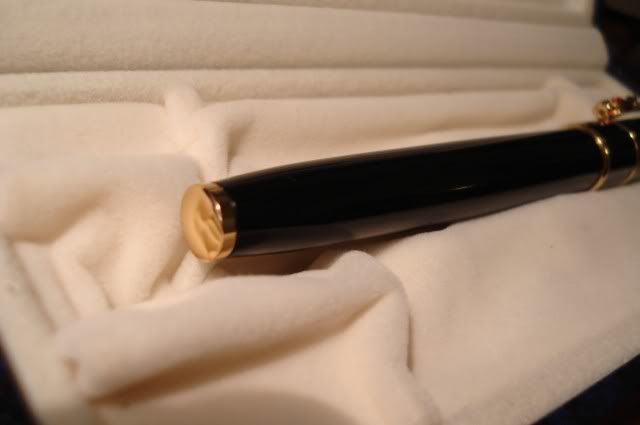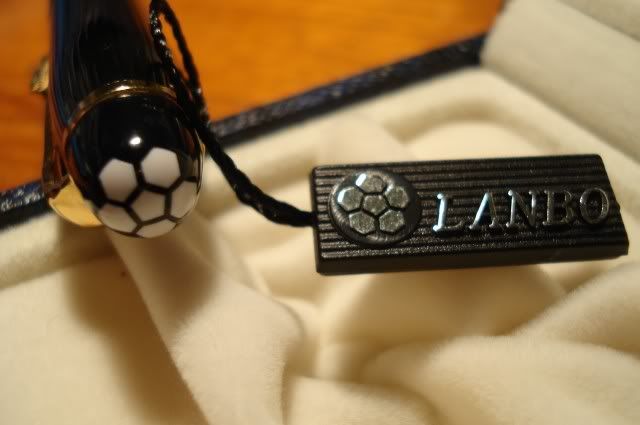 However, that similarity is soon dispelled by the attention-grabbing dragon-head clip, similar to that on Jinhao pens.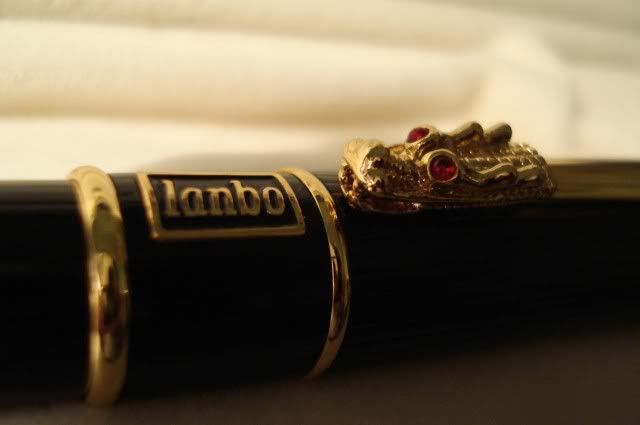 A mix of fine and coarser ribbing adds texture to the cap, and the cap also shows the brand name as a log and also as part of the model number.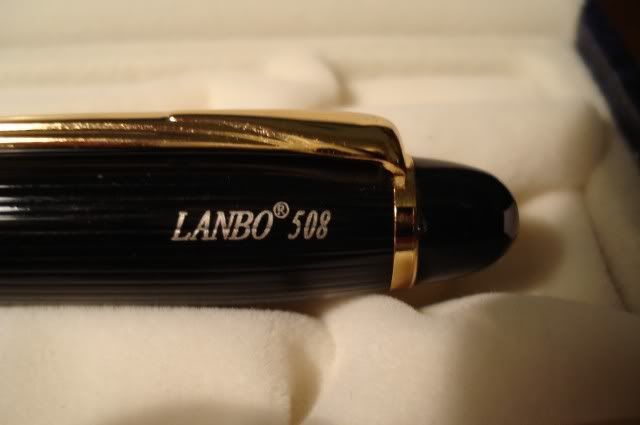 The barrel is smooth and shiny black lacquer over a brass (?) base. All trim is gold-coloured, possibly shiny brass, as the trim merges into the shiny interior of the pen with no change in colour or texture except somewhat less polished smoothness.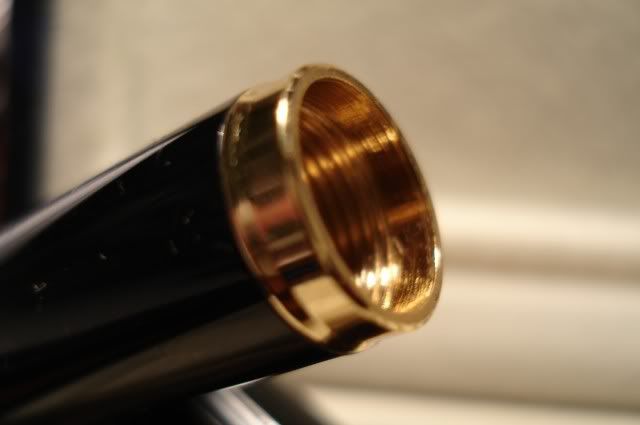 Design / Size / Weight
The Lanbo 508 is in my mind a good "standard" pen size, neither particularly thick nor as uncomfortably thin as a Parker Jotter.
Lifting the pen out of its box was a surprise - it is quite heavy. Capped it is even heavier than my Pilot Capless (Namiki Vanishing Point), which I'd always thought of as a hefty pen.
OK for a trouser pocket but I find it too heavy for a business shirt or polo top.
Uncapped and unposted it is a fraction lighter than the Pilot Capless.
Removing the cap reveals a matte black grip section and a two-tone gold-plated nib.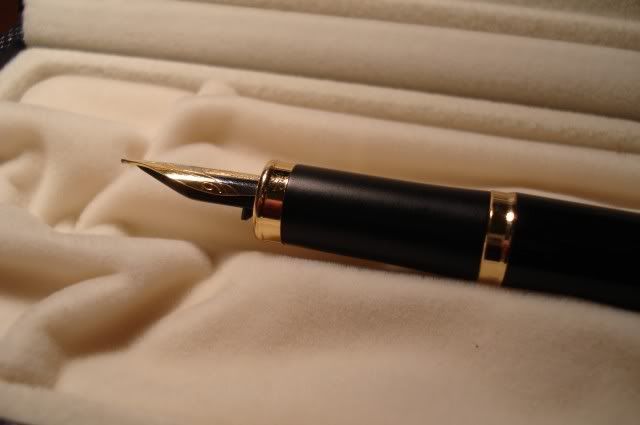 I found it a comfortable length and balance to use posted or unposted, but for me it is a bit heavy for prolonged use when posted.
Capped: 14.2cm (about 5&9/16")
Unposted: 12.2cm (about 4&3/4")
Posted: 15.4cm (about 6")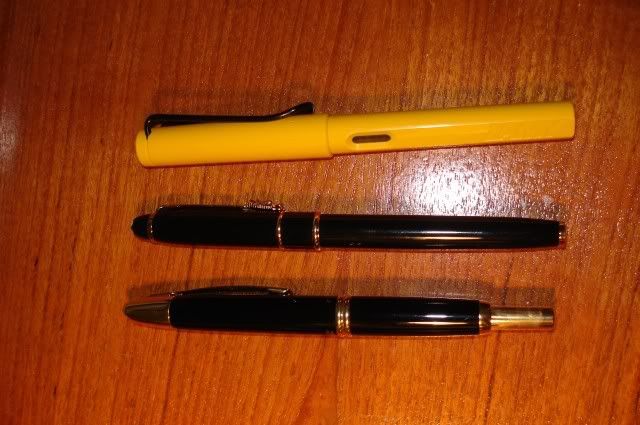 Nib Design & Performance
The two-tone (plated) nib is a graceful leaf shape without sharp shoulders, has no breather hole, and is decorated by swirls, the word Lanbo, and a representation of the eastern dragon head of the type on the clip.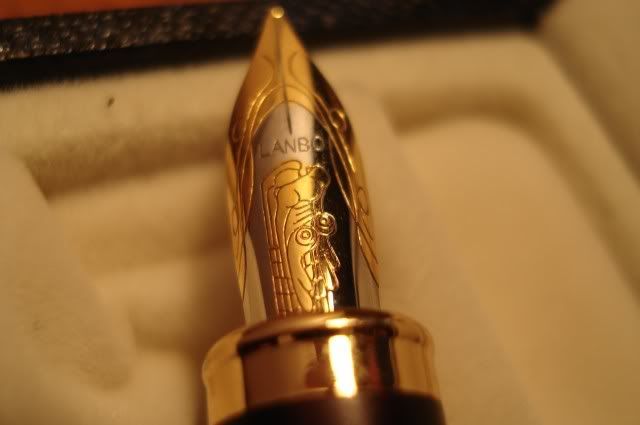 The nib is a fine-ish medium and comfortably but not excessively smooth, albeit something of a dry writer. There is no initial hesitation or skipping, and it is a good writer. The back of the tip writes extremely fine but with noticeable tooth.
The slider extension blade in the feed that Todd describes as a "calligraphy" extension is (in my opinion) nothing of the kind. It is too thin and sharp, and ink does not flow down it (at least on my pen), although you might possibly make a mark from ink that smears onto it when it slides out.
The extension does seem to serve two purposes - firstly, it can clear the slit of paper fibres if present, flossing the nib, and secondly if the ink dries in the nib while the pen is uncapped (which Lamy Black seemed to do quite rapidly) then running the extension blade through the slit gets it flowing again. A useful feature but not for calligraphy purposes.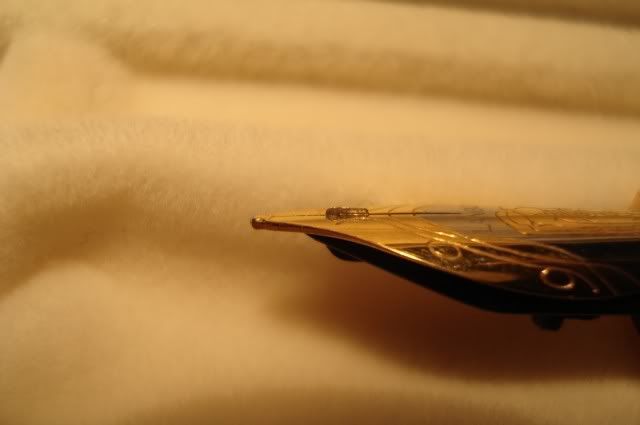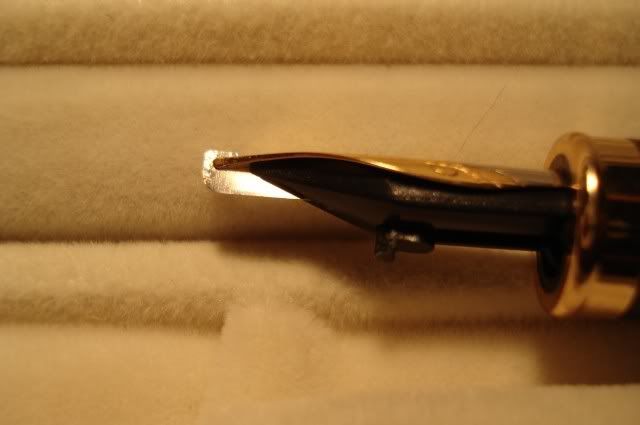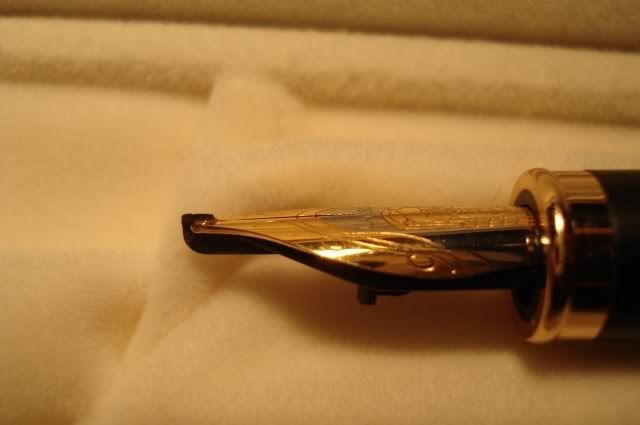 The Filling System
Cartridge/converter, twist converter supplied. A reasonable portion of the ink reservoir remains visible to see how much ink remains.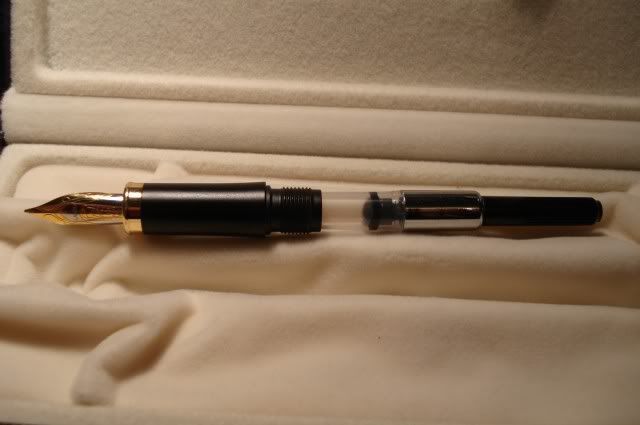 Cost / Value
Cost was about US$17 from I Sell Pens, and I think it presents excellent value for money.
Overall Opinion / Conclusion
If you don't mind a pen with solid heft and an average section width, the Lanbo 508 is a decent pen with some character to its appearance (particularly the cap), for less than you'd pay for most Western brand pens of similar quality.