I think this is an under-explored topic, but strangely critical if we're talking about collecting. To put it concisely,
 
Where is the soul of your pen?
 
We all know (well, most of us know) that pens don't have actual souls. But the question is extremely important because it always shows up in our buying habits, and has an extreme influence over the price of a particular pen. So, with no further ado, let's explore this question...
When is a pen no longer the same pen?
People speak fondly of the pen that they've had their whole lives. There was that one time they dropped it on the nib in college, but they got the nib replaced by graduation. Then their fiancé cracked the finish, so the barrel got swapped for an identical one before the honeymoon. Then they replaced the ink sac after one of their kids broke it while playing with the pen, and they got a new collector along with it that works much better than the old one.
When did the pen stop being the same pen? When the first part was replaced, when the last part went, or somewhere around the body being swapped? Yes, people are inclined to wax philosophical and say that the pen was in their hearts, but that's not how act when you've got your wallet out and are looking to buy pens. Originality is an important thing to collectors, one of those vague abstracts like "nationality" (where the pen was made) that often has no bearing on the pen itself but rather on how you think of the pen. What if you found out your prized vintage 1921 Parker Duofold was actually made in China in 2013? Are you going to argue that it doesn't matter to you, the pen is in your heart? (Where that fat wad of cash you paid also resides?)
The same thing goes for "first year" pens, or a pen that was owned by a famous person, etc. Do you never harbor that secret doubt, that your pen is not what you think it is? Or, even if it is what it is, do you ponder why things like "this pen signed the WWI armistice" translates to a certain monetary value? When you get the pen in the mail, is it not just another pen? If you had no-one to impress with it (except Frank the mannequin, from I Am Legend), would it even have any value beyond its immediate practical use? Or do we, in a sense, pay extra for social gravity?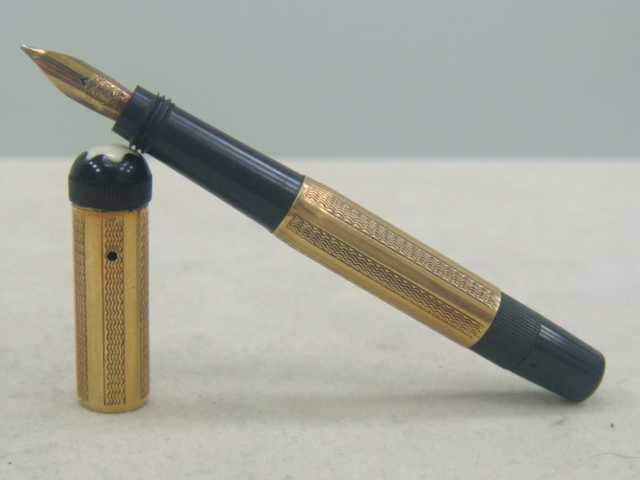 100% Original 1910 Montblanc Simplo #0 Baby, on eBay
Price: $29,999.99 as of this Saturday
My thoughts...
I'm not trying to convince anyone of anything, I just merely want to stimulate discussion on a topic I find fascinating. Switch the cap on a vintage pen, is it the same pen or not? Or is it exactly 31% less the same pen? Are we concerned with preserving the "original" molecules, or is the design itself what is valued (as when vintage pens end up with parts from practically every year in the 20th century, or even modern replacements made in someone's garage). What if your pen never was presented in the Empire State Building, like you thought it was, and paid for accordingly? Why are perfect (indeed, even improved) replicas often sold for a fraction of the "older" pen's value? We obviously care about these things (shattering a pen from 1899 can devastate our soul), but we never investigate what's really at the root of our collecting. Let's really break it down... Since we treat our pens like children, and there is an obvious emotional component to collecting, what do we actually value? Function, Form, Fame, or History?