1. Foreplay
To start off with, here is a copy taken from the Montblanc site: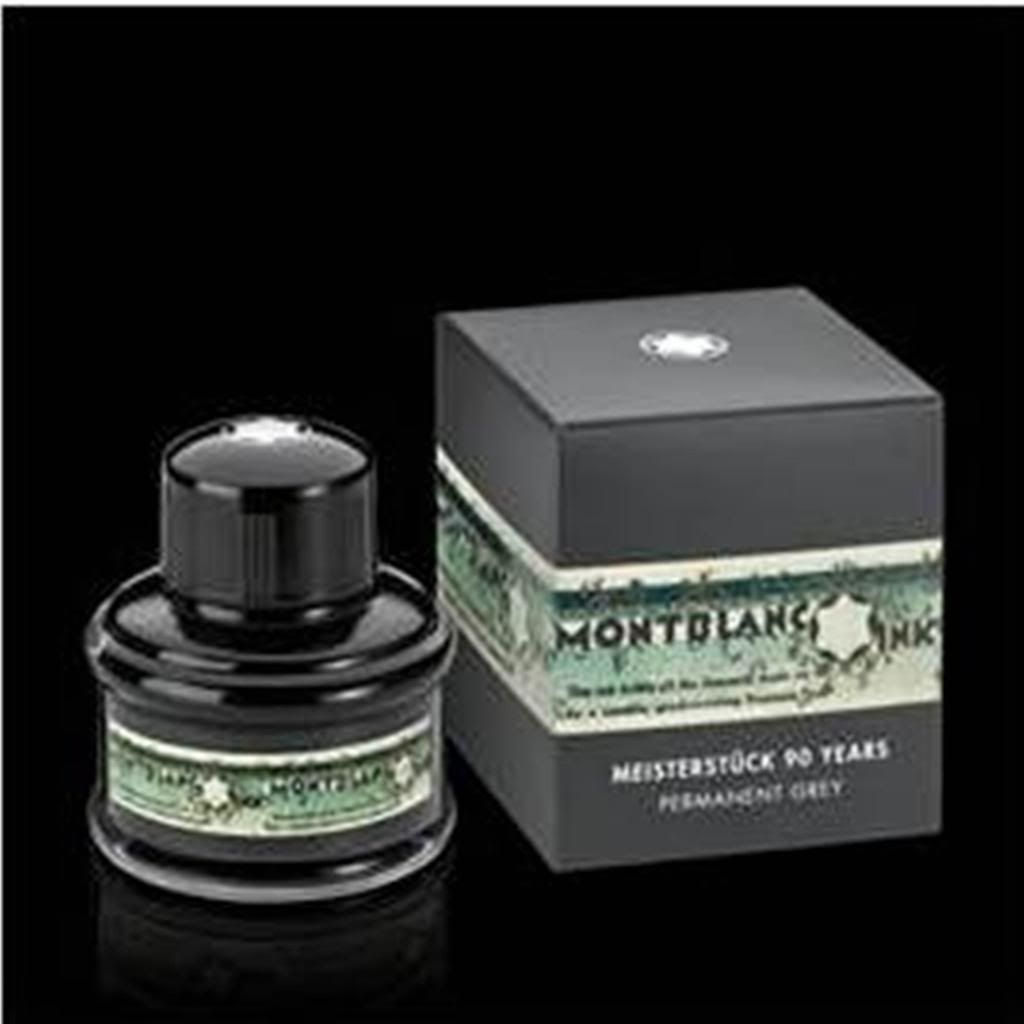 Officially, this ink is the partner of a Meisterstück pen issued at the same time (beginning of April 2014 worldwide) although -- in contrast to many other MB pen-ink "pairs" --  it can very well be purchased without the pen. However, both are LEs, just like the Hitchcock pen and Hitchcock ink. That is, this new Permanent Grey can also be considered as a LE ink alone (without any matching pen) e.g. like our White Forest. Finally, it (the grey ink in this review) has been intended to measure up to the standard features of other MB document inks.
The following rambling is the first occasion I have met with in regard to this ink's use. I just whipped out a sheet of Rhodia and jammed down a line or two with six different pens to get a feeling or two.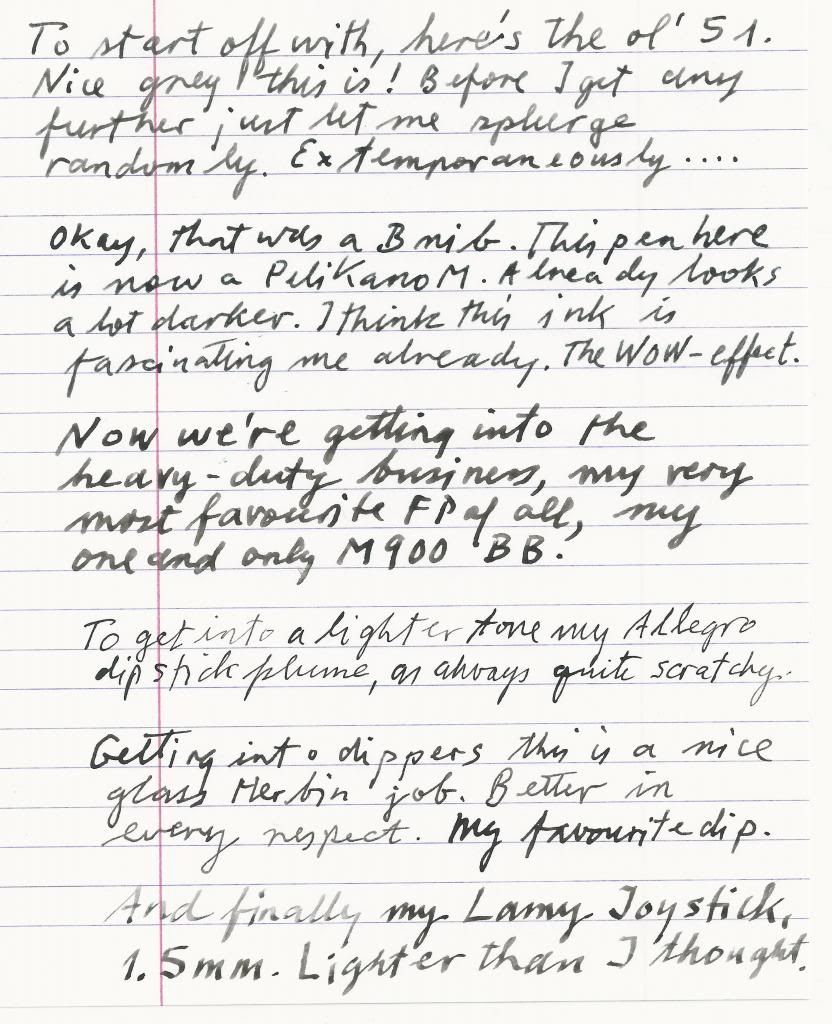 Bear in mind that I'm already getting into greys (or, as they'd say in the States "grays"). I don't know why but who cares? As an early warning, I'll be coming up some day with a more detailed comparison of a dozen or two different greys
2. First impressions
I think I really like this ink, although I'm not yet 100.0% sure. I've only had it for a few days and not yet compared it well enough with another handful or two but that is on the march. The first thing I found to be neat -- although by no means any real surprise -- is that its actual colour flare distinctly depends on the pen's nib width and wetness (duhhhh). IMO that is however no easy job since it is "after all" still only a grey or, to put it in other words, a state of black on white (whew, who didn't already know that?). Just to defend the situation, it's not as easy as it is speaking about let's say an amber or a moss green where we can all say "mine comes out more orange or less blue etc....
To repeat something I once said about Pelikan's Garnet, the HP Officejet 6700 scans used here are at least IMO adequate representations and match nicely with my photos of same.
3. About the Packaging
Nice bottles and boxes as usual, just like the other 35-ml jobs offered for Balzac, Swift and Collodi. Not like the 30-ml -- even if bigger-looking -- Red Chalk, Einstein or Meisterstück Montblanc Diamond issues. Not as practical as a MB shoe, but I see no reason to worry here. The lid is okay but IMO still not as "good" as MB's newer lids (the companies' older lid designs were less well made, and harder to open and close.)
The bottle's shape and label are truly beautiful. A better adjective here would be "reminiscent". These all very nicely resemble something created about 90 years ago (har, har). Two shots of one and the same bottle: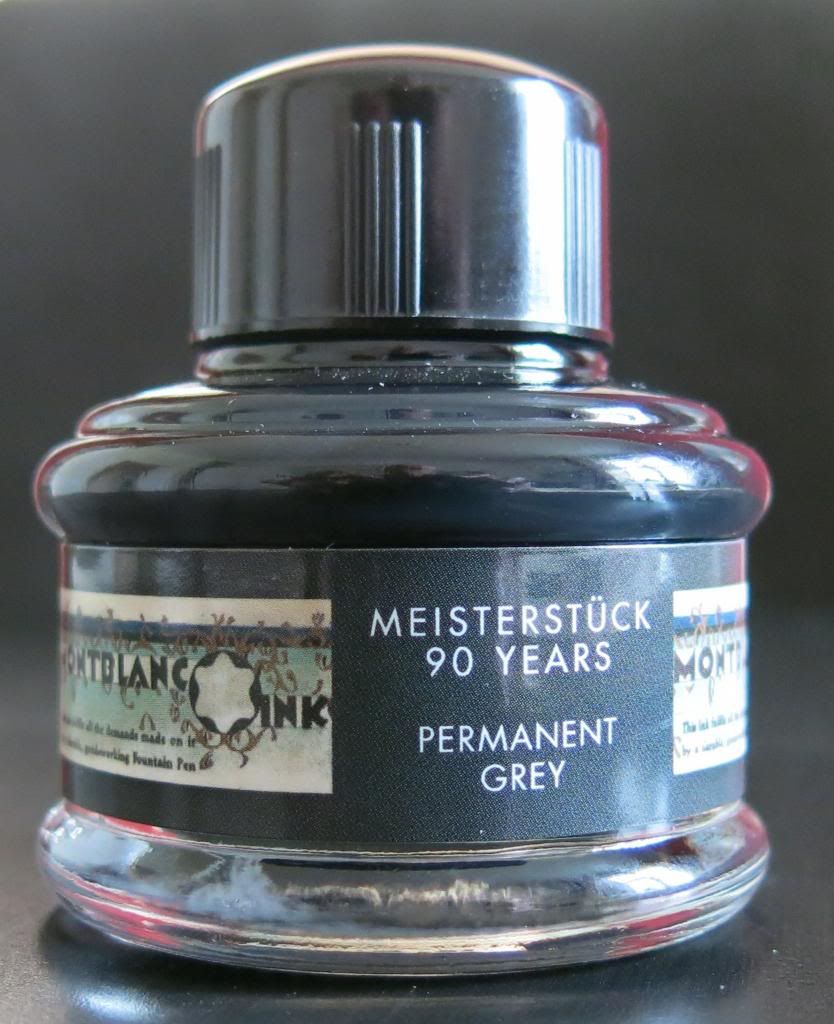 The boxes are also well made. Nothing new here except that the whole looks of the four sides IMO fit better with the looks of the bottles' labels than those of other inks do, like Balzac, Swift and Collodi.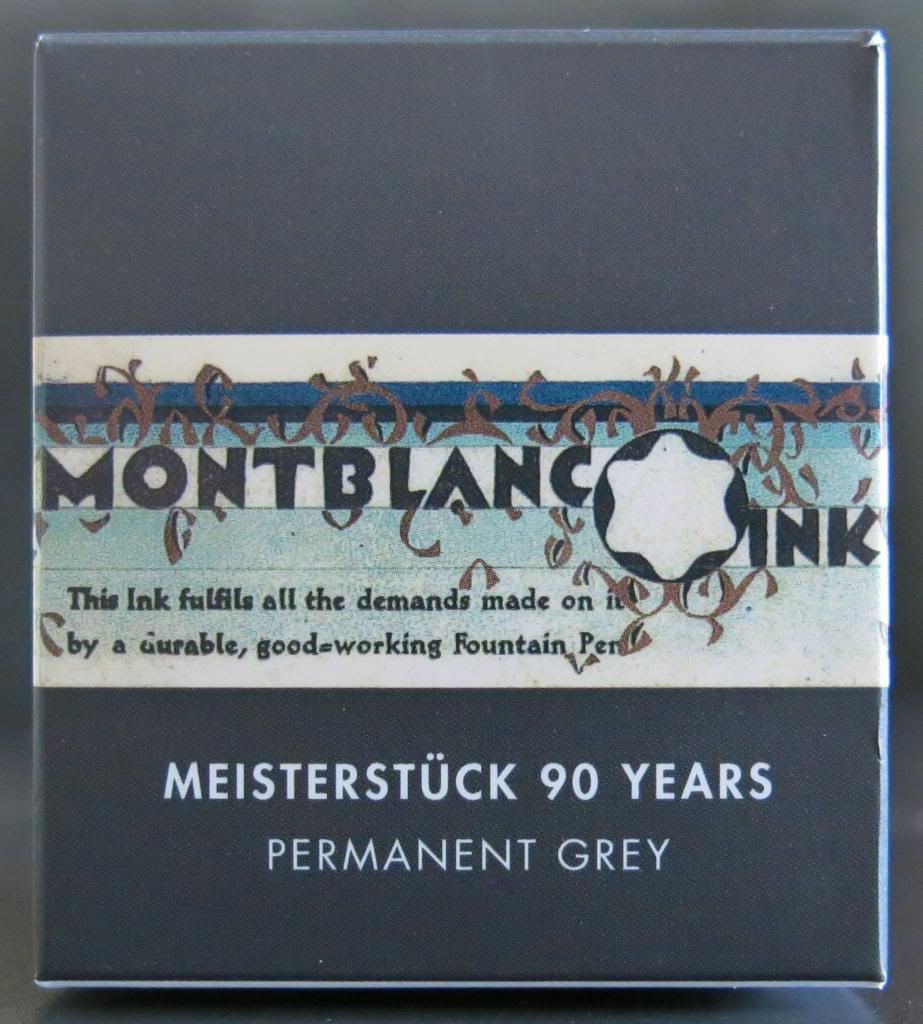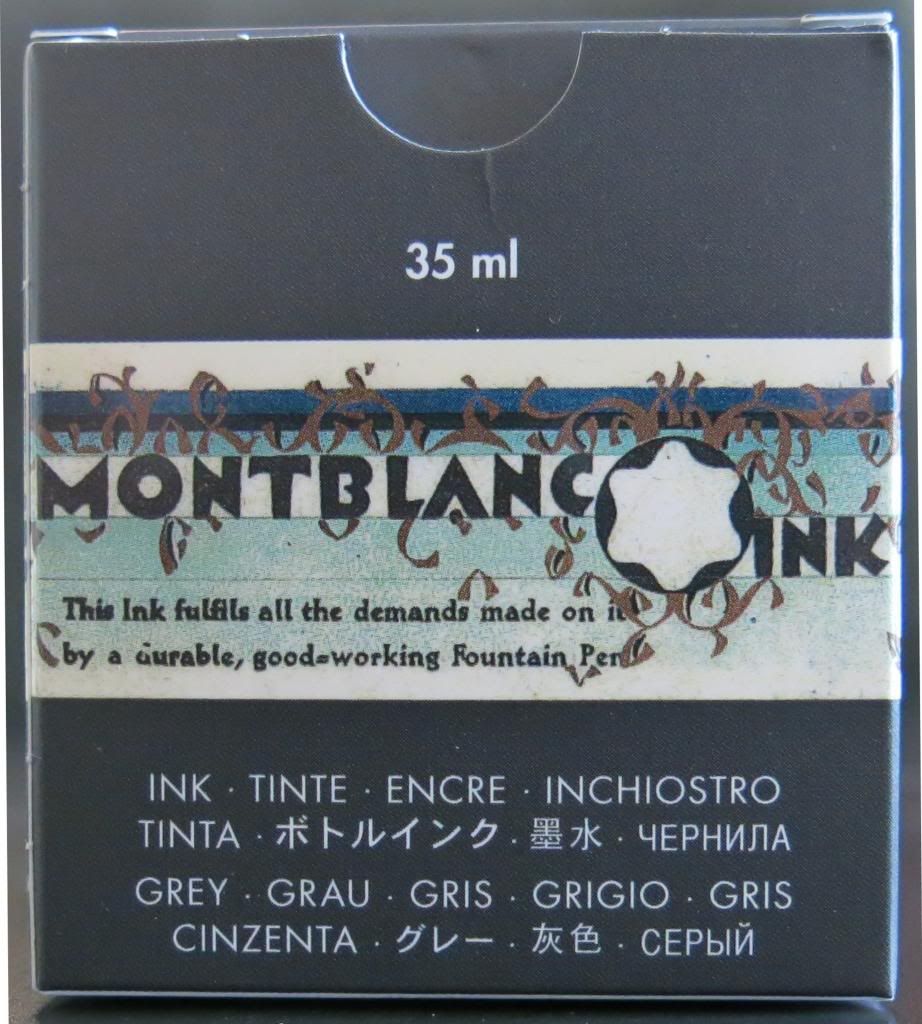 ... and the bottom:
That otta do for the boxes. I save and collect these, too, BTW.
4. A fast look at ink properties here
■  Flow: Very good. About as wet as all of the other present-day MB inks.
■  Lubrication: Also good.
■  Saturation: Medium to high. Very difficult to get perfect here because we're having to do with a grey, and IMO if its saturation/intensity is too low, it'll look too light whereas if too high, too black. Okay, that's logical....
■  Shading: Good. See the 6-pen scan up top. As I see it, there is at least some shading for each pen and/or nib width and none of those have a flex nib.
■  Bleeding: Practically none on Rhodia paper. The "worst" was on Avery 80 g/m2 copy paper, followed by Moleskine and Leuchtturm in that order. On all 5 of the other papers, I see no bleeding.
■  Feathering: Only Avery showed any real feathering.
■  Drying time with the 51 (B nib) on Rhodia:

Now that is a long time to dry but then again, this ink is very wet, and I love that feature! At the same time, we're dealing here with an ostensibly permanent ink and these are almost always "long drying". That includes iron-gall inks. But then again, iron-galls are usually quite dry and this ink isn't dry! Short story: at least 2 minutes drying time is a long time, especially for our lefties out there.
■  Maintenance: I find that this ink is easy to maintain. Washing and cleaning seems to be no problem. I also see no nib creeping. I have only used this ink for a few days now but I would still wash and dry the pen at least every few weeks after use, even for a refill of the same ink. MB says 3 months for their iron-gall inks. Let's say you write almost all day, every day with it... then I'd say clean it after every 2-3-4 fillings.
■  Waterproofness: This may well be -- of course -- the aspect most sought after here, since the bottle, box, and the above-mentioned MB site all say "PERMANENT GREY". I find it to be very waterproof. I started off with the usual 1, 2, and 5 min baths (submerged continually in water) but ended up with 60 min. If I look very carefully, I do see some unevenness in the 60-min bath but that in fact looks more like a shadow than a smear. Pelikano with an M nib on Rhodia:

Sure, I could try out 24 h but I'll leave that up to you if you really require such documentation. More interesting IYAM was the thought of how their Permanent Blue and Black would compare. Here's what that looked like using an Herbin glass dip pen on Rhodia paper:
As a matter of fact, the grey looks more robust than the black although that might be due to the actual amount of ink which was transported by that dip pen.
5. Various papers
Eight papers, all under the Herbin glass dip pen.
Basically, there is hardly any difference to be seen on any of these papers.
The only thing I myself really encountered and/or enjoyed is the experience of a nice texture like on Artoz 90 or GraF it 90 but that is completely a subjective thing and I know that some you just love the heck out of Clairefontaine because it is so smooth. I don't because I find it too glassy. I find that a nice glide over a good texture requires a decent wetness, otherwise things may end up too scratchy. As you can see, there definitely is some feathering, at least on that Avery copy paper. Otherwise, I see no feathering on any of the other 5 papers. For bleeding, see above under Point 4 (ink properties).
6. Ink Comparisons
Here's a small list of 5 inks in comparison. 1x, 2x, and 3x swabbings, glass dip pen from Herbin, Pelikanos with M nibs, and the Lamy Joy 1.5 mm.
Oops, sorry that I wrote Flannel Gray; I should have typed Gray Flannel. I any case, I chose these inks because they are the greys I thought of first which many of us here cherish again and again. At least the last two American treasures. One thing which has always interested me is that a collection of grey inks can lead to a lot of new discoveries (maybe only to be outdone by blacks). E.g. here, the Oyster and the kiri-same almost look the same (har, har, just couldn't resist that one...) in relation to their flair for aubergines, but what you can only see and feel upon writing -- and later cleaning -- is that the kiri-same appears to be more saturated and/or soluble than the oyster.
7. Availability
This ink has a recommended (actually standardized) retail price is 15 Euros. That might lead to $ 20.00.
Montblanc being Montblanc means that you can get it all over the world (like Pelikan, Waterman, Parker etc.), even if you have to order it online.
8. Notes
FWIW, this ink is meant to be similar in regard to the flow and permanence of their PERMANENT BLUE and PERMANENT BLACK. (I formatted that here in bold and in that order because those are the typographical formats of the ink names on their 60-ml shoes' labels, whereas the names on their boxes are BLUE PERMANENT and BLACK PERMANENT; for the grey I read PERMANENT GREY on everything. WHEW!
Important: don't forget that this ink is a LE ink, so if you happen to need and/or want it, buy it before it's gone.
(For those in need, DIN ISO 14145-2 is a German process which ensures quality for a remanufactured and compatible indelible ink. ISO stands for International Standards Organization and DIN stands for Deutsches Institut für Normung. Most inks that meet these tough standards will actually have a seal or mention of that term on the packaging and/or bottle label, meaning that they have been manufactured under such ISO standards. These inks penetrate very deeply into the paper and are therefore extremely secure against forgery. This makes them ideal for documentation. There are also other ISO numbers on other inks -- with or without the "DIN" prefix -- like ISO 12757-2 on the De Atramentis Document Inks.) The funny thing -- again, not all that hilarious -- is that neither the bottle label nor box of the ink discussed in this review has such a seal/printing. But it does conform to that DIN ISO 14145-2.
9. Summary
■  A great grey, by no means similar to Montblanc's Oyster Grey. Whereas the latter has a touch of aubergine, the former suggests rather a hint of green and/or brown... but... in a very subtle fashion.
■  Box and bottle are actually beautiful especially in regard to their looks and colours... sort of like they would have and/or must have looked like 90 years ago. Still, neither the bottle nor its cap or box are as sturdy as those of the heavy-duty 60-ml shoes.
■  The only thing which comes to mind as a con is that it takes a good two minutes to dry, no problem for me but probably one for lefties. The fact that it costs 15.00 Euros (likely $20.00) doesn't disturb me in the least, because I think it's worth it.
■  But its permanence as a document ink is outstanding. Just like their Permanent Blue and Permanent Black, maybe even a bit more indelible than the latter. If you're into greys, this is the Document Grey Ink!
■  If you like greys in general, I'd say that you'll be getting a hold of this for sure
■  Don't forget that this is a LE ink, so time is running out!
Mike