Ahh, the dangers of browsing internet sites for pens...  While on Richard Binder's site, I noticed he had some Bexley Corona's left in stock at a very reasonable price.  The "American made piston filler" was too much temptation, so I ordered one with a steel fine nib.  Unfortunately, the dark blue (can't remember the name) was out of stock, but the Lemon Meringue resembles a vintage tortoise enough to have attracted my attention.
Appearance and Design (8)  On the large side of medium with a classic flat top design.  I'm particularly fond of the contrast provided by the dark brown / black ends, and the gold clip and accent band.  I don't know how to describe the color, but "Lemon Meringue" wouldn't be my first choice.  Still, I like it.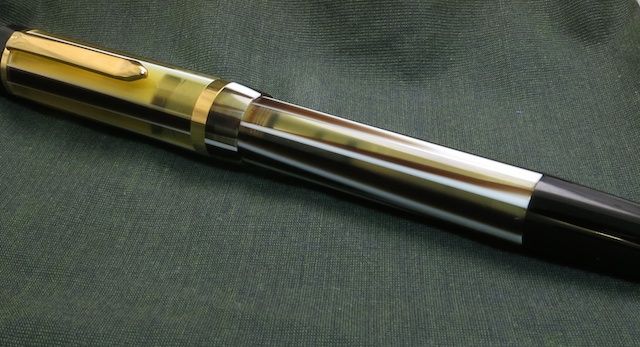 Construction and Quality (9)  This is a substantial pen.  Solid and having some heft, it's not overly heavy (but not a featherweight like a Pilot Falcon).  I like it.  The shape (particularly the section) is pleasing and comfortable.  I haven't decided if the nib seems a little too large (proportionately).  The taper of the end opening of the cap seems a little thin, and would crack easily.  It does screw smoothly and shows the attention to detail / precision machining.  The ink window does not show when the cap is on (some reviews did).  You can post the cap, but it barely fits on the end of the pen.  It doesn't feel secure, and disrupts the balance.  This pen does need some points docked for the piston, but I'll do that in a later section.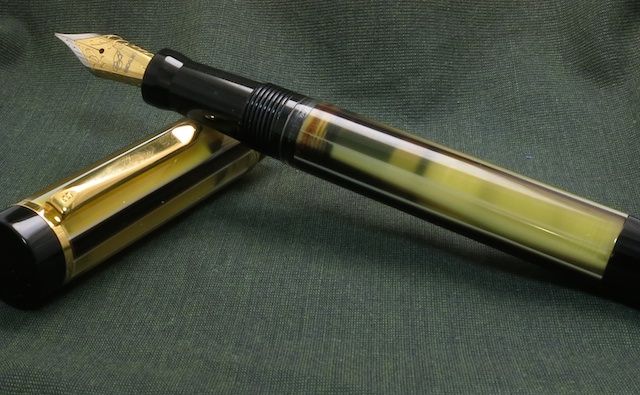 Weight and Dimensions (9)  Addressed in "Construction", I'll reiterate that this is a substantial pen (in a pleasing way).  Almost 5 1/2" long (capped), 5 1/8" long (uncapped) and 7" long (posted)
Nib and Performance (9)  A production steel nib, size F.  Not a nail, but not springy.  Hard to describe but very nice to write with.  The nib is very smooth and pleasurable when writing.  Performance is top-notch (and what earned the "9", as it's been "Binderized".  A perfect amount of ink is dispensed, no skipping or flooding... just perfect.
Filling System and Maintenance (5)  A piston filler, the mechanism seems friction fit into the barrel.  This is strange because the barrel also seems threaded (I think I saw this in another thread as well).  The problem is that it's difficult to "feel" when the piston is all the way at either end of travel.  It's not smooth and there are no "stops".  Twist too far and the mechanism starts to work it's way out of the barrel.  On the plus side, it makes it easy to remove for servicing, but I'm not sure that is worth it.  It will be interesting to see how they've fitted the piston on the Poseidon Magnum II.
Cost and Value (8)  At current prices, it's well worth the cost and you're getting a very nice pen for under $150.  A no-brainer.
Conclusion (7)  This is my first Bexley, and it's obvious that they make quality pens.  I wouldn't hesitate to get another, although their piston filler might not be my first choice next time.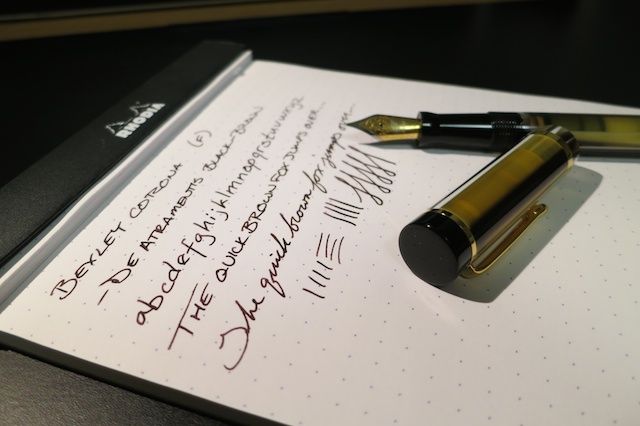 Size comparison with some other pens: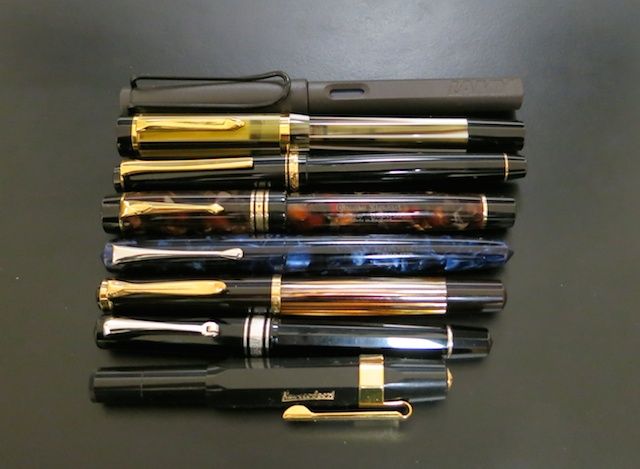 Edited by dneal, 10 April 2014 - 11:22.