➤ Please take a moment to adjust your gear to accurately depict the Grey Scale below. As the patches are neutral Grey, that is what you should see.



-

-  

Fidelity
One may compare the appearance of the ink I used to the depiction on the Noodler's site: noodlersink dot com  
Note Well: I give all Noodler's inks of their 'bulletproof' family an almighty shaking prior to use, wait for the froth to subside and the ink to return to ambient temperature, then charge the pen.

Figure 1.
Swabs & Swatch
Paper: HPJ1124.




Figure 2.
NIB-ism
Paper: HPJ1124.
Depicts nibs' line-width and pens' relative wetness.
Distance between feint vertical pencil lines is 25mm.


L → R: Pilot, 440, 1745, PPP, P99, Carene.


WRITTEN SAMPLES - Moby Dick
Ruling: 8mm.

Figure 3.
Paper: HPJ1124.



Figure 4.
Paper: Rhodia.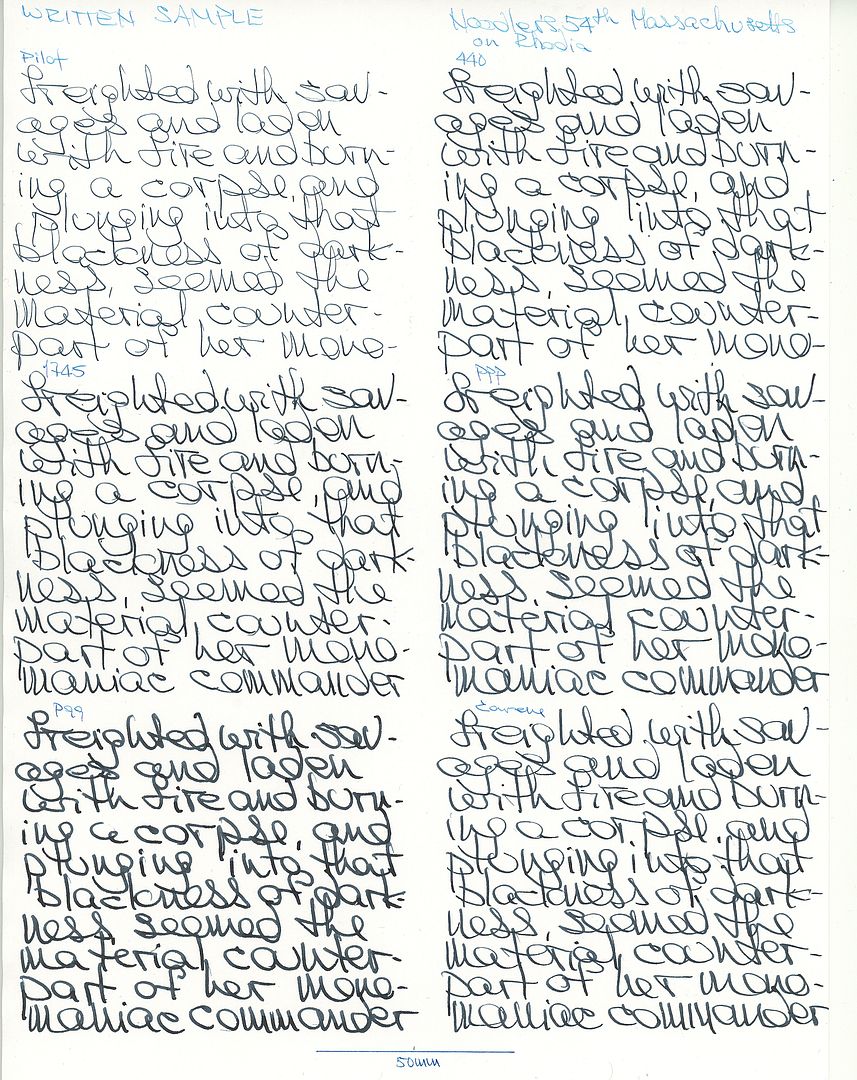 Figure 5.
Paper: G Lalo.




Figure 6.
Paper: Royal.



Figure 7.
Paper: Staples.



OTHER STUFF

Figure 8.
Smear/Dry Times & Wet Tests.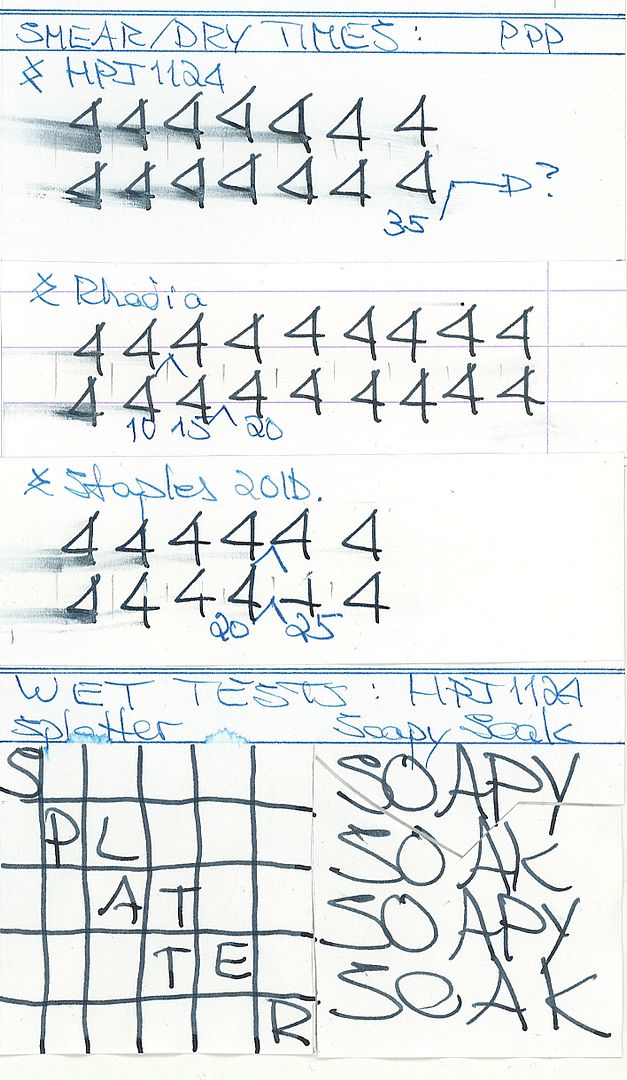 Figure 9.
Bleed- Show-Through on Staples.
(Reverse of Figure 7.)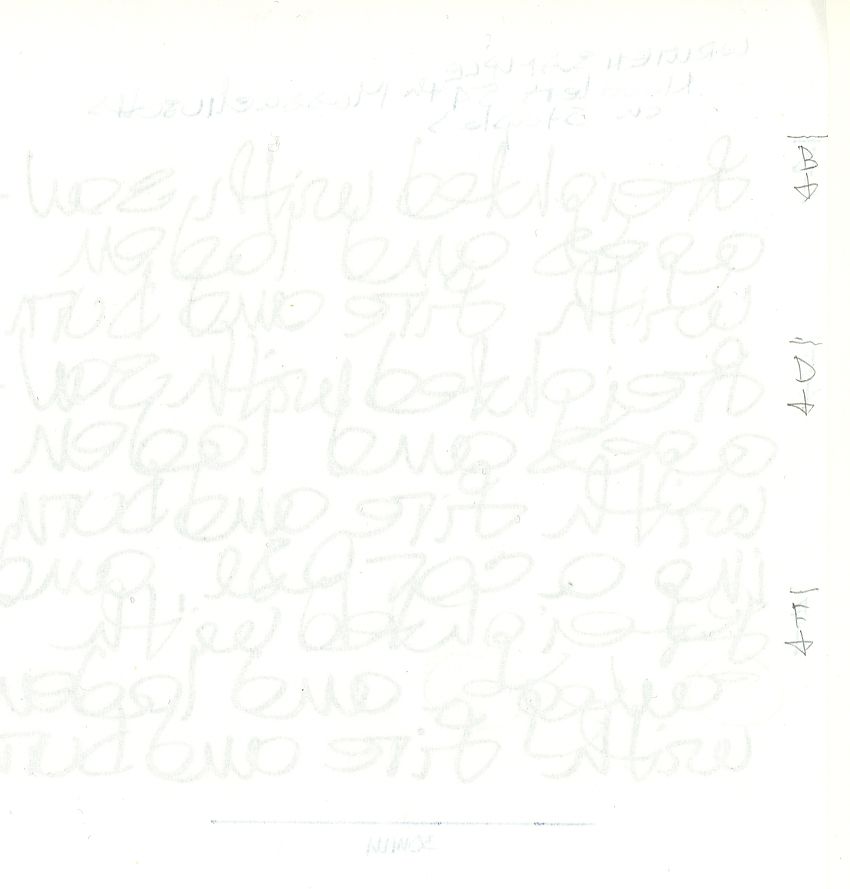 N54M Diluted
Pen: Rosetta North Star + steel Schmidt B nib.
Paper: HPJ1124.
Samples on Rhodia & Staples held no great surprises, so are not shown.

Figure 10.
Written Samples:


Figure 11.
Smear / Dry Times: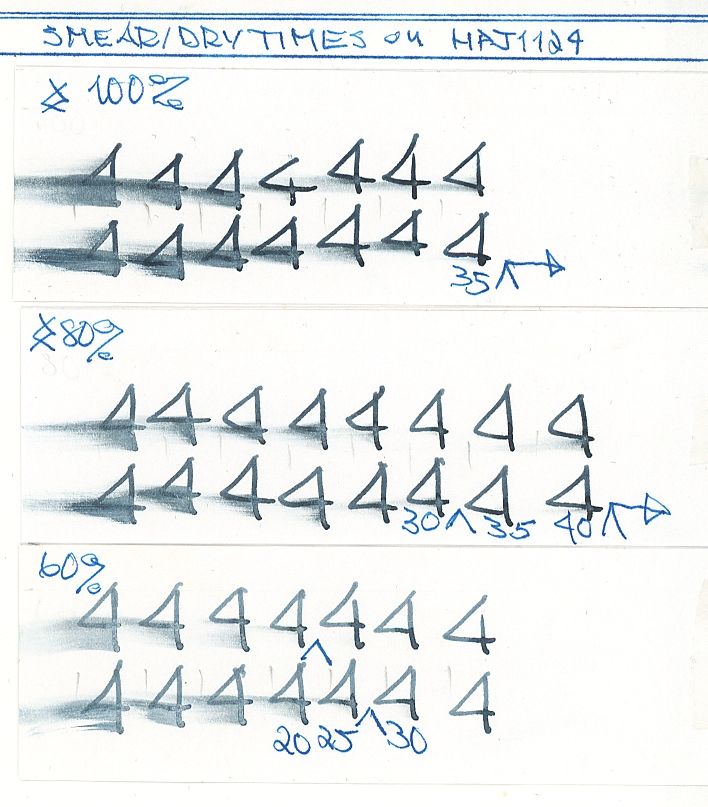 We thank Member composertp for written samples of diluted N54M at Post № 23 http://www.fountainp...etts/?p=2693483
Hi-Res Samples
Originals are 60x30mm.

Pilot on HPJ1124: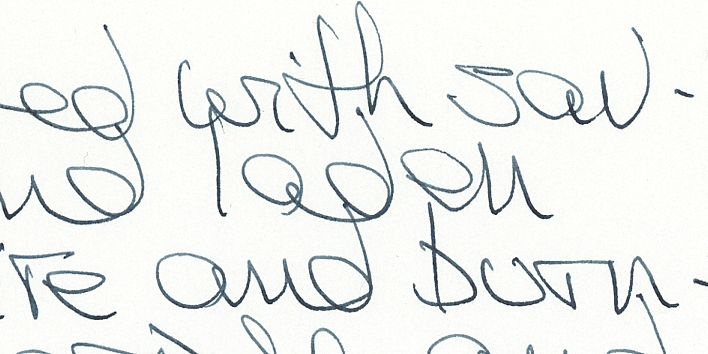 1745 on Rhodia:


PPP on G Lalo: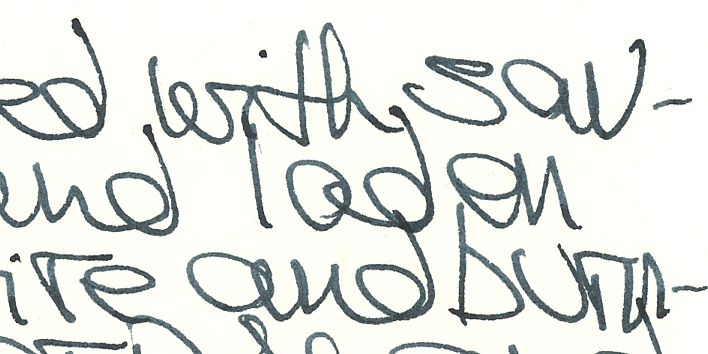 Carene on Royal: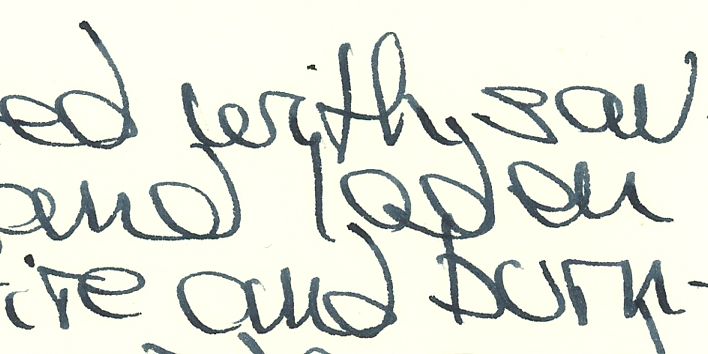 N54M @ 60% from Rosetta on Rhodia: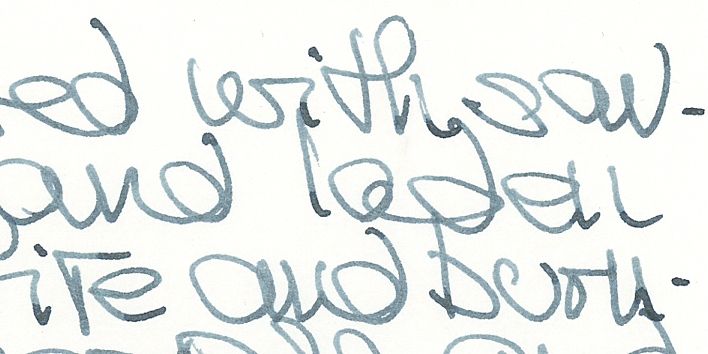 GENERAL DESCRIPTION

Type:
A member of Noodler's family of 'bulletproof' cellulose reactive fountain pen inks.
Presentation:
Availability:
Available when Topic posted.
Daily writer?
A go-to ink?
When a robust high-performance dark Blue-Black ink is desired.
USE

Business:
(From the office of Ms Blue-Black.)
Suitable for business correspondence devoted to gravitas.
For personal work product, the very pleasurable writing experience supports longer writing sessions, even with very narrow firm nibs on toothy paper.
Performance on 'lowest bidder' copy/print papers is admirable, and two-sided use is a reasonable expectation.
Even though I am a right handed under-writer, the long S/DTs would have me using loose sheets that could be hung in a warm breeze until dry and/or using blotter sheets, so perhaps not the best pick when hastily sorting out a bale of bumph.
Readability is quite high, though I find inks so close to Black to be rather stark, and don't roll along so quickly during the longer read, which may be off-set by the reader increasing their coffee intake. Those who use Black inks may find N54M to be fleet-of-foot, so may switch to decaf.
The robust qualities of N54M will be appreciated by those whose work is exposed to the risk of accidental exposure to various liquids, or may be subjected to mauling by highlighters.
Too close to Black to be used for mark-up & annotation of material printed in Black, and wouldn't be my pick for dedicated forms work or 'legal' signatures. Lacks the zap needed for error correction or grading.
Illustrations / Graphics:
Yes indeed.
For charts & graphs, N54M could be used as a substitute for Black for both area and line formats.
Trials on frosted draughting Mylar® were quite encouraging, was atypical performance for an FP ink. (Also demonstrated the persistent nature of N54M.)  
Any table draughting aids, such as zee tea square, would need to be kept free of N54M in the same manner as inks for technical pens.  
Given the long S/DTs, extra care is needed to avoid smears & smudges, so not the best pick for gesture drawing.
Due to clean-up and dry-out foibles, I would use N54M from pens, setting aside other applicators such as  brushes, though those so inclined are likely to find work-arounds.
Contrary to my experience with wet FP inks, I found N54M was quite compatible with steel dip pen nibs, to the extent that even I could achieve passable results from nibs without aux reservoirs.
Lubricity was much appreciated when using very sharp nibs on coarse paper.
As a watercolour, the very high water resistance supports overworking with wet media with little risk exposure to ink coming adrift from sheets that were soaked to remove sizing; and the dye/s seem to behave in concert, so washes should be of consistent hue across gradient values.
Students:
If one can avoid nib dry-out during stop-start note taking, (and commits to pen maintenance), N54M offers a pleasant writing experience, strong performance even on 'lowest bidder' papers, and very high durability.
Likely to be acceptable for assignments, though when/if a something more than mundane scribbling might be generated, consider an ink with more of a 'bright bulb' appearance, such as PR American Blue.
Personal:  
Here I am again, setting aside an ink as it comes for personal personal writing - it is just too close to Black, especially viewed under indoor domestic lighting. As Member composertp and I choose to dilute this ink for personal use, I can only speculate on how others would use this ink for personal writing.
Given that this is a wet ink, I trend toward dry pens that keep the value high enough to avoid the appearance of full-on Black.
That said, it is apparent that the field is open to explore a range of pen+paper combos, so have at it!  
PHYSICAL PERFORMANCE & CHARACTERISTICS

Please Note: N54M is not to be mistaken for Waterman Mysterious Blue, so my cautions might seem rather loud, yet my intention is to enable enjoyment of inks that take a bit of special care & feeding to reach their potential. As N54M has some idiosyncrasies, those might not be evident in all cases; and I don't doubt that I've missed a few, especially those which are revealed over time or extensive use. I strongly encourage dear readers to gather more information from other Members' Ink Reviews, Replies and other trustworthy sources.

Flow Rate:
Nib Dry-Out:
There was occasional nib tip dry-out from pens left uncapped for a few minutes, resulting in some virga.
Pens left uncapped too long gave a choppy result, as shown in the circled areas on Figure 7.
Some Members previously mentioned that slight dilution was a work-around for that vexing behaviour.
Start-Up: *
Immediate from capped pens that were recently charged.
Some capped pens that were left idle overnight needed a quick dip in water to be roused from their slumber.  
Lubricity:
High.
A very 'fast' ink, even from narrow nibs on coarse papers.
With my brisk light hand, an effort was required to keep the plump wet Pelikan tethered to the Rhodia.
Nib Creepies:
Yes.
One of my pet peeves.
Even though the Carene is Red, I could see it blushing from the embarrassment of having its exquisite nib defiled.
Staining (pen): **
Not seen after three days.
Clogging: *
If a pen is left uncapped for too long, the ink exposed to air will dry out, requiring an effort to get ink flowing [evenly] again.
There did not appear to be any upstream stoppage high in the feed or in the reservoir.
Bleed- Show-Through:
All pen+paper combos used here were greenlighted for two-sided use.
Not to rain on the parade, but at least one Member has depicted bleed-through on cheap & nasty paper.
Feathering / Wooly Line:
Aroma:
Not noticed whilst writing.
Hand oil sensitivity:
Clean-Up (pen): **
Deceptive - much residue remains after a plain water flush, even though rinse water was clear.
Wet ink was quite readily removed from the ink reservoirs, but cleansing the nib units and sections required use of a commercial pen cleaning solution for draughting pens. e.g. Koh-i-Noor Rapido-Eze. (My DIY pen cleaning solution containing water, 1% ammonia & surfactant did not have enough oomph.)  
An ultrasonic cleaner was also effective, and minimised time exposed to clean-up chemistry.
Mixing/Blending:
Discouraged.
In addition to the usual perils of mixing, the robust properties of N54M may be compromised.
Other Noodler's 'bulletproof' inks just might be tried.
Archival:
__ __ __
* Other Members also mentioned instances of hard starting.
  - To alleviate that nuisance, I suggest that at the end of a writing session, one remove excess ink from the nib+feed.
  - Those using N54M as a daily writer may find that charging their pen at the start of the day also helps to remove ink concentrated by evaporation from the nib+feed. (Ms Fussy would keep the nib+feed immersed in water to prevent dry-out, blot the nib+feed, then charge the pen. As N54M has a very high dye-load, the bit of water that might creep up the feed or otherwise be carried forward should be inconsequential for general work.)
  - Pens with a hooded nib could alleviate dry-out during use, but due to clean-up challenges exacerbated by nib creep, I would prefer not to use N54M in a pen with a fixed hood. e.g. I'd choose a Parker 45 not a Parker 51.

** Of the FP inks I've used to date, N54M is the most persistent.
  - Pens should be scrupulously clean before charging, not allowed to dry-out, and thoroughly cleansed after use.
  - Internals of caps & barrels should be cleansed; and one might expedite clean-up if the pen may be safely disassembled to the extent that one is confident it can be re-assembled afterwards.
  - Some practitioners are reluctant to use such persistent inks in pens which may react adversely to chemicals used for clean-up and/or are inherently tedious to remove the last vestiges of ink. e.g. Vacumatics, Snorkies, Visconti Power Fillers. Members have shared their thoughts & experience on cleaning certain models of pens in this Topic: http://www.fountainp...ost__p__2658017
  - A set of samples similar to those in the Topic Noodler's Benevolent Badger Blue - Adhesion On Mylar & Aluminium Foil was also prepared, so if you're profoundly curious about those, please send a PM. http://www.fountainp...ost__p__2512103
  - See also: Limit to Soaking? http://www.fountainp...ost__p__2453755


THE LOOK
 
N54M does not have the chalky appearance of some 'bulletproof' inks, though it is without lustre.

Presence:
A respite from full-on Black.
Saturation:
High.
A fully-inked line is typical.
Shading Potential:
Not even imaginary.
Dilution reveals shading.
Line quality:
Variability:
Pen+nib combos used: †

None - N54M is too saturated to generate appreciable variation.

Papers used:

Very little.
Typical of wet saturated inks, one should watch for more than the usual line width variation, which depends on the papers' absorbency, coating, etc.
Malleability:
Decidedly low, which is an attractive property for a daily writer ink, when consistent appearance & performance across a range of pen+paper combos is desired.
___ ___
† Noodler's offers suggestions as to their preferred nib set-up. http://noodlersink.com/adjusting-nibs/
As ever, I do not cherry pick or adjust the pens used in the review process to match an ink, rather I prefer an array representative of common pens. I believe the Written Samples show that it is not necessary to use an unusual nib set-up, which is a very good thing indeed.

PAPERS

Lovely papers:
Trip-wire Papers: ☠
Copy/Printer Paper:
Impressive results.
Writing experience was pleasurable, line quality was high, and no bleed- show-through with pen+paper combos used.
Tinted Papers:
Is high-end paper 'worth it'?
Very much a matter of preference over performance.
Personally, coated papers seem too slick for my hand.
High-end papers that are uncoated, have a low degree of calendering, or have low resistance to bleed- show-through seem likely dance partners.
ETC.

Majik:
No - just not sufficiently malleable to conjure.
Billets Doux?
Impossible from yours truly.
Personal Pen & Paper Pick:
The Pilot 'Lady' on Rhodia.
The hard nib generates a very narrow line, which keeps the visual weight of the dark line from plummeting  through the sheet.
The slightly warm tint of the Rhodia cossets the narrow line by reducing simultaneous contrast, and the coated surface keeps the line crisp & taut.
Yickity Yackity:
My first impression of this ink was formed by the Review by Member iliadodyssey, then firmed-up by Member arkgray in his Review, so I was not too keen on adding another Teal-leaning Blue-Black that runs on rails to my array. As these things sometimes go, a friend acquired a bottle, liked the ink, so gifted me with a sizeable sample, along with an encouraging, "You really must try this one." (She also liked Standardgraph vergißmeinnicht!) So I gave N54M a whirl, liked its potential, then diluted it, and liked it more. But I've no inkling if it'll be replaced when the 15ml bottle runs dry, though as I keep diluting it, that decision has become less pressing. And the Benevolent Badger is unlikely to relinquish its sett.
Ah kushbaby, can yet another high maintenance robust Dark Blue-Black ink wriggle its way onto your ink shelves?
= ==== =

NUTS BOLTS & BOILERPLATE

Pens
- Written Samples:
    A.    Pilot 'Lady' (White) + H882 Fine nib.
    B.    Sheaffer 440 (Burgundy) + steel F nib.
    C.    Reform 1745 + duo-tone steel nib.
    D.    Platinum President Purist + 22K B nib.
    E.    Pelikan P99 Technixx (Blue) + steel B nib.
    F.    Waterman Carene + 18K factory stock Stub nib.
- Figure 11, 12: Rosetta North Star + steel Schmidt B nib.
- Lines & labels: Omas Turquoise from a Pilot Penmanship + EF.

Papers:
HPJ1124: Hewlett-Packard laser copy/print, 24lb.
Rhodia: satin finish vellum, 80gsm.
G. Lalo Verge de France: natural white, laid, 100gsm.
Royal: 25% cotton, laser/inkjet copy/print, 'letterhead', 90gsm.
Staples: house brand multi-use copy/print, USD4/ream, bears FSC logo, 20lb.
Imaging
An Epson V600 scanner was used with the bundled Epson s/w at factory default settings to produce low-loss jpg files.
No post-capture manipulation of scanner output was done, other than dumb-down by Epson, Photo*ucket, IP.Board s/w, and your viewing gear.
Other Inks
This Review uses the same Written Sample format, atrocious handwriting and some pen+paper combos common to most of my previous Reviews of Blue-Black inks. Consequently, ad hoc comparisons through manipulation of browser windows is supported.  
Should that functionality not meet your requirements, I welcome your PM requesting a specific comparison. Additional scans may be produced, but the likelihood of additional inky work is quite low.  
Fine Print
◊ The accuracy and relevance of this Review depends in great part upon consistency and reliability of matériel used.
◊ Ink does not require a label/notice to indicate (changes in) formulation, non-hazardous ingredients, batch ID, date of manufacture, etc.
◊ As always YMMV, due to differences in materials, manner of working, environment, etc.
◊ Also, I entrust readers to separate opinion from fact; to evaluate inferences and conclusions as to their merit; and to be amused by whatever tickles your fancy.

-30-

Tags: Fountain Pen Ink Review Sandy1 Noodler's 54th Massachusetts Blue-Black 54 Fifty-four Fiftyfourth BlueBlack 2012 2013
 
Edited by Sandy1, 14 November 2013 - 22:53.