I'm going to start off by saying that I will sound very picky in my review, but actually I like this pen a lot.  It's not my ideal pen, but I went into this with a spirit of "I wonder what I will get?" and I was hardly specific in what I do or do not like aesthetically, so that's fine.  I want to order another pen at some point, except the next time I will be more specific now that I know my own desires better.
Also, I couldn't stop fondling the pen from the moment I took it out, so I think that says a lot right there.
Also also, I apologize for the blurriness of the photos.  My hands shake and sometimes it takes me a couple dozen attempts to get a shot even that good.
The pen arrived in an adorable pen pouch: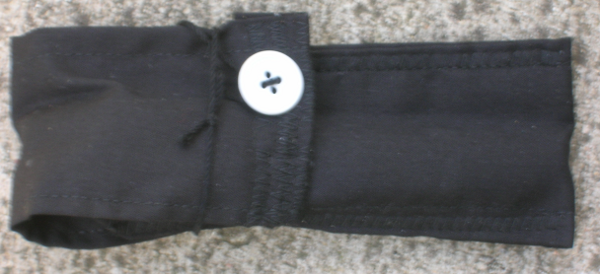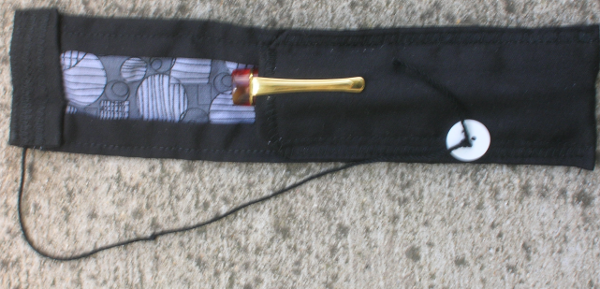 Here it is with its cap on: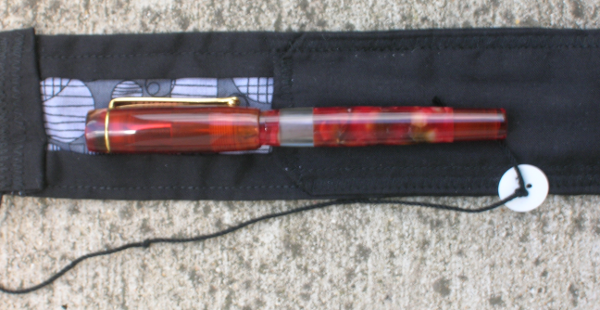 A somewhat closer view with the cap off.  I feel the cap looks top-heavy but the base pen itself is quite handsome.  Also, look at that ink window!
This one's terribly blurry, sorry, but you can get a little idea of what it's like posted.

For a size comparison, here it is next to my poor neglected icicle green Esterbrook LJ.

And here's what it looks like with the section and body separated so you can see the squeeze-filling system.  I think I had Diamine Oxblood in there at the time.

Writing sample (Osmiroid italic fine nib):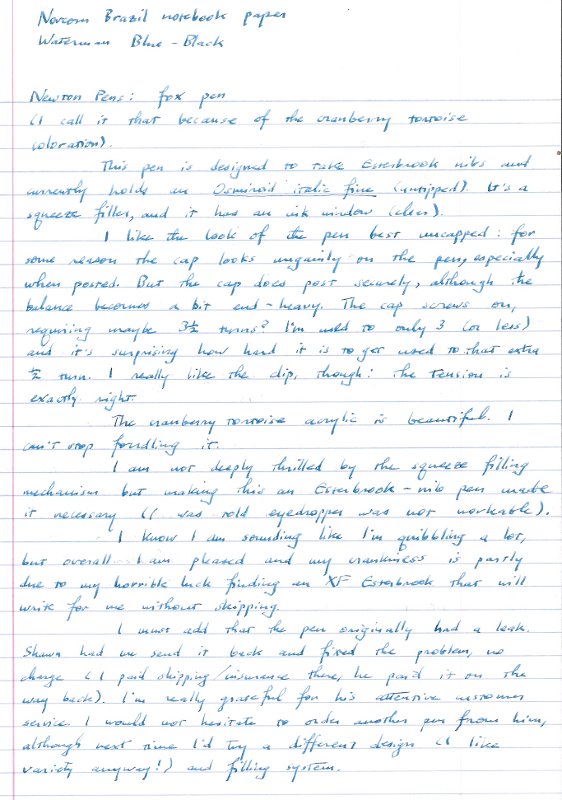 Appearance & Design (7/10) – I love the color of this material, but I'm not quite satisfied with how bulky the cap looks in comparison to the pen body.  This pen posts, yet looks better without the cap posted.  I do like the graceful curves the pen itself has, though.  If I had this to do again, I would probably ask for a more streamlined design that doesn't post.  I mean, I prefer posting pens, but I have a Nakaya and I don't post that one.
Construction & Quality (9/10) - The pen feels well-built and is a pleasure to /fondle/ touch.  I wouldn't fear for its sturdiness carrying it around town.  I note that the top cap bit holding in the clip can become unscrewed if you tend to grasp the clip area when screwing and unscrewing the cap, but it's very easy to just screw the clip back on.
I will note that the pen originally had a leak somewhere.  I asked Shawn about this and he had me send it back and repaired it.  I haven't had a problem since.  I'm very grateful for how quickly he took care of it!
Weight & Dimensions (8/10) - The pen is reasonably light, which suits me.  I prefer lighter pens, although I know not everyone does.  The cap does post, which I requested, although the pen then becomes rather unbalanced.  It's only slightly uncomfortable but I do notice it.  The balance is perfectly fine unposted.
Nib & Performance (10/10) - Okay, so here's the deal.  This pen is designed to take Esterbrook nibs.  So I'm rating not based on the actual nib (I'm currently using an untipped Osmiroid italic fine) but on the pen's ability to use those nibs, which it does very well.  Shawn told me that I need to use silicone grease on the threads when I swap nib units, but that's easy, and he supplied me with a lot of the stuff.
(By the way, does anyone have any Esterbrook F or XF nibs that are smooth when writing at 35 degrees?  I am sitting on Osmiroid italics plus a 9550, 9314-M, and some Venus F that are all scratchy for me.  I just gave up trying to find an Esterbrook nib that actually works for me, which is why the pictured icicle green Esterbrook is sitting there unused.  The Osmiroid italic fine is the only one I can write with at all, and even then I have too many italics in my pen collection.  I just want a nice simple round nib.)
Filling System & Maintenance (6/10) - This pen is a squeeze-filler, and as Shawn explained to me, this is a consequence of it being designed to take Esterbrook nibs, as apparently they can't take being flooded with ink if you do it up as an eyedropper (my initial thought).  What I discovered is awkward about the squeeze filler, is that while it's simple to operate, is that I can't figure out any way to fill it with ink without being in danger of getting ink all over your fingers or squeezing it out.  There isn't much section there to grip, and of course if you grip the sac, well.  So, this can't be helped, but I don't look forward to filling the pen.
Cost & Value (8/10) - I feel that I got good value, actually--I asked for something a little unusual and I knew that with custom work there's always the chance that something won't be exactly as you envisioned it unless you get real specific, which I wasn't.  I think the pen is quirky but cute, and I now have a better idea how I want to go through this process the next time I order the pen.  Shawn was very responsive and his customer service was excellent.  I wouldn't hesitate to order another pen from him (probably something totally different, given how much Esterbrook nibs hate me and given how much I love variety anyway).
Conclusion (48/60) - As I said at the beginning, I know I sound down on this pen, but the issues with it are largely a consequence of either things I specified (the pen being designed to work with Esterbrook nibs) or didn't specify (the bulky appearance of the cap, which I said nothing about when I ordered the pen).  So that's on me; I don't hold that against Shawn.  Rather, I think of these as things to be clearer about the next time I order a pen.  :-)  If I would say anything to someone thinking about ordering from Newton Pens, I would say to have a better idea of what you want (or else be okay with a surprise) and probably to talk this stuff over with Shawn until you know what you're getting.  You know, the usual when you ask for a custom pen.  In the meantime, excuse me, I have a pen to fondle.