The Kaweco Dia 2 is a modern interpretation of the company's historical Dia line of pens. Kaweco produced a 'Dia' in some form between the 1930s and early 1960s: this modern version contains the stylings of a 1930s-era model, with the knurled end caps and the distinctive bowed clip. I've owned this pen for about a year and a half now, so it's really time to have a good look at it. 
 
Note: The Dia 2 is the updated version of the modern Dia. The differences are mainly cosmetic, with a differently shaped section, shorter end cap on the barrel, and a gentle swell on the barrel that gives this basic black pen a hint of sexy. And, more importantly, the Dia 2's cap screws on, where the Dia's did not (even though it looked like there were threads on the section).
 
I received this pen as a gift. It came in one of Kaweco's lovely tins, with the embossed design on the front: this is one pen box that didn't go into the trash. It could be used as a pencil case, or to store pen-related bits and bobs. I keep the Dia 2 in it when not being used.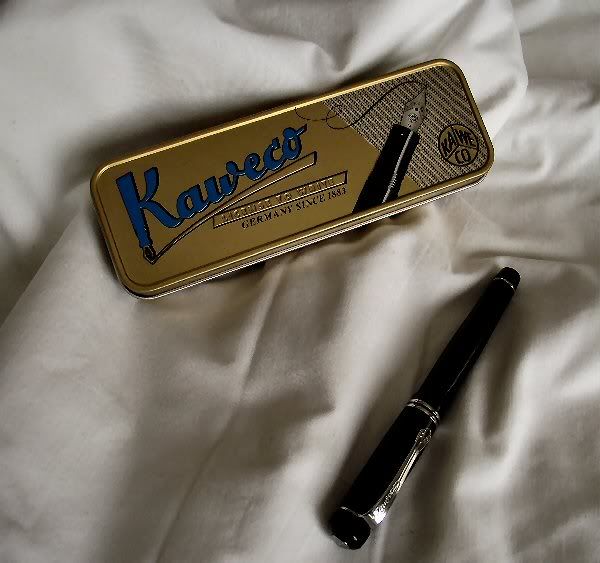 In a nutshell, the Dia 2 is a very well put together pen: fit and finish are excellent. The acrylic used is very high gloss. Perhaps it could be called 'precious resin', but I won't go there. The hardware looks to have a fairly thick chrome plating. The clip is not spring loaded, but has just enough tension to be useful (and not wear a hole in a shirt pocket). There are also the now trademark little Kaweco logos in both ends of the pen. All in all, this pen looks like it cost much more than it did.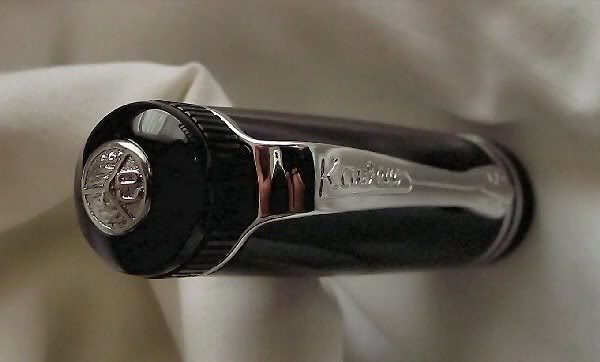 The cap screws on and off in just under one complete turn.  While turning, there is very little wobble: tolerances are pretty tight. The section is made of metal, with a turned centre of acrylic laid over it: no slipping or coldness here. The section screws into brass threads fit inside the barrel. Recently fellow FPNer Tinta was checking this out, and noticed that the brass seems to go the entire length of the barrel! It's certainly thin brass if this is the case, for the entire pen weighs only 26 grams (20 grams uncapped). The term Tinta used was I believe, 'bulletproof' design. However, like many other high gloss resins (ahem), I feel this one could be on the fragile side. Avoid dropping on floor.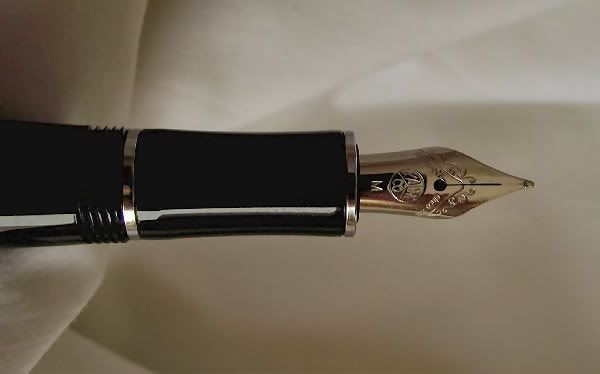 This combination of metals and acrylic has been fashioned in a way that this is one of the best balanced pens I have tried to date. Very little effort is needed by the hand to keep the pen in writing position. This is probably a good time to mention the length of the pen: 134mm capped, 125mm uncapped, 158mm posted. Quite the jump in length when posted, but even so the pen retains its good balance (I never post, but I have tried it with the Dia 2 and it feels good).
 
  
One nice touch on the cap is near the end cap, on the opposite side of the clip: small script saying "Kaweco Dia", with "Germany" printed beneath. I had assumed this was merely a stencil, but Tinta noted that it is actually stamped or engraved, and filled in quite admirably with white. For a basic black pen with chrome hardware, with the gloss of its materials, the fit and finish, and the very gentle curve of the body, it's fairly commanding. Looking at it right now, as I type, the thought of Audrey Hepburn in that little black dress came to mind. Sorry, hmm? Oh right, the pen!
 

 
Now we come to the business end of the Dia 2, the nib. Like all Kaweco's pens except the Sport Classic and Ice Sport, this one uses the Bock 060, which is a screw-in nib/feed unit.  My pen, which was a gift from a dear friend, came with an M nib. This particular nib was a dud, the only bad Bock I've ever owned. Contact with the dealer and the manufacturer in Germany brought me a new nib within a week, this time a B nib. And what a lovely nib it is. Smooth, but not overly so: enough feedback to know you are writing on paper and not glass. You can see the design of it in the pics, so I won't get into that. All nib sizes available are EF, F, M, B, and BB, but only F, M and B seem to be available with the pen: EF and BB can be ordered from various sellers. I purchased a BB nib from an online seller in Germany, and it is wonderful: not quite as luscious as the BB on my Sport Classic, strangely enough, but still wonderful. Eventually it will be ground into a stub.  I have to say, I do like the screw-in nib system.
 

 
The Dia 2 is a cartridge-converter pen of the international kind, and a perfectly running one. I know that some would deduct points because it isn't a piston filler. If it was, the price would be at least double. And personally, I don't consider piston fillers the be-all and end-all of filling systems: I enjoy changing inks waaaay too much to really use it. The Dia 2 came with a standard Schmidt K1 converter, but there is also a 'deluxe' converter available with the Brand name printed on the clear part, and can be taken apart for cleaning. The term 'deluxe' here means about €2 online, so not a major outlay.
 
Just about the only fault I can find with this pen is that long international cartridges don't seem to fit. I tried a long Pelikan cart, and as I was screwing the barrel on over it the nib was unscrewing itself out of the section.  I haven't tried a Waterman long yet, so I can't speak for those.
 
As I mentioned earlier, this particular Dia 2 was a gift. I have noticed that the chrome version seems to run between $100 and $120 online. I think for the price, it's very good value. The Kaweco Dia 2 is a well-made, classy and quietly attractive pen.
 
I do keep it in its tin when not in rotation, but that's not very often. I use this pen a lot. I do take care of it, transporting it in a leather case or roll, but all my pens roll that way. I would definitely buy replace it if something happened to it.  And there you have it.
Edited by wastelanded, 14 August 2013 - 17:25.