I'll never understand Indian Railways, and in particular why it's easier to go from Ahmedabad to Mumbai, spend half a day there, and then take a train to Calcutta, than to go what looks like a much more direct route from Ahmedabad to Calcutta. That's the mystery of Indian Railways. However, the route did give me a few hours (from one in the afternoon to nine thirty in the evening) in Mumbai, and I decided to employ it looking for pens.
Delightfully, the two main areas for pens are located at opposite ends of DN Road - Flora Fountain at one end, and the wholesale district opposite Crawford Market at the other – and that gave me a chance to appreciate the Victorian architecture. Since it was about 38 degrees, I also appreciated the shady arcades lining the road – and the air conditioning in Apsara Pens.
First stop; Mitha Pen Mart. There were a number of interesting pens here, mainly Parkers, but I found the condition of the pens was often rather poor and the prices no great bargain. Still, a P51 Insignia (I think) looked tempting, but I took a raincheck and headed onwards.
Apsara Pens next confronted me – it has a prominent site right opposite Flora Fountain – with a huge range of pens both vintage and modern. I quickly identified a gorgeous Ratnam mauve 'Vacumatic' as one target, as well as a vintage Guider. However, on seeing that I was interested in vintage pens, I was told to cross the road and visit Apsara's other showroom, which had far more pens, and a collection of cheap Sheaffer NoNonsense pens (the shop even insisted on giving me the free cartridge for each pen, not to short-change me) as well as, strangely, a huge number of Waterman Kultur special edition ballpoints (French World Cup, if my memory's right). I wish I'd bought a lovely jazz age Seaman's pen in a sort of nacre/cracked pearl – really jazzy, but 30,000 rupees – if any Mumbai based FPN readers happen to visit and it's still there, I might change my mind! I did buy a marbled celluloid Tintenkuli, though the celluloid is beginning to craze – still, given the prices these pens go for in Europe, I was glad to have it.
And I got these small size celluloids for a couple of hundred rupees each (might have been 300). Aren't they gorgeous?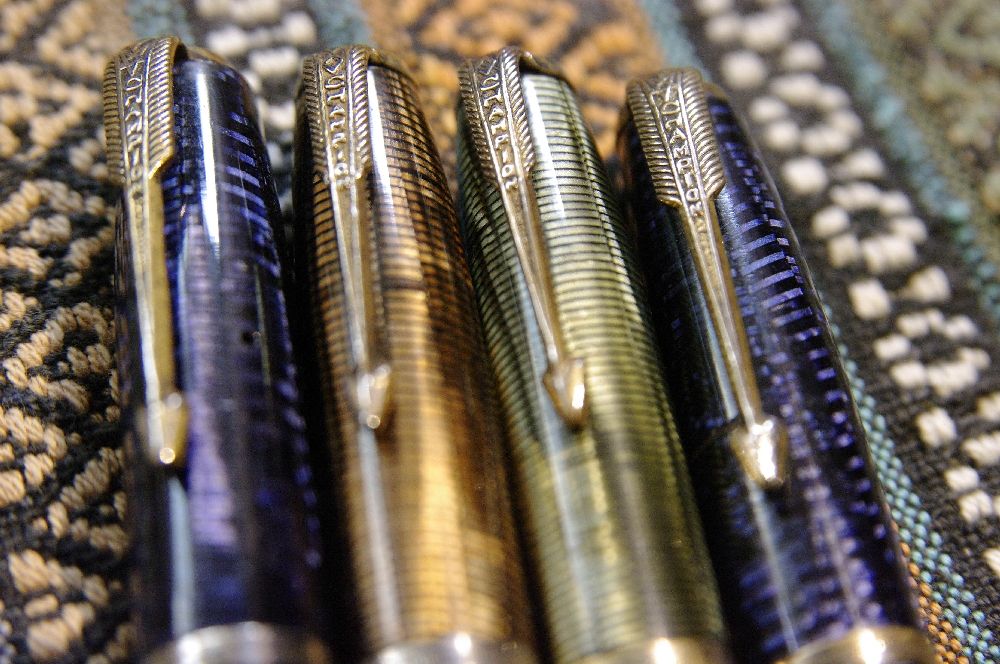 The service at Apsara is splendid – every pen I bought used was filled with ink and tried out just to make sure it worked. The Tintenkuli didn't; I got a discount.
Having already visited the cash machine, I headed on to my second destination, the huge wholesale market in Abdul Rehman Street, opposite Crawford Market. Flora Fountain is a nice quiet, cool area, with some lovely fast food (the best selection of toasted sandwiches and of fruit juice cocktails I have ever seen); Abdul Rehman Street is a real contrast – crowded, bustling, noisy. Only the great selection of snacks is similar, but here, the vendors have to do battle with the crowds.
Naturally, all the textile vendors descended on me – but when I mentioned to one that I was looking for the stationery stores, to my delight he proceeded to tell me exactly where to head, instead of trying fruitlessly to sell me a sari. (I know just how bad I look in one.)
Plenty of stores here selling a box of ten pens at 100 or 150 rupees. (Western readers, that's about 1.50-2.50 in pounds, euros or dollars, very very roughly.) Jumax, Titus, Montex, Camay, Rocky, and Romus were some of the names I came across. Cheap and cheerful.
I also found the headquarters of Scout pens – still with the fleur-de-lis international Scouting badge prominently displayed on one wall. Here, I found more boxes of pens at 150 rupees for ten pens – good, robust cheap quality.
Better pickings awaited me further up the road. First of all, I found the wholesale distributor of Airmail/Wality pens (I was actually sent there by another stationer, who had a few Chinese pens. "Oh, if you want Indian pens, you must go here," he said, pointing me "eight shops up the road, same side" ). Pens are not the main business – I was surrounded by huge boxes of packing tape, and there was one solitary pen looking a little lost in a display case – but once I explained what I was there for, out came the pens. (And a cup of tea, too, the regular Indian social lubricant.) These pens stand far above most other Indian brands in quality and have attractively bright acrylics, so I ended up making a rather large purchase and wandering out with several large boxes. I was particularly lucky to be able to lay hands on the last one of the bright orange acrylic pens; while the other pens are gaudy but flat in colour, this one has an attractive translucence that forces you to turn it over in your hands, watching the shifting colours and depths – it's like gazing into flickering flames, strangely addictive.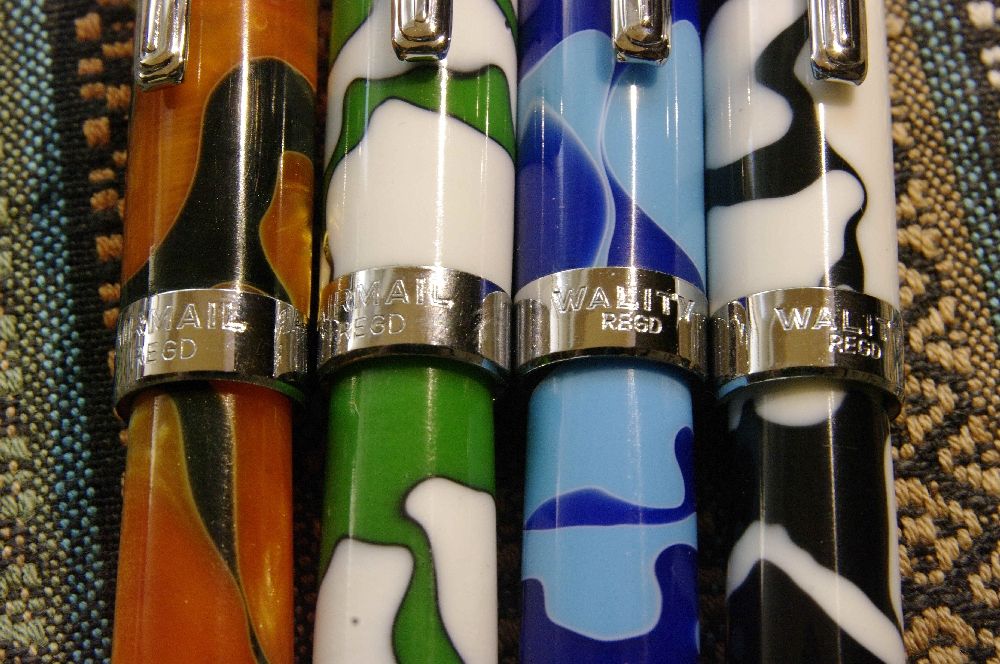 I particularly like the Airmail/Wality transparent bodied pens. The contrast between the transparent body and the marbled acrylic cap is attractive, and the bodies are absolutely clear – no lathe marks, no scuffs, just gleaming transparent plastic. The ends, where the interior comes to a point, but the exterior is rounded, provide a rather lovely contrast of forms.
(In a pen culture where the eyedropper is still prevalent, transparent bodied pens have an obvious appeal. I found a number of other brands had transparent bodied pens; Realto Vision, for instance, as well as Rocky (the Rocky 135T with an attrctive spiral-grooved body and semi-hooded nib, a small and slim pen at 12 cm long). Airmail also has a spiral fluted pen (to be clear, the grooves are on the inside of the pen, not the outside), a much classier affair than the Rocky, with black tassie and 'blind cap', and chrome cap rings.
Abhay pens has a different take on the transparent bodied pen, with a range of colourful acrylic flat top pens that have a transparent middle section. These quite chunky pens remind me of the Mentmore/Platignum 'Visi Ink' (http://www.fountainp...ignum-visi-ink/), or National Security Auto-Tank (http://goodwriterspe...rity-auto-tank/) though the Abhay pens are eyedroppers, not bulb fillers. The acrylics are definitely modern, very bright colours like a translucent turquoise with dark swirls, and there's a striking black-and-white swirl, too, like a zebra on LSD.)
Back to Mumbai. On my way back down the street towards Crawford Market, I noticed another small pen shop I hadn't visited, and got chatting with the two chaps behind the counter, both I'd guess in their fifties or sixties. Did they have any Indian ebonites? I enquired.
They did indeed; three huge and shiny Guiders, in mottled green, mottled brown, and classic black. The choice was impossible. Fortunately, I didn't have to – all three went into my bag, followed by a vintage green marbled Wearever with a pristine transparent feed. Each pen was neatly boxed for me to keep it safe during my travels, too.
Mumbai is definitely Fountain Pen Central. I was amazed at the choice and variety available, from 15 rupee Jumaxes or boxes of ten cheap and cheerful Camays and Rockys, all the way to vintage P51s. All this, and a crash course in Victorian Architecture, and a visit to a UNESCO World Heritage Site, and I still caught my train to Calcutta, with time to spare. You can't do much better than that!