In Varanasi, most people buy Benares silk, or a sitar, or tablas, or bronze work, or glass jewellery. I bought fountain pens.
Right in one of the main shopping streets is The Pen Co, a splendid shop full of pens vintage and modern, foreign and Indian. Its range of imported pens is wide; not just the usual Parker and Sheaffer, but Montblanc, Waterman, and Cross. Shopping there took me two hours and a lot of tea as I chatted to Nishant Sahu and looked at the large collection of vintage pens in the shop. And I do mean a collection in the strict sense of the word; most of these vintage pens are not for sale.
Some are. There was a Pelikan from about the 1970s with a buttery, glorious broad nib. I was sorely tempted. There were some really lovely Sheaffers with inlaid nibs. But I was here to get Indian pens, so it was Indian pens I got; transparent bodied eyedroppers from Wality, and the Romus Pelikan look-alikes (at a much cheaper price point of course).
I did joke that if the all gold Parker 51 disappeared, they would know where it had got to. That one wasn't for sale. Nor was a Parker VP, about which Mr Sahu was very honest; "here's one of my father's that I broke when I tried to repair it." Nor was the gold plated Montblanc – one I actually liked, and I don't like Montblancs, perhaps because it had a few dings, and the plating was wearing off, and it looked as if it had had a life, not been kept in a box looking expensive.
There was also a mottled ebonite 'Olympic', which I was told had been made by the family in the old days, when they still made pens in Varanasi. Not any more.
And there was a red Duofold. "Look how thick the nib is! That's real quality, it must be 3 mm thick," Mr Sahu enthused. "They don't make them like that any more."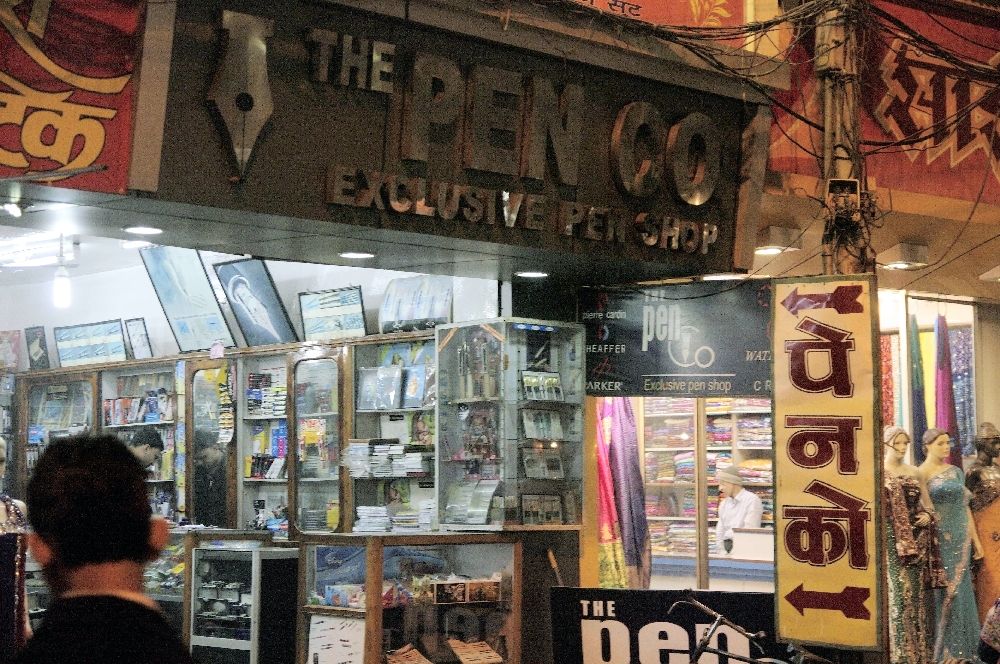 A few hundred yards away I found a little graphic arts and drawing shop. They had fountain pens; kids' pens (there are a lot of kids' pens in India, and they're all pretty horrid, with cartoon characters and glittering foil), and the understated little Hamraj. At 10 rupees each the Hamraj weren't going to break the bank, and they're very basic little eyedroppers. I looked round at the rulers and pencils and notebooks and thought; this is a long way from the delights of vintage Montblancs. But the welcome was just as warm, even though I was only spending 30 rupees.