So its finally here!
Namiki Royale, Vermilion Urushi
Warning: Photo Heavy - I personally love when reviews have tons of photos 
  so just returning the favor!
This pen fulfilled so many of my most desirable traits in a pen, that I found myself in need of writing a review on FPN for others to see.
I will try to restrain myself from praising the pen too much, as I have only had the pen for about a week now...but as of now all I can say is: "this pen is freaking awesome!"
I will divide the review into the following:
1. Appearance: The aesthetics and feel of the pen, disregarding the write-ability of the pen for this portion.
2. Performance:The nib and writing experience.
3. Construction: Durability of its materials, construction method, and details.
4. Presentation: Small portion that describes packaging.
5. Value: What/how I may value the pen and its experience.
Without further ado...
1. Appearance:
The appearance of the pen is of elegance and of humble gesture... At first glance from a distance the pen doesn't look too special, but as you get closer the finer details and presence of the pen slowly reveals itself to be an object of human creation approaching the pinnacle of perfection. Yes those are big words, but this is a big pen with bold attitude and confidence, I feel comfortable many who held one would agree.
The shape of the pen is a classic cigar shape, but utilizes some of the lines of the french curve. A "french curve" is a classical curve measurement or standard in which the beauty of its curvature is determined through proportion. It appears pleasing to the eye much like the "golden scale" many are more familiar with. There is no compromise here, the pen became all that it wanted to be along the barrel and the cap.
The only details on the pen that breaks the perfectly lacquered shape are the clip and the very thin trim along the bottom of the cap. The clip very mysteriously slips into a slot, showing no evidence to how it might have been made. This is very much like Japanese Architecture, components coming together in a matter that shows no sign of bolts, rivets, seams... Therefore in appearance creating a object that is - and not that is force to be. I've seen several people complain that the Namiki clip on their higher end pens look exactly like the ones on their more "affordable" pens. I don't have any other Pilot or Namiki pens and cannot compare but from pictures the Royale Urushi and Maki-E line as well as the Emperor line seems to have greater taper along the two sides of the clip. This makes sense since they are larger pens, and therefore can have a larger clip.
The very thin golden ring trim at the bottom of the cap protects to urushi from impact anytime the cap is put down. It is the only urushi edge that will come into constant contact with other surfaces. This design shows impeccable excellence in the care for their pen designs, combining beauty and purpose. The Form and the Function do not compete for attention, they create synergy and one cannot be separated without the other, much like what we see in nature's design.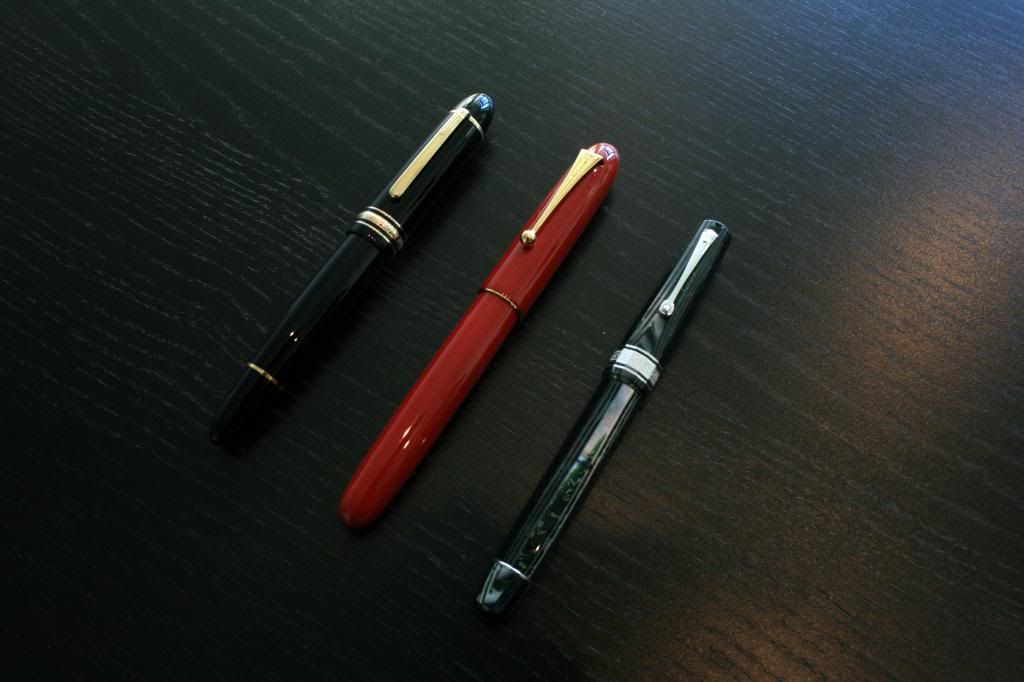 To give you an idea as to the size of this pen, I compared it to well known German and Italian pens well regarded as "pen standard" in measurement. The Montblanc 149 to the left appears to be similar to the Namiki in its cigar shape, but in reality it is VERY different. The ends of the 149 do not follow the "french curve" and have a bit of a squashed look to it in comparison. The Namiki I would say is slightly larger in length and very slightly thinner in girth than the 149. For die-hard Italian fans I threw in the old-style Omas Paragon to size compare... the comparatively small yet nimble Paragon is much thinner and shorter in comparison. The Paragon I feel is the perfect size for on-the-field type of writing, I feel very comfortable whipping it out in any situation to write down something quick. The 149 and the Namiki are large pens, however they somehow mastered their utility and grip comfort despite their size. I feel equally as comfortable to bring them along anywhere I go. They will feel right at home in either the field for sketching or in the meeting room.
I tried to cover the colour portion in this review but it is just so difficult for words to describe, it shifts drastically depending on lighting conditions. I can say that it is a very bold and deep red that your eyes cannot look away from. I will let you readers be the judge of the colour... In my opinion, a deep bold red paired with a sensual yet humble body is a killer combination.
2. Performance:
The writing experience of this pen can be explained to you in one word: Zen
This is where the review might get a bit controversial... Statistics show that this pen is in the "heavier" pen category. The weight of the pen is around 45gr. This is due to the un-assuming brass construction underneath the delicous vermilion urushi (that will be covered later on). In comparison the MB149 weighs 29gr and the Omas Paragon weights 20gr. Although the Namiki more than doubles the weight of the paragon, it is so well balanced that the weight does not detract from the writing experience. Like a well made sword or weapon, the weight distribution is perfect and the user feels no strain, while at the business end there is more "oomph". I absolutely love this well balanced weight, a humble looking pen, when held has that feel to it like - "hey I am a big deal"... is what really makes it a serious pen for me. Looking at a Namiki Royale and holding one is a completely different experience.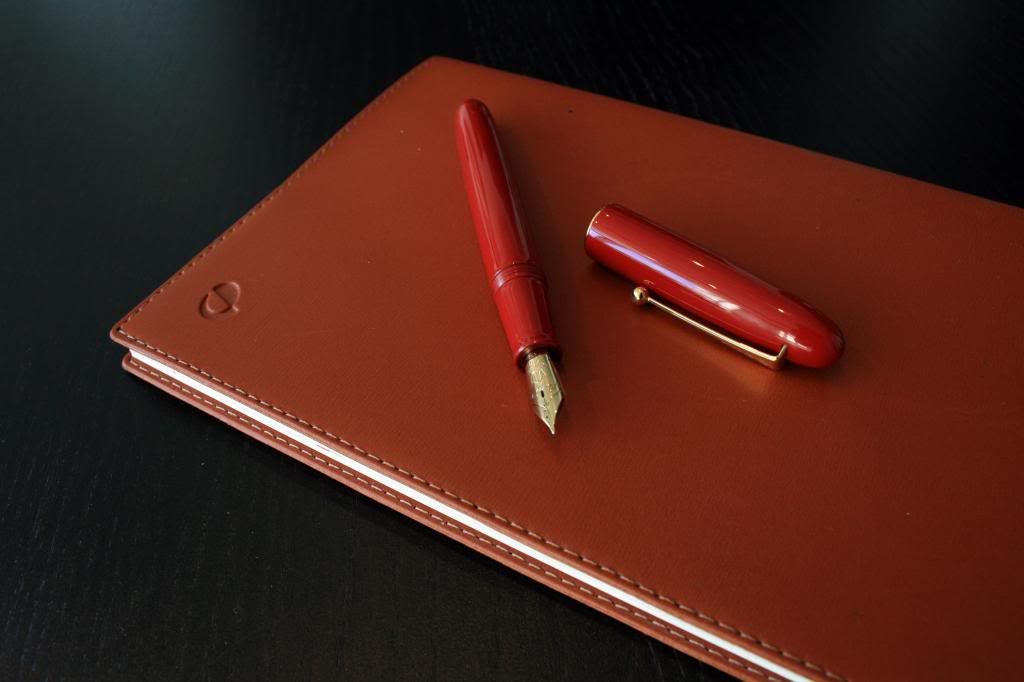 The nib is gorgeous...Large gold thing that writes with a perfect combination of smoothness and control. Unlike many Japanese cars, the smoothness of the feel does not compromise the control of the vehicle. I can feel the "road" or paper in the perfect amount so that I may react accordingly. It feels much like a BMW, I am always in control and never left dry from feeling like I am the vehicle, not riding one.
The nib writes pretty wet for a Japanese pen with a bit of give to create some line variation. This pen is a m nib and writes somewhere between an Italian M and a Japanese M. I cannot compliment in control more, I ask nib for more by applying a  bit more pressure - and it provides by giving me thicker lines and a juicier flow. I ask for less and loosen my pressure and it gives me thin lines with drier ink flow. What more can you ask from your pen?
3. Construction:
I don't think I can comment much on its construction other then - it is made of brass...and lacquered with the most beautiful Vermilion I've ever seen. The inside of the cap barrel is lined with some sort of felt to protect the urushi pen placing the cap on. The inner treads are all brass and align perfectly to one another, giving confidence to the user that it is robust and not a fragile instrument. The outer threads above the grip section are lacquered in urushi, and very meticulously done to show no evidence that any human has ever touched it.
The pen uses a converter, yes I know what your thinking...why make a big pen and stick a converter in it? But this is the Namiki CON-70 converter, don't be fooled... it is a big converter. I am a huge advocate of large pens must = large ink reservoir, and converter in a large pen like Sailor KOP is a big turn-off for me. But Namiki's CON-70 holds 1.9ml of ink, I can hardly say that is little considering Pelikan M800 holds just about the same ink!
4. Presentation:
Just a short note on the packaging of the pen: it is neat! There is no unnecessary decorative features, well protected, yet still very sophisticated. No it did not come inside that large blue metal trunk
that's my coffee table!
5. Value:
I think I will take this portion as a conclusion to my review. How would I rate this pen? It is well worth every penny for me. No other pen has performed so well in all aspects of performance, durability, style, elegance, and presence. The object evokes a pen that strives so close to perfection that it feels almost as if it is made from a superior machine with extremely precise assembly. However the real value of this pen is knowing that in fact it is meticulously hand made. How and what it took for someone to hand lacquer this pen is beyond me...
In conclusion, it has satisfied every appetite I have for a pen both subjectively and objectively. Don't just look at this pen but hold it...and if the owner allows it please take some time to meditate on the feel of its writing experience. With each tier of experience with this pen, the appreciation of it grows ever so humbly.
Thank you for reading this review!
I hope it was fun reading it as much as it was for me to review it!
Please feel free to leave a comment on how I can improve my review skills as well as any comments you may have on the pen.
Many more reviews to come, my other pens are very jealous in what I had to say about the Namiki, the newest arrival...and is begging me to give them some more attention that they surely do deserve.
Cheers!
Michael
Edited by Mkim, 13 June 2013 - 13:38.