Registration on the Fountain Pen Network
Dearest Visitor of the little Fountain Pen Nut house on the digital prairie,
Due to the enormous influx of spammers, it is no longer possible to handle valditions in the traditional way. For registrations we therefore kindly and respectfully request you to send an email with your request to our especially created email address. This email address is
register at fountainpennetwork dot com
. Please include your desired
user name
, and after validation we will send you a return email containing the validation key, normally wiithin a week.
Thank you very much in advance!
The FPN Admin Team
4 replies to this topic
Posted 31 May 2013 - 21:07
Oh, you say you want to see it, too? OK!

 It's for Yew!
---
Posted 08 June 2013 - 08:47
Great review, Fabienne. I've just received mine with a broad nib in the carbon fiber finish and it is a great writer for the price.
You are spot on about the weight being concentrated at the back of the pen, throwing the balance way back. I'd like to add that the broad nib isn't the broadest out there (mine is comparable to my broad TWSBI 580).
Also, when flushing the pen I prefer unscrewing the nib unit and flushing it directly to prevent water getting trapped in the grip section. When filling from a bottle, ink tends to get trapped in the grooves of the rubber grip but that can be cleaned out pretty easily. The only annoyance is that ink gets trapped between the nib unit and grip section, which can lead to inky fingers once in awhile. I don't mind it but if you do, you can always fill the converter directly instead.
---
Posted 27 June 2013 - 06:50
hi. i have the one with leather barrel and the balance is just right, even with the cap posted on the back -it just looks too long (weird!). it's become my every day pen.
thx for the review! 
http://www.ebay.com/...=item1e7c6ef2ed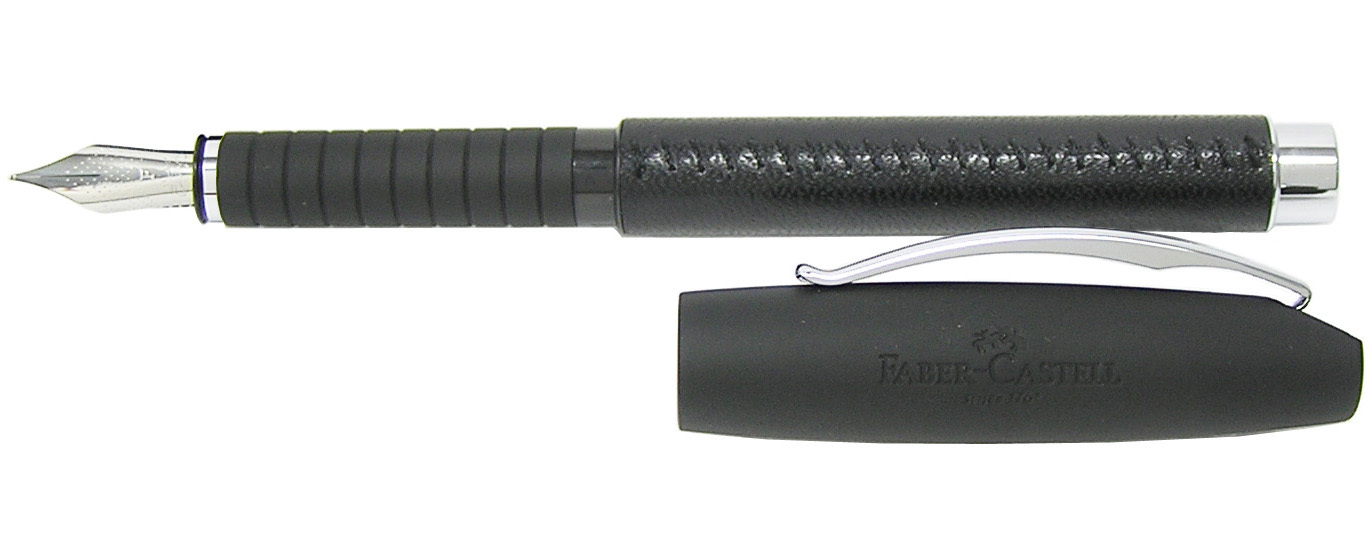 ---
Posted 28 June 2013 - 03:56
Bear in mind that the carbon fiber Basic is quite a bit lighter than the metal version.
---
Posted 28 June 2013 - 14:34
I got a basic (carbon fiber) to check out the nib, and then bought an Onodoro, which I love. (Not as heavy either).  But the one thing I do not like about the basic is that the rubber has a distinct odor, which I really do not like. It writes beautifully, as long as I do not get too close to the pen.
---
---
Also tagged with one or more of these keywords: faber-castell, basic
Regional Focus → Other Brands - Europe →
Started by Appelboompen , 11 Sep 2019 faber-castell and 2 more...
Writing Instruments → Of Nibs & Tines →
Started by melro , 28 Feb 2019 faber castell, ambition, basic
Writing Instruments → Fountain & Dip Pens - First Stop →
Started by zicitron , 12 Feb 2019 jowo, custom-made, ondorro and 1 more...
Writing Instruments → Of Nibs & Tines →
Started by MichalK , 28 Jan 2019 faber-castell, nibs

Hot 17 replies
4,668 views

Writing Instruments → It Writes, But It Is Not A Fountain Pen .... →
Started by Teacher Man , 28 Apr 2018 rapidograph, isograph, rohrer and 7 more...

Hot 25 replies
5,598 views