Okay, I finally got around to it:
The Neenah Classic Crest Swatchbook Ink Tests.
A month or two ago, I ordered the Neenah Classic Crest swatchbook (along with a couple of others) for the purpose of trying out the various papers with various inks and maybe settling on one to use as personal stationery. The paper isn't overpriced, but the envelopes are quite an investment, so it was worth it to me to shell out the $4.99 for a swatchbook that I could ink up in my quest for the perfect paper. And I finally got the opportunity to go ahead and ink it up a little to see how it behaves with various inks.
This swatchbook contains waterfall samples of Smooth whites and midwhites, Super Smooth whites, Smooth accent colors, and their new Stipple and Eggshell offerings (available in the same colors as the Smooth and Super Smooth papers).
The inks I used, from left to right, are:
Noodler's Baystate Blue, full strength, fine point Abraxas glass pen

Noodler's Baystate Blue, diluted 1:1 (except on Smooth accent colors), same pen

Noodler's Burma Road Brown, Sailor 1911M H-M

J. Herbin Perle Noire, Pilot 78G F

Sheaffer Blue-Black, Kaweco Sport B

Noodler's Habanero, vintage Waterman flex

Pelikan 4001 Blue-Black, Lamy Safari M

D'Atramentis Khaki, Parker Duofold (extremely wet writer) -- on the Super Smooth papers this is actually ink #1 because I ran out of room
Please note: while the humidity is usually pretty high here, today it's in the 50-60% range and quite nice. So none of the feathering you will see can be attributed to high humidity -- at least not this time around.
Here's the swatchbook, inside view, before I defaced it with multiple inks (my apologies for the really bad photography):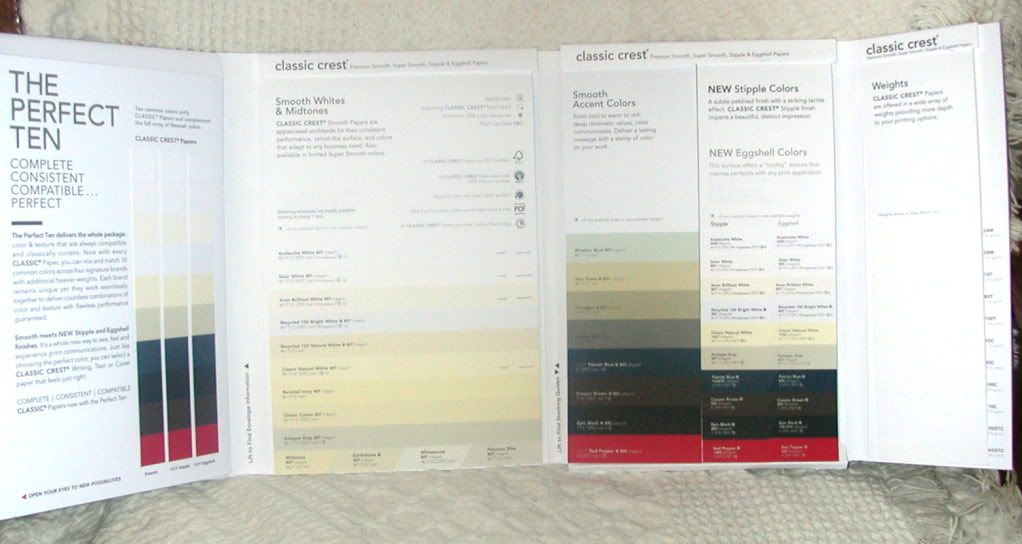 And here's Page 1: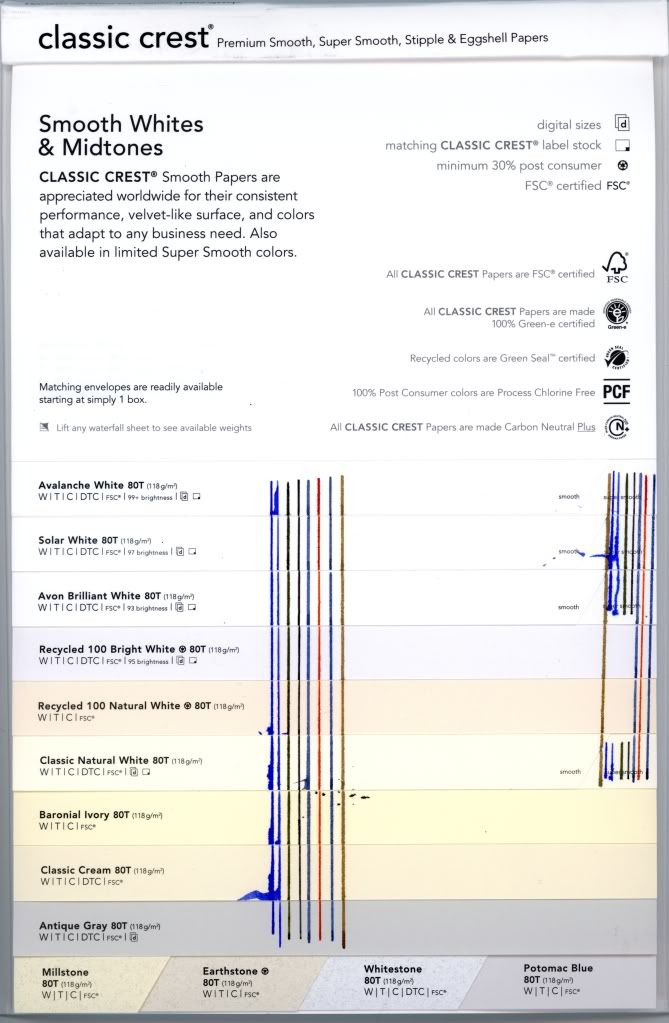 And here's Page 2:
Now for the closeups. I made some edits in Gimp to create the best views of the ink samples and paper titles to eliminate any confusion and preserve sharpness when Photobucket resizes them. If you want to see the completely unedited versions refer to the above scans (Page 1 and Page 2).
All the Classic Crest Smooth papers: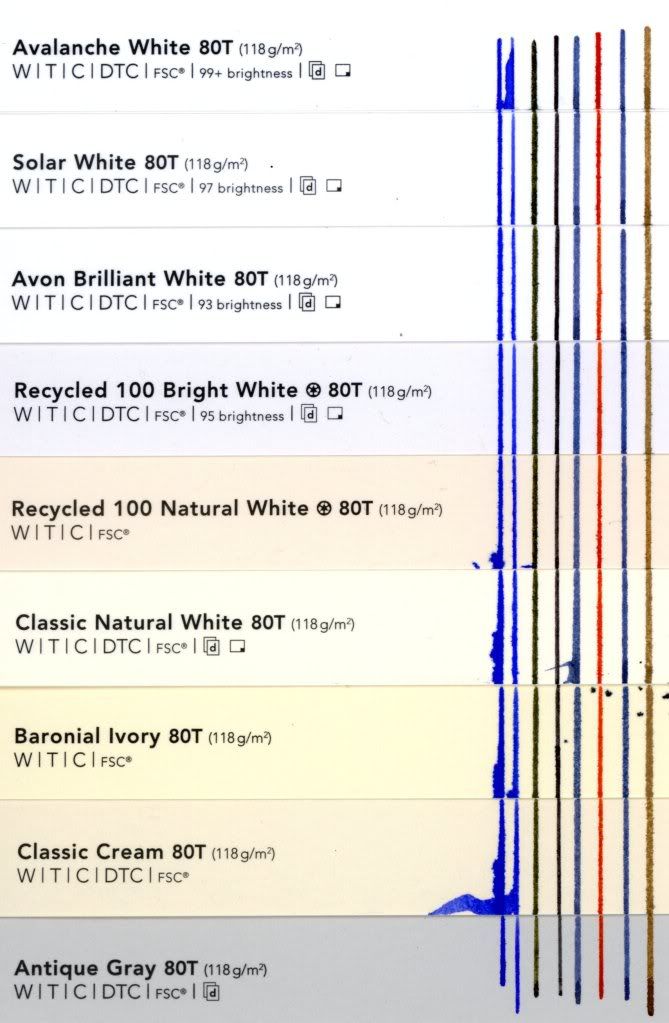 All the Classic Crest Super Smooth papers: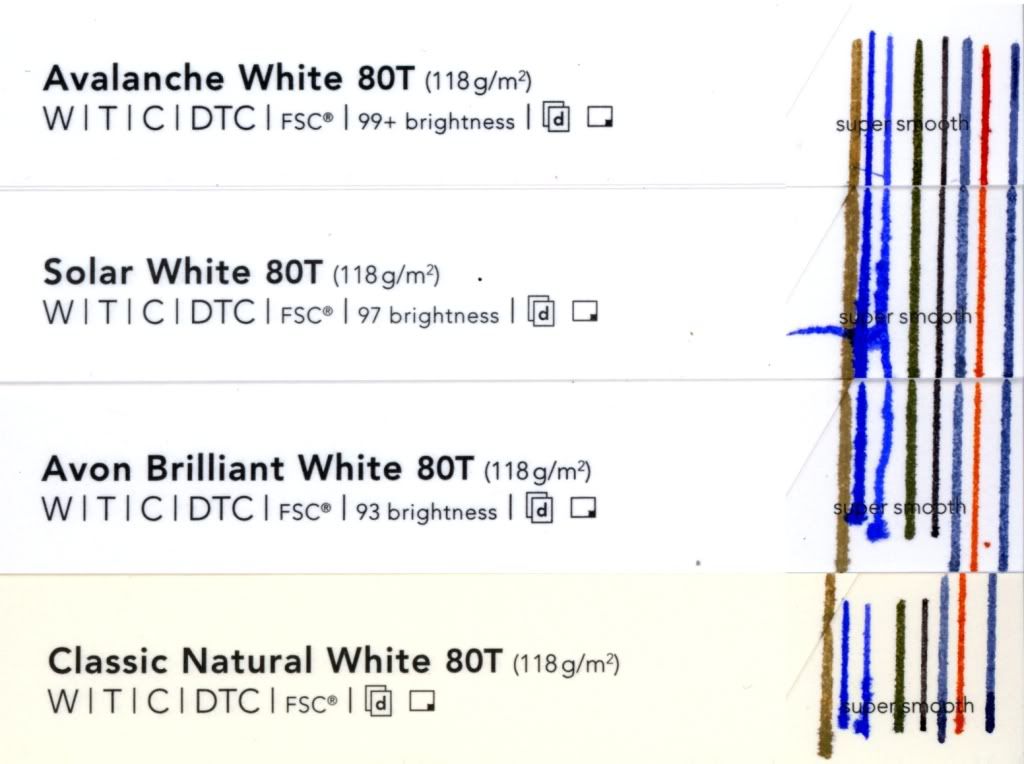 Classic Crest Smooth accent colors: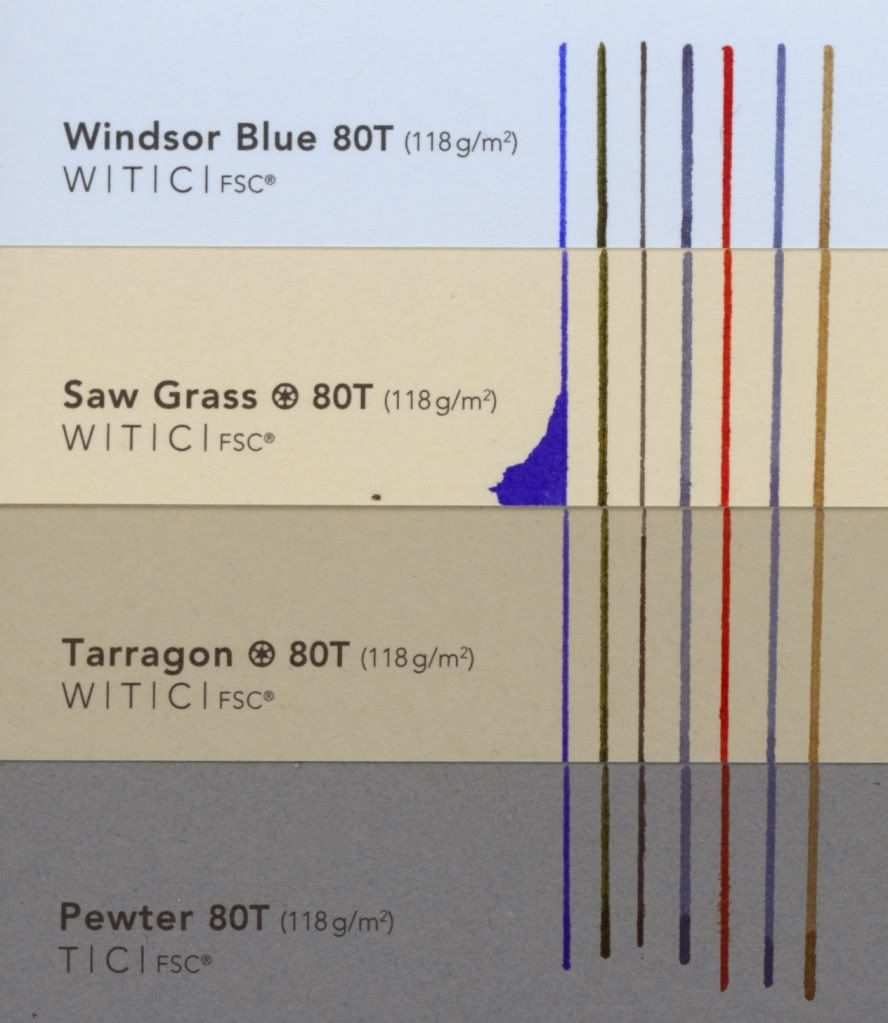 Classic Crest Stipple and Eggshell finishes: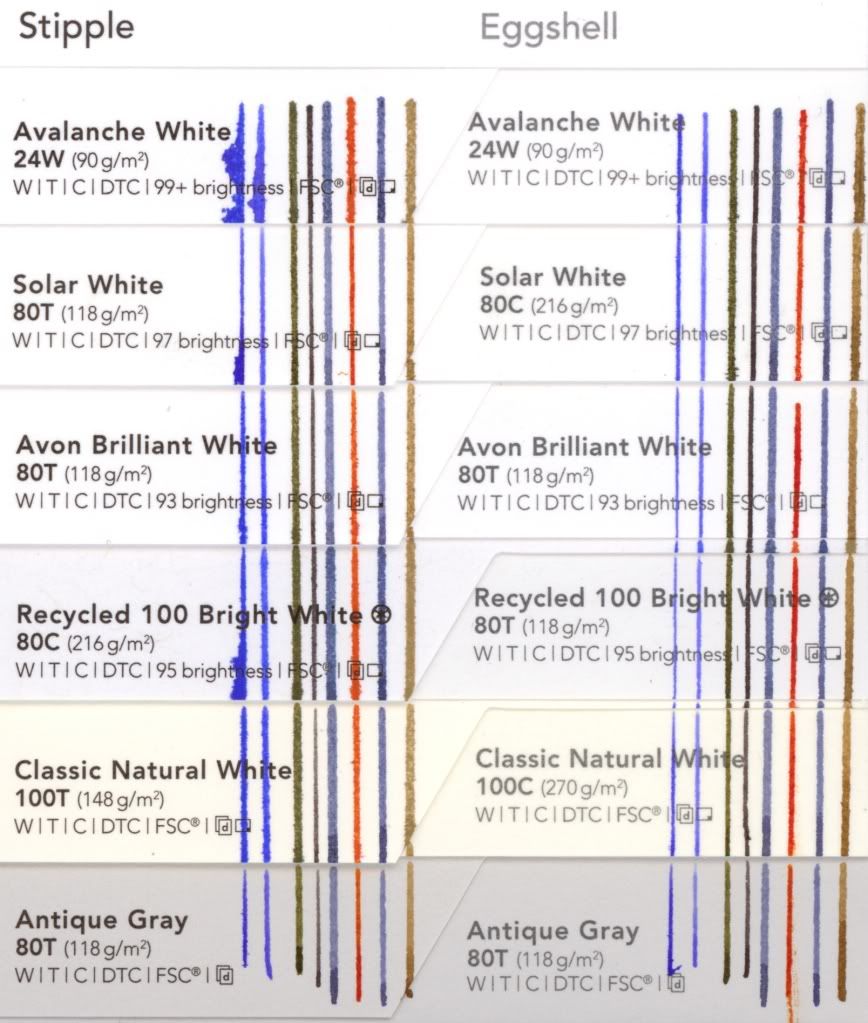 In addition to going over each scan with bare eyes, I went over the actual samples with a 20x loupe and a 60x hand microscope, taking my time as I went. These are my own findings; feel free to differ.
Daisy's Picks for Best Behaved:
Smooth:
Keep in mind that to the bare unaided eye in real life, none of these appeared to feather at all except the BSB and in a couple of places, the D'A Khaki. I'd be happy to have and use any of them, to be honest. But for the price and the investment I plan to make, I was looking for THE BEST, and of course the loupe and hand microscope told the whole story.
So of the Smooth papers, surprisingly, the
Antique Gray Smooth
was the very best of all. None of the inks feathered at all on it, not even the BSB, the Habanero, or the Khaki. Stellar performance.
Of the four white-whites, the
Recycled 100 Bright White Smooth
seemed to perform the best, followed by Avalanche White Smooth.
Of the four off-whites, the BSB feathered on all of them in a way it did not on any of the other Smooth offerings. So ignoring the BSB, the best performer was the
Baronial Ivory Smooth
, followed by Classic Cream Smooth.
Super Smooth:
I expected the best performance from these because of what I thought would be a hard finish, and instead they were the worst of all the papers, with one exception. Three of the four had bare-eye feathering with the BSB and Khaki, and even a little with the Burma Road Brown. The only one of these I found worthy was the
Avalanche White Super Smooth
, which actually took all the inks well. I'd buy it, if a super white, smooth finish appealed to me.
Smooth accent colors:
The scan speaks for itself; none of these had the least bit of feathering or bleedthrough. Even the BSB played well on these (that big blob of BSB on Saw Grass is user error). I'd have any of them, and though the Pewter is kind of dark, a little too low contrast for regular letter writing, the rest are quite attractive and suitable for correspondence. I find the colors somewhat masculine and muted, perfect for the gents if that's what they're into, but not too desperately unfemme for a lady either. Does that make sense? I sure hope so, because that's as far as I'm gonna go with that.
A note on the Stipple and Eggshell finishes:
While the swatchbook text describes them as "striking[ly] tactile" and "toothy" I must say I find those descriptions to be a bit enthusiastic.
Yes, there is a lovely tactile thing going on with the Stipple, but my Pilot 78G fine point sailed right over it with nary a complaint. You can't see the texture in the scans, and even under the loupe it's not obvious. It's just... nice under the fingertips. On heavier weight papers it would definitely add a VERY expensive and classy touch; think embossed or engraved attorney letterhead. But even in the lower weight 24 lb. writing, it's got a nice feel.
The Eggshell is no more toothy (to me) than most copy paper; by contrast I have some Crane 100% cotton that has twice as much tooth as this Eggshell and still takes FP with joy, even from fine points. Also by way of contrast, my Neenah Classic Crest Baronial Ivory Woven has three times the depth of texture and still takes FP well, at least M and broader nibs. (I never tried a fine nib on the woven, so I don't know about that; a fine nib might get hung up in the woven, but certainly not in this Eggshell.)
So don't be put off by the texture thinking it'll be like writing on the sidewalk! They're both actually very pleasant, and smooth under the nib.
Stipple:
Of the six Stippled papers in the waterfall,
Solar White Stipple
and Antique Gray Stipple were the clear winners, followed by Classic Natural White Stipple and Recycled 100 Bright White Stipple, neither of which were perfect but were definitely acceptable. (You can see this in the scans; they both look fine to the unaided view but add magnification and you can see the differences.) Avalanche White Stipple and Avon Brilliant White Stipple both had bare-eye feathering.
Eggshell:
Four of the six of these did really well, and in fact they all seemed to take the ink with similar excellence. If I had to name a winner it would be
Avon Brilliant White Eggshell
because of the lovely contrast it gave the colors of the inks, but Recycled 100 Bright White Eggshell, Classic Natural White Eggshell, and Antique Gray Eggshell were all as good. Avalanche White Eggshell and Solar White Eggshell both had a bit of bare-eye feathering.
Bleedthrough:
This doesn't really matter to me since I only ever use one side of a page of anything, but I know it matters to some so I include it. The thing to note is that of all the papers tested but one, ONLY BSB bled through. At all. For the most part you can't even tell there's writing from the backside. So where any bleedthrough is present at all, it's very limited.
Please note I do not count edge bleedthrough: there's no way a cut end
won't
suck up ink on
any
paper. But amazingly enough, most of these papers had little to none of that either. I just don't think it's fair to count it at all.
The papers that had the BSB bleedthrough were all 118 gsm or 24 lb weight, and they were:
Smooth:
Classic Cream, Baronial Ivory, Classic Natural White, and Recycled Natural White had BSB bleedthrough.
Super Smooth:
Classic Natural White, Avon Brilliant White, and Solar White had BSB bleedthrough.
Smooth accent colors:
none, not a trace of bleedthrough.


Stipple:
Avalanche White had the only bleedthrough, but Habanero bled through a bit as well the expected BSB.
Eggshell:
no bleedthrough at all.
Enjoy!
Edited by Daisy, 19 December 2012 - 23:57.