First Impressions:
This thing is tiny! & I just realized I've been leaving the "Appearance & Design" portion out of my last 3 pen reviews...oh well.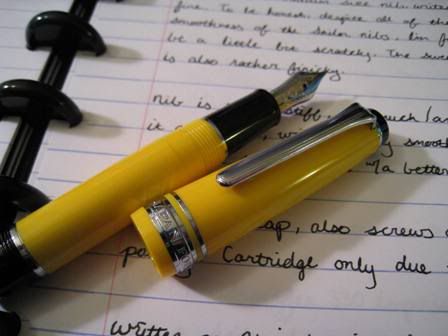 Construction & Quality: 8/10
Sailor did a great job packing as much pen as they could into such a small body. For all that the Mini looks like a novelty rather than an actual writing instrument, it feels well made & some real thought went into the design. The use of a full size cap makes the pen, in my opinion, because once posted this thing is almost perfectly level with the regular size Sapporo. A screw on cap, & screw on to post ensures that you won't rub the cap off, unlike on the regular Sapporo. I also really like the rhodium trim, especially on a yellow pen. Gold plate looks a little weird to me.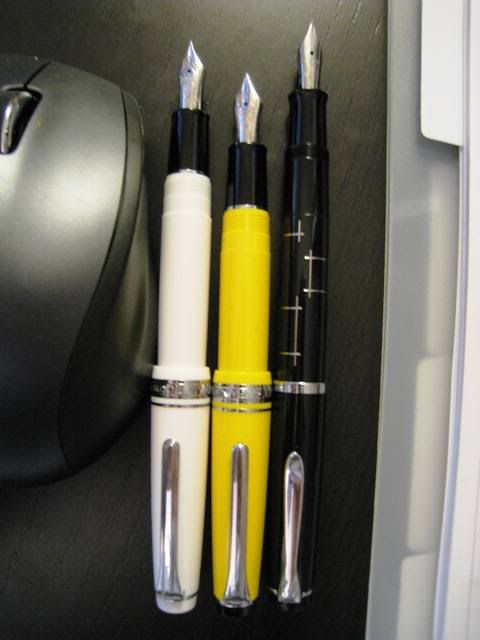 Weight & Dimensions: 8/10
Very subjective part of the review, basically I'd say that the buyer needs to be aware of what s/he is getting. This is a small, plastic pen, & understandably is very light. Probably too small to do any serious writing with un-posted, but once posted the balance is well spread & the length makes the Mini comfortable to use. Pictured above I have it compared side by side with a regular Sapporo & a Pelikan M215.
Nib & Performance: 8/10
I ordered a medium nib & had it tuned by John Mottishaw for a 8/10 flow. The nib is 14k gold, rhodium plated, & has the Sailor anchor, 1911, decorative engravings, & H-M on the side. At the time of the written review, I was slightly underwhelmed as I found the pen a bit finicky to write with & the nib was a little scratchy. As I've gotten used to it I've found the right angle to hit the sweet spot, the flow & ride of the nib on paper is everything I was hoping for, & I love the line I get from a medium sized nib.
Filling System: 8/10
Cartridge only, but I think that is to be expected from a pen designed to be this small. You can find mini-converters out there that will fit, but the pen wasn't made with a converter in mind & I wouldn't mark it down for lacking one. The Sailor cartridges appear standard in size to others I've used with the exception being the big Waterman ones. I'm not overly impressed with the colors available from Sailor, but I plan to refill using a syringe so that shouldn't end up being a problem.

Cost & Value: 6-7/10
It depends on what you need the pen for. If you need a really short pen, emphasis on short because this isn't the thinnest pen out there, & want a fountain pen then I think the Mini is a good choice. For a regular writer, it might be slightly on the pricey side at >$150 given some of its drawbacks: has to be used posted, cartridge only. But, you get a smooth 14k nib, some cool color & nib choices, & the pen can be had for less on ebay. I believe Engeika has them up for auction regularly.
Conclusion: 38-39/10
If you don't mind writing with smaller/lighter pens, I'd wholeheartedly recommend the Mini. If you have large hands, dislike writing with the pen posted, or an aversion to cartridges, this probably isn't the pen for you.