Signet Black

S
ignet Ink was a product of the Russia Cement Company of Gloucester, Massachusetts, makers of their most famous product, LePage Glue. You'll probably remember LePage Glue, a liquid-based adhesive contained in a bell-shaped bottle with applicator-nipple through which the glue was supposed to be applied directly to the construction paper, that was until you removed the crusted old glue off the rubber applicator. I seem to always associate it with Sunday School on a cold Autumn day.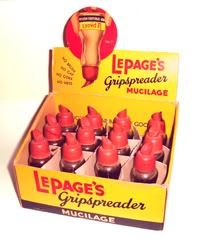 For most of the Twentieth Century, LePage was a household name. The company exists today, however, a shell of its glue-greatness. Before Elmer's Glue, there was LePage. William Le Page, an inventor, started the company in 1876 producing the first liquid form of Russian isinglass. This was an industrial glue made from the waste product of fish. There was nothing unique about Russian isinglass, usually a dried sheet that required reconstitution with water, but LePage made the product ready-to-pour right out of the can.
In 1887, LePage moved the factory to the banks of the Annisquam River in Gloucester, just off lower Essex Avenue. The company was originally called Russia Cement, later LePage. Following his success with industry, Le Page began a heavy marketing campaign for the same mucilage repackaged for home use. In fact, LePage is best known for their aggressive marketing that created a high demand for an ordinary product, a style of marketing still copied today by some well-recognized ink manufacturers.
As the company grew, the product line was expanded to include multiple adhesives, lubricating oils and ink. Signet Ink was introduced in 1913 with a product line that included Black, Blue-Black, Blue and Carmine Red, and later Peacock Blue (turquoise). The inks were marketed directly at volume discounts to the wholesalers (jobbers) who helped advertise and sell the ink directly to retailers. Based on the bottle design and labels, Signet Inks were produced through the 1930s. By 1950, Russia Cement was long out of the ink making business.*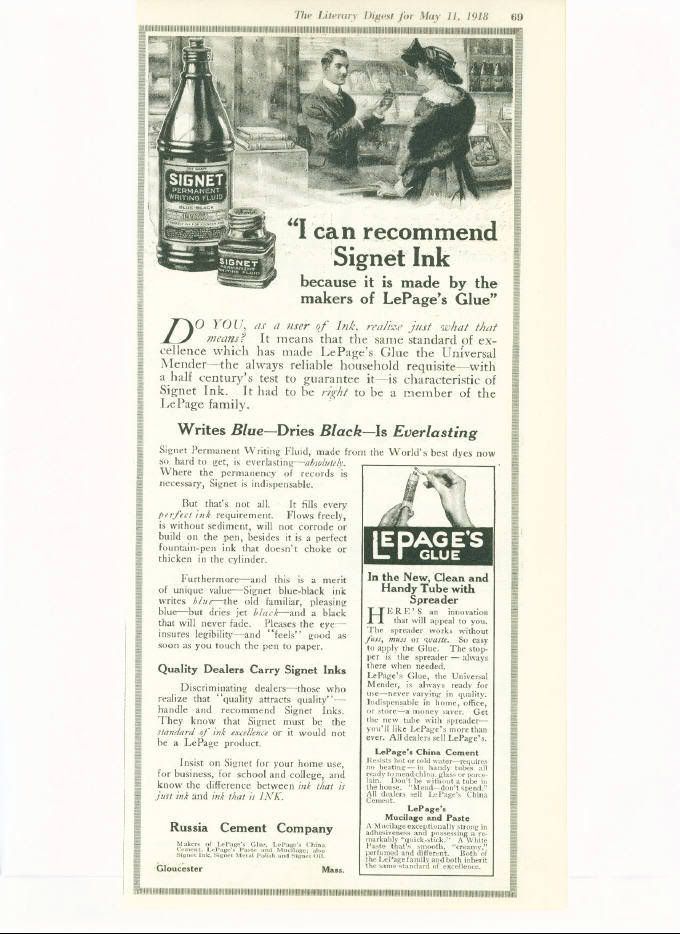 As his most successful operations were the target of litigation by his former partners, William Le Page was forced to retire from the business which he made famous. The glue and mucilage company continued operations bearing his name. The company has since left Gloucester. The factory site along Lower Banjo Pond has been torn down and turned into affordable housing. LePage exists now as a Canadian-based maker of adhesives and sealants for construction and DIYers.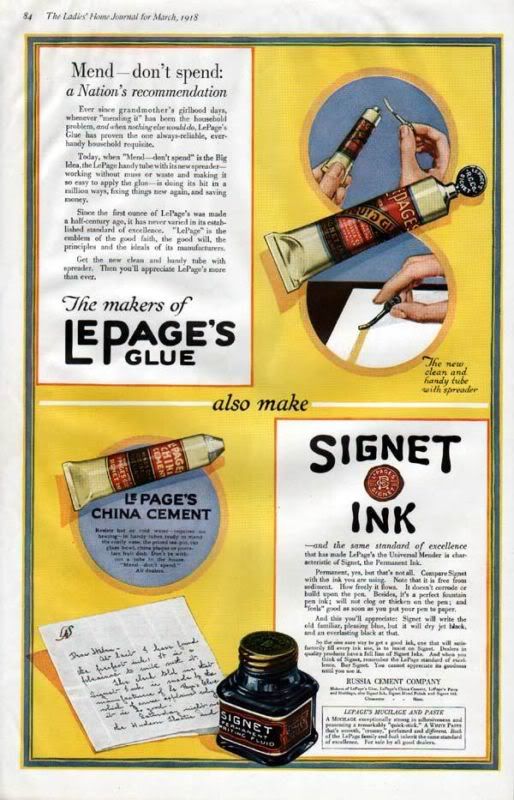 As a purist of fountain pens, I naturally assumed that vintage ink belongs in a vintage pen. Usually these inks are rather acidic, but I use pens with gold nibs, and don't keep the ink-filled instrument lying around for weeks at a time. I loaded my old John Holland pen with this 90-year-old ink and proceeded to go about my day, not trying to create any sort of attention to myself while writing in office charts. A year or two ago, I'd be running around yelling, "this is freaking 90-year-old ink," like I'd discovered the Holy Grail or something. This time, I tried to keep it cool and see if anyone noticed. Surprisingly, no one seemed to care. I guess most people don't recognize 90-year-old ink unless some nut runs around the office screaming about it. Sure, the ink over the years has faded a bit, more grey than black. But it still handled quite well. A writing sample is shown here. So the bottle goes back to the trophy shelf (of odd collectable items that have significant relevance to only me) in the event of the great ink-shortage Armageddon, or if someone asks me, "can you even use that ink?" The answer will be yes.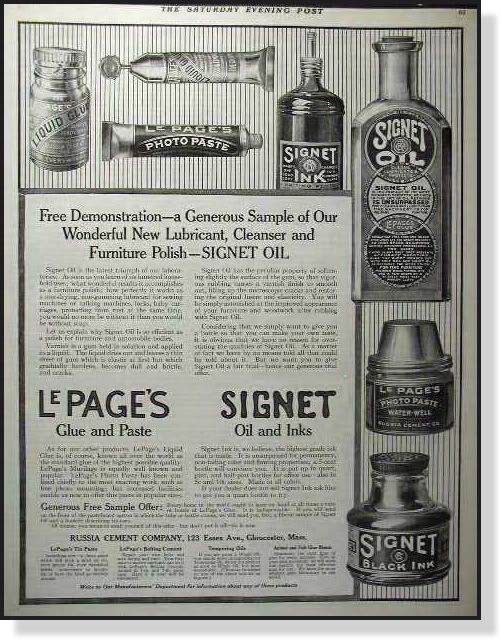 Preparing this article could not have been done without the help of Vanessa Le Page. Vanessa is the great grand-daughter of the company's founder, William Le Page. Vanessa also serves as the family historian, and has documented her voracious collection of company memorabilia on her
website
. She currently lives in the Toronto area, where she earns a living designing cakes.
* So when did Russia Cement (LePage) stop producing their ink? An article from the Gloucester Daily Times, September 30, 1954 indicated that LePage has long since stopped making inks. Given the author's ready access to accurate information, this article is probably accurate in its assessment.

However, CL Brown's "Differentiation of inks by electrochromatophoresis," appearing in Microchimica Acta Vol 44, No. 12, 1729-1734, 1956, suggests that Signet Ink was still available, since it was used in the analysis. Perhaps it was a bottle sitting in the author's office.

JW Bracket, Jr. performed a similar analysis of ink by chromotography using "locally available inks." (Appears in "Comparison of Ink Writing on Documents by Means of Paper Chromatography" in The Journal of Criminal Law, Criminology, and Police Science, Vol. 43, No. 4 (Nov. - Dec., 1952), pp. 530-539). Signet Ink was obviously not locally available at the time. But Carter's Permanent Midnight Black, Morriset Black, Higgins Carbon Eternal Black, Quink Permanent Black, Sanfords Penit Jet Black, Sanfords Permanent Royal Black, Skrip Washable Black, Skrip Permanent Jet Black, and Superchome Jet Black was available, and consistent with ink produced at that time.

In a personal communication with Vanessa Le Page, she stated that she had Signet and LePage Ink bottles possibly from the late 1950s to early 1960s. However, pictures of bottles of these inks on her website are more consistent with bottles produced from the mid to late 1930s, given the style and design of bottles consistent with glass manufacturing industry of the time.