Morning folks, with temperatures of about 15 °C here in Discovery Bay. Looking out my window, hoping to catch a glimpse of an illegal buggy race (which..has never happened yet unfortunately..but would be plenty fun i imagine) I recall that its now 8am on a Friday and everyone else is at work.
Now, finally equipped with my sacred cup of coffee (aaaaahh) with the background sound of Mike Rowe & Dirty Jobs to muffle the annoying early morning rythm of jackhammers and drills next door, in addition to the chattering of contractors (who seemed extremely happy with breaking down the walls), I sit at my desk scrolling through the pen reviews board thinking,"hey..why dont I give this a try..?" hence inspiring me (or it could be due to the faint smell of paint) to pull out my cam and snap some shots of one of my all time favourite pens in my small inventory..the Diamond Point Pen in Red.
NOTE :
This is in no shape or form a professional review
intended to raise the current value of the pen or increase the demand in it's collectability
(
there are paid professionals for that)
.
This is merely meant to be a fun review where I share MY (the ever so humble amature) opinions of the pen.
Anyway - the reason why I'm here :
OVERVIEW :
Purchased some time ago from Marucio Aguilar on his
vintagepen.net
website, this oversized pen is not as oversized as one would think. Even in my average sized asian hands, it feels remarkably comfortable and has just the right balance to not feel like I'm holding a block of brick. It comes in a variety of striking colours and designs as you can see in his website and I proudly have in my possession, 2 of the oversized pens in Jade Green and Red. I've not seen many reviews of Diamond Points (one of the reasons why I'm doing this) and only one or two places that offer its history so I'm assuming that it was most likely considered "just one of those vintage pen brands" not widely known by many.
Diamond Point Red :

First Impressions /
Appearance :
5/5
Simply stunning.
This is a pen that will shout out your name and demand your attention
.
The flat-top cap spots a black ring at the top with a double gold band at the end with the clip proudly bearing it's name. The screw on Cap glides securely on the threads to close it.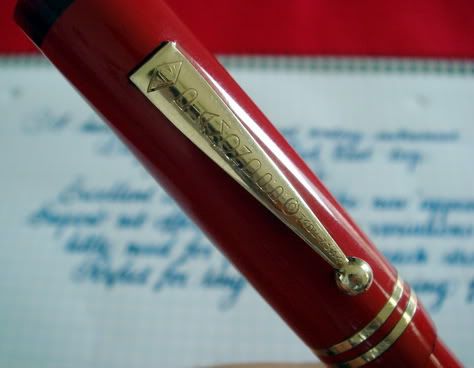 Nib & Performance:
5/5
A winner..a superb, no-nonesense, full flex, warranted 14k
#
8 that will provide you with hours and hours of flexing fun from Fine to BB with the greatest of ease. Very little pressure needed for the tines to spread. This dangerous combination of a lightweight pen and a flexible nib has been known to cause countless flex addicts to skip meals, cancel appointments and disappear for days at a time (the guilty ones are grinning right now reading this..
yeah you
!!).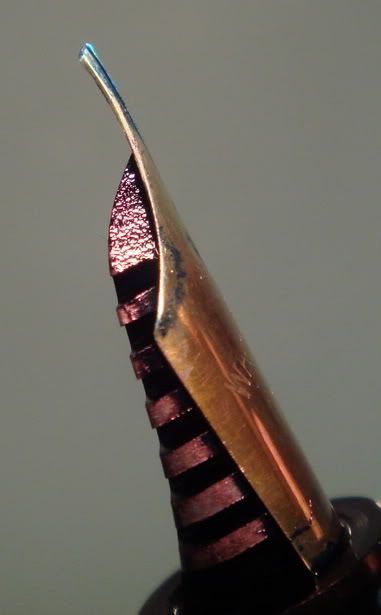 The pictures below taken of the backpage of a no-brand, 5mm squared paper (60g/m
2
) is evidence that little pressure was applied to the writing sample.
Perfect for those of us who spend all day scribbling and not wanting to waste a full backpage..(hey..
every line in every page counts
!!)
Woops ! Looks like I forgot to cross my "T" !
Writing with this is a dream, as it puts down a smooth line (look at the close up shot) and the ink flow consistently keeps up with the spread eagle tines during a downstroke.
Filling System : 5/5
Lever-filler lets you pump this baby full of ink, and because it's an oversized pen, well - you do the math on just how much ink it can swallow.
Cost & Value: 5/5
Like many others out there, I fall within the category of collectors who values a pen more on how well it functions as a writer and how well it lays down a line more so than just the appearence of a piece.
I have a rule : if it looks like a lambrogini but drives like a bus, then "OFF WITH HIS HEAD" not litterally, but you get the idea (sorry - just watched Wonderland yesterday).
Overall Score: 5/5
Aces in my book and from the point of view of a humble novice collector like myself, this is a pen of "family heirloom" status..at least of course until my future children discover ebay..
Hands down a truly a remarkable piece of work.
And there you have it !! My first review (yay!)
The noises next door have subsided for now (as the contractors are now on their lunch break) only to be replaced by the freakish growl in my tummy - hmmmm I feel like having some flied lice...
best,
leo
Edited by Apotheosis, 12 March 2010 - 06:13.