This is a material that I have been waiting to use for some time, finally decided to give it a whirl.  Glad I did - I love it!  Here it is, fresh off the workbench!
This pen is one of my 'Shirt Pocket Fountain Pens' (SPFP), done up in the cool blue mosaic, with black finial and barrel trim.  It features a roller clip, and a smooth medium steel JoWo nib (smoothed and adjusted for a nice wet flow).  The filling system is cartridge/converter.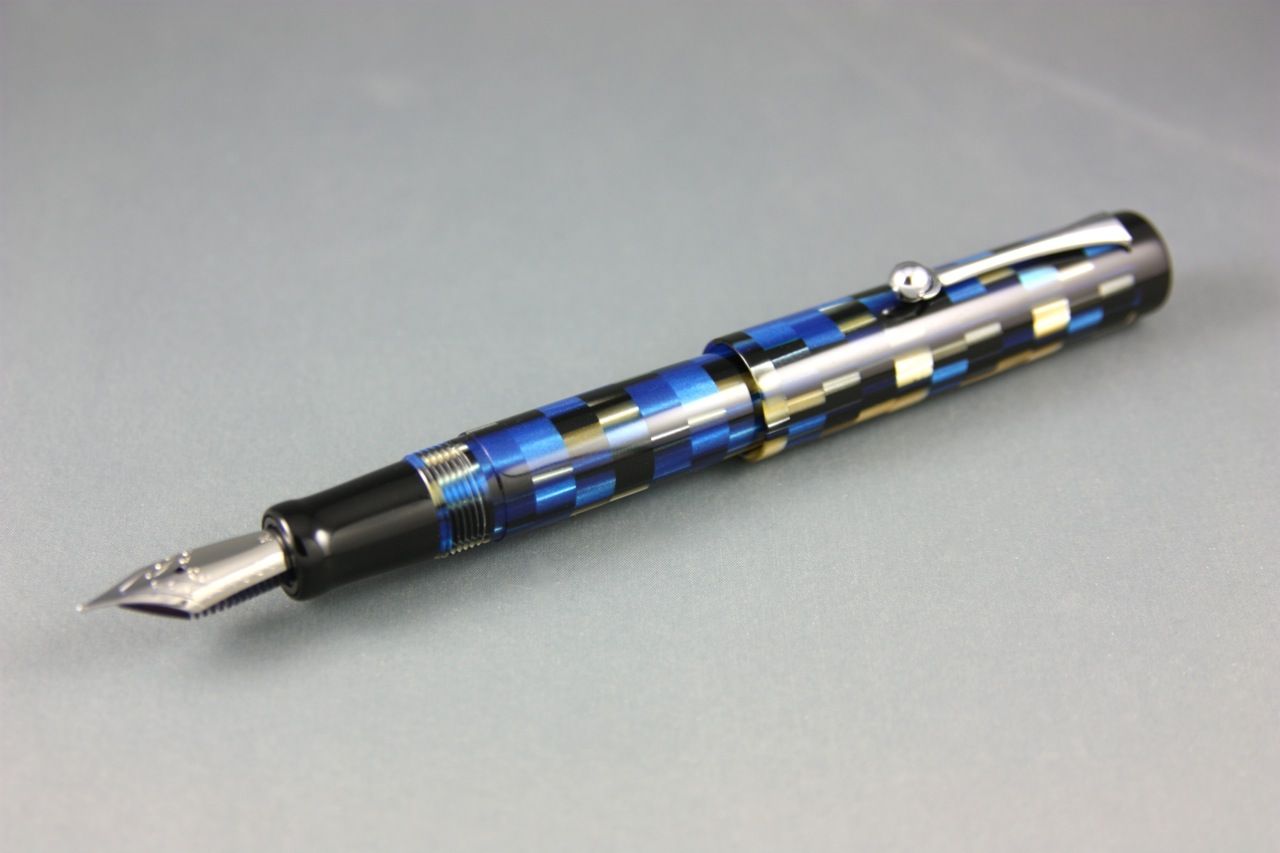 I would be happy to swap out the nib for another (B or 1.1 stub only, as I am currently out of fine).  I would also be happy to do a custom stub or cursive italic grind on a M or B nib, at a cost of $25.
I designed the SPFP to be a very practical pen.  I use FP's all day at work, and am very mobile, and decided that I needed a pen that was actually a proper size for my shirt pocket, and much more, one that posted properly (securely and comfortably).  It was bugging me that so many pens are pictured (when you buy them online) with the cap posted on the end of the barrel, but when you receive the pen, you discover that this just doesn't work - either the cap just falls off (onto the floor, getting scratched or nicked), or it just makes the pen too long for comfortable use posted.  Not so with this pen!  The posted length of my SPFPs is only a few millimetres longer than the capped length, it is very comfortable in the hand posted, and the cap is very secure on the end of the barrel - it's not going anywhere!  It turned out to be an ideal pen for me, so I started sharing it, and it has turned out to be pretty popular.
The dimensions are 140mm capped, 128mm uncapped, and 145mm posted.
I am asking $160 USD for the pen, plus shipping ($20 tracked to US or Canada.  Elsewhere contact me for shipping costs).  Please PM or shoot me an email (via my profile) to claim it.
**ON HOLD**
Thanks for looking!
Ken
Further item information (esp. Pens)
Brand and Model

Added brand(s) and model(s)

LE and/or Serial Number Info

No LE, pen(s) not numbered

Nib Size

M (Medium)

Restoration status

Unrestored - In original condition or new
Shipping & Handling
Condition

New In Box - Current model pen, never used

Payment

PayPal

Shipping From

Canada - Manitoba

Shipping To

World
General rules and conditions
There are no public questions for this advert.
Blue Mosaic (+Black Trim) 'shirt Pocker Fountain Pen'