Edacoto in Woodgrain Red Ripple with semiflexible №3с nib. (1920s). Made in France.
 
The tool is made of red hard rubber like a wood (Woodgrain Red Ripple) in the form of a cylinder with a flat top. The system of filling is classic with lever. The cap is threaded, the thread is two-threaded, the complete closure is 2.5 turns. The lever filler and the ring on the cap are steel. The clip is missing.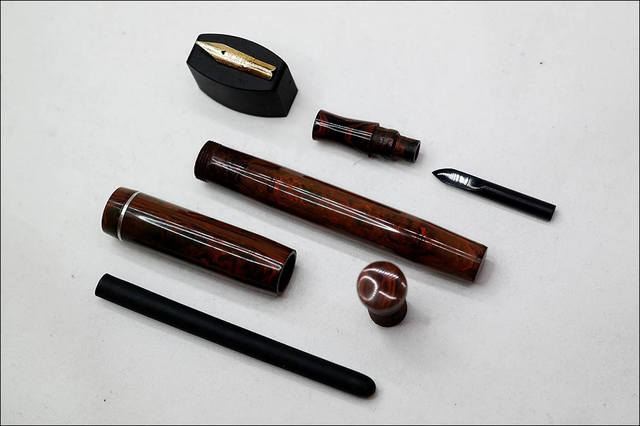 Nib: gold, 18K, number 3. On the nib there is embossed "EDACOTO 18Cts 1pe Quality №3c + stamp". A pen with well-controlled variability (like a Watermans Ideal), I would describe as a semi-flex.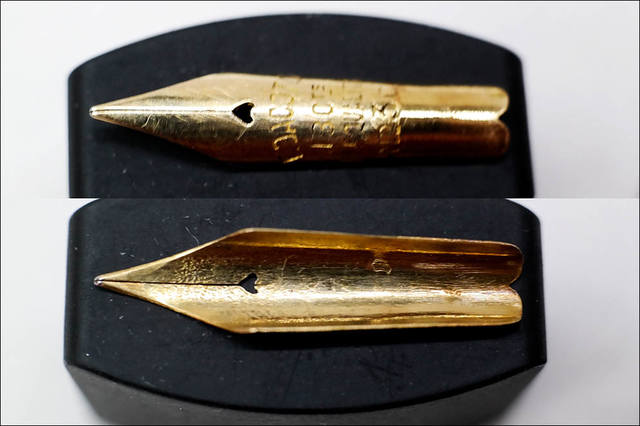 A very rare pen: it can be seen both from the font on nib and the characteristics of hard rubber. Hard rubber on the body and the cap became duller than on the gripe which is hidden by the cap. The faded part acquired an easy green tint. Maybe he can not be seen in the photo, but it can see throught the eyes.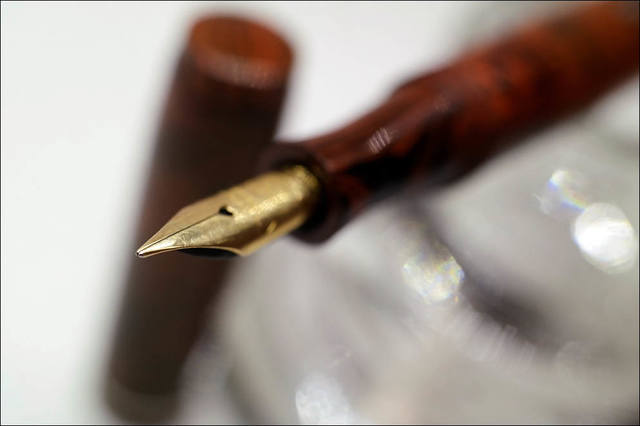 Dimensions of the pen: 122mm(4.8") full length with a cap, without a cap - 114mm(4.5"), thickness of the case - 12mm(0.5"), in the middle part of the grip - 8.5mm(0.33"). Weight of the handle: 16g(0.56oz), and without the cap - 11gr(0.39oz).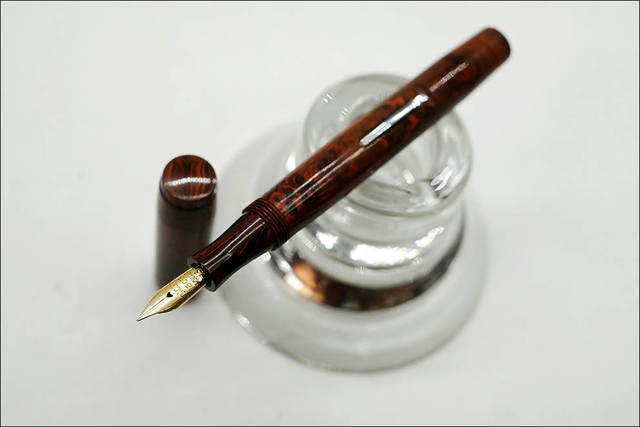 In general, the instrument looks laconic and very vintage.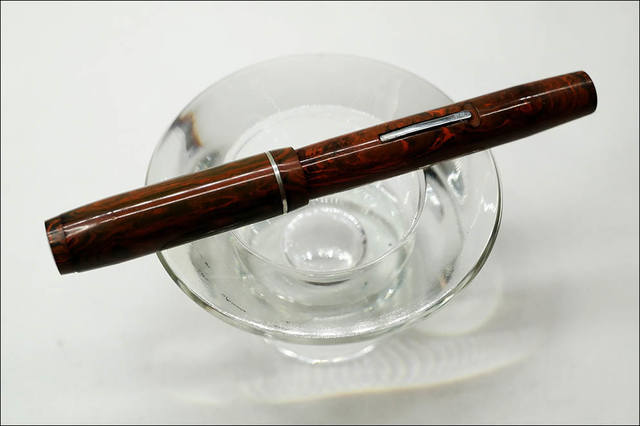 The tool was fully serviced and tested.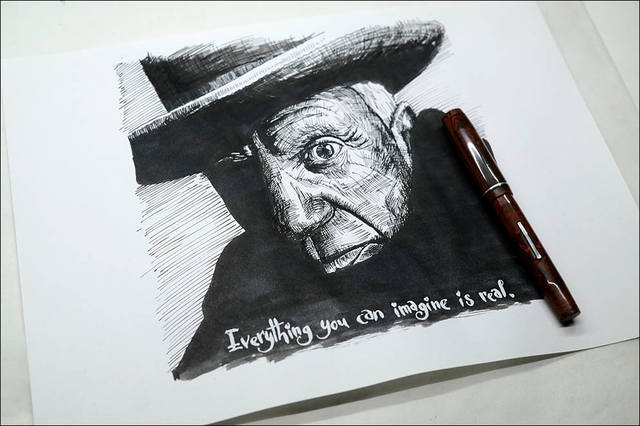 The right side of the nib writes about 0.35mm, the pressure increases the line to 1.5mm, the back side of the line - 0.2mm. There is a pleasure feedback.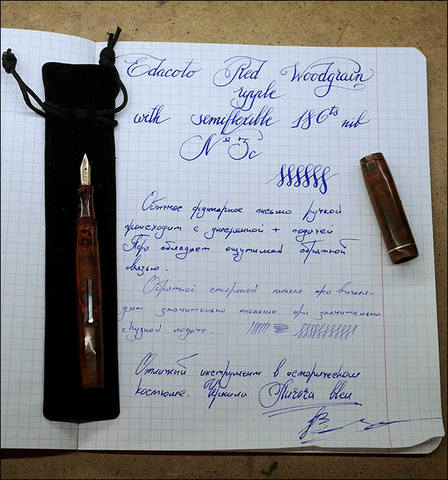 About shipping: Free worldwide shipping as registered airmail with tracknumber.
 
About payment: I accept payment through Payoneer( www.payoneer.com ) with any payment cards (through Payoneer system) without any additional fees. (ask me personal invoice)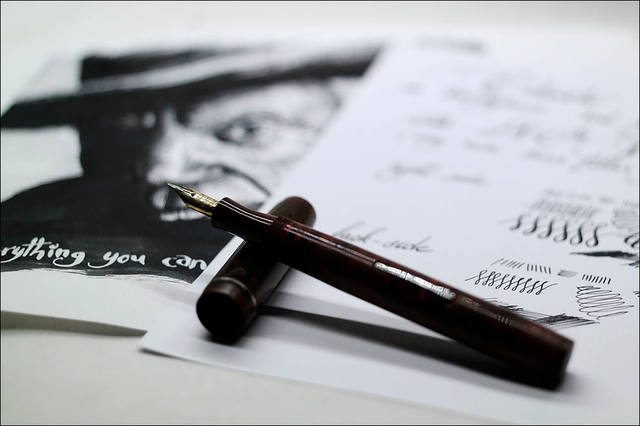 If you need additional info or photo, just write to me.
 
​ps: The delivery time from Ukraine to US\Europe as usually about 2 weeks.
 
pss: sample update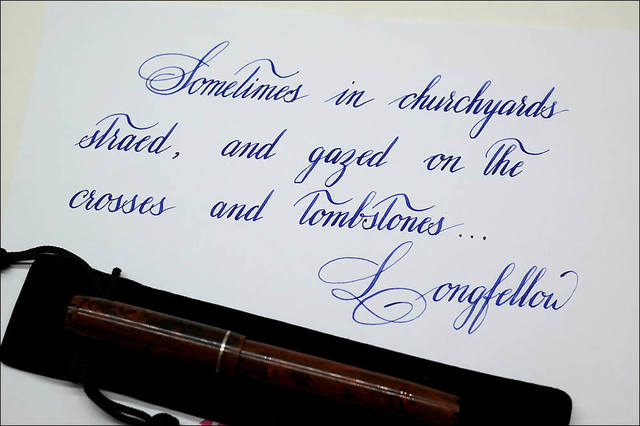 pss: ordinary writing, video: 
Further item information (esp. Pens)
Brand and Model

Added brand(s) and model(s)

LE and/or Serial Number Info

No LE, pen(s) not numbered

Nib Size

F (Fine)

Restoration status

Restored - Work carried out by non-professional
Shipping & Handling
Condition

Extra Fine - Excellent but weaker detail (see description)

Payment

Visa/Mastercard/etc.

Shipping From

Ukraine

Shipping To

World
General rules and conditions
There are no public questions for this advert.
Vtg Edacoto Woodgrain Red Ripple (1920S) France